5 Top TSX Stocks: Index Rallies Over 15,000 Points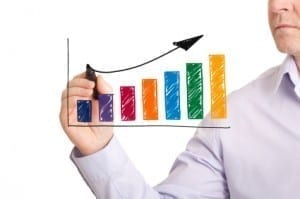 The index was up over 15,000 points last week for the first time in over a year. Sherritt International, Atalaya Mining, Nevada Copper, HudBay Minerals, and Amerigo Resources were the 5 top gaining stocks.
The S&P/TSX Composite index (INDEXTSI:OSPTX) climbed again last week, rising 0.92 percent to close the five-day period at 15,075.44 points.
On Friday, the Financial Post reported the index soared over 15,000 points for the first time in over a year. If the trend holds up, it could be the first time since 2010 the TSX outperforms the S&P 500.
Companies that registered the highest gains over the five-day period included:
Here is a closer look at those companies:

Sherritt International
Sherritt International is a global producer of nickel, with operations in Canada, Cuba and Madagascar. In addition to nickel producing, the company is the largest independent energy producer in Cuba, particularly with oil and power operations.
Over the five-day period, shares of Sherritt increased 46.81 percent to close the week at $1.38.
Atalaya Mining
Next on the list is Atalya Mining, whose shares spiked 36.13 percent last week to $2.60.
Atalaya Mining is new to the copper space in Europe, whose primary focus is on the Proyeco Riotinto asset. According to its website, the company has 153 million tonnes of ore with 680,000 tonnes of that being copper. By the end of 2016, it is expected the Expansion Project will ramp up processing capacity to 9.5Mtpa.
Nevada Copper
Sitting in the middle of last week's 5 top gaining TSX stocks is Nevada Copper, who owns a 100 percent interest in the Pumpkin Hollow Copper Development property in Nevada. According to the company's website, the property is the largest advanced stage development copper property, including other reserves such as gold, silver and iron.
Shares of Nevada Copper cruised upwards by 33.33 percent last week to $0.80.

HudBay Minerals
HudBay Minerals has a variety of operations and development properties across the Americas, particularly in the copper and zinc resource sectors. On November 21, the company announced an updated technical report for its 100-percent owned Constancia mine in Peru, noting average annual production of copper in concentrate over the next five years.
With that in mind, it's no surprise that HudBay's shares saw an increase of 23.41 percent to close last week at $9.49.
Amerigo Resources
Last but certainly not least on last week's 5 top gaining TSX stocks is Amerigo Resources, whose shares saw a steady increase of 30 percent to close the five-day period at $0.325.
On that note, the company describes itself as a long term copper producer in Chile. Its 100-percent owned MVC operation has been producing copper concentrate since 1992 and, as of December 2015, the mine life has been extended to 2037.
The company's most recent news was announced on November 9, wherein its third quarter 2016 financial results were released, citing a record production of 16 million pounds of copper.
Don't forget to follow @INN_Resource for real-time news updates!
Data for 5 Top TSX Stocks articles is retrieved each Friday after market close using The Globe and Mail's market data filter. Only companies with a market capitalization greater than $50 million prior to the week's gains are included. Companies within the mining and precious metals sectors are considered.
Securities Disclosure: I, Jocelyn Aspa, hold no direct investment interest in any company mentioned in this article.

Related reading:
5 Top TSX Stocks: Scandium International Soars
5 Top TSX Stocks: Northern Dynasty Minerals Gains 77 Percent
5 Top TSX Stocks: Exchange Falls to Lowest Close in Six Weeks
5 Top TSX Stocks: Exchange Drops on Lower Oil Prices
5 Top TSX Stocks: Exchange Dips on Chinese Inflation Data
5 Top TSX Stocks: Exchange Drops on Jobs Figures
5 Top TSX Stocks: Exchange Increases on Higher Oil Prices