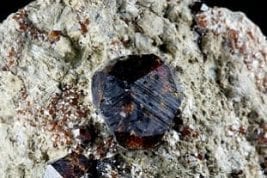 Skarns, or silicate-rich metamorphic rocks, can host valuable deposits of copper and other minerals. Here's a brief overview of this type of deposit, with a few examples from around the world.
A skarn is a silicate-rich metamorphic rock. Skarns may or may not host economic reserves of metals, but if they do, these are called skarn deposits. Skarns are considered to be the premier source of tungsten, but may also host valuable amounts of other metals, including copper, gold, lead, iron, zinc and molybdenum.
Arguably, copper skarns are the world's most abundant skarn type. They are particularly common along subduction zones— and are found in both oceanic and continental margins. The largest copper skarns are associated with mineralized porphyry copper plutons, or bodies of intrusive igneous rock. These deposits can exceed 1 billion tonnes of combined porphyry and skarn ore, with more than 5 million tonnes of copper recoverable from the skarn portion of the deposit.
Generally, skarns are smaller than many other deposit types such as porphyries. However, it's worth noting that skarns may occur in association with porphyry copper deposits. For example, the Twin Buttes in Arizona and Bingham Canyon in Utah host both porphyry and skarn deposits.

For the most part, skarn deposits form when carbonate-rich rock is invaded by magma (igneous intrusion) or hydrothermal fluids. The invasion of these hot fluids into the surrounding (country) rock causes a variety of chemical changes that may result in the deposition of valuable ore. Skarn deposits are found in a variety of tectonic settings.
Skarns are defined by their mineralogy, which includes a wide variety of calcite and calcium-bearing silicate and associated minerals. However, the mineralogy of skarns is usually dominated by garnets and pyroxene.
Skarns are broken down into two broad subcategories: exoskarns and endoskarns. Exoskarns are skarns developed in the sedimentary rocks surrounding the thermal source (magma or hydrothermal fluids). Endoskarns are developed within an igneous intrusion.
Both of these types of skarns may host valuable minerals. However, the majority of the world's economic skarn deposits occur in calcic exoskarns. Skarn deposits are often described according to the dominant economic metal or mineral present, whether it is copper, iron, tungsten, zinc-lead, molybdenum or gold.
Examples of world-class copper skarn deposits
Antamina is the world's largest copper-zinc skarn deposit. It is located in Peru's Andes and is co-owned by Compañía Minera Antamina, which is owned by BHP Billiton (NYSE:BHP,ASX:BHP,LSE:BLT) (33.75 percent), Glencore (LSE:GLEN) (33.75 percent), Teck Resources (TSX:TCK.B,NYSE:TCK) (22.5 percent), and Mitsubishi (TSE:8058) (10 percent). Antamina has a long history of exploration, with small-scale mining first recorded in 1860. It wasn't until a century later, in the 1950s, that serious exploration began.
The Antamina deposit is a copper skarn with zinc, silver, lead, molybdenum and bismuth mineralization. The ore is mined by open-pit methods, and batch treated by ore type through a conventional grinding and flotation mill. Total reserves at Antamina are 191.8 million tonnes.

Another example of a world-class skarn deposit is the Ok Tedi mine in the remote Star Mountains of Papua New Guinea's Western Province. Ok Tedi Mining (OTML) operates the mine.
The Ok Tedi mine started operations in 1984, and has become the single-largest business contributor to the economies of both the Western Province and Papua New Guinea. In January 2002, BHP Billiton divested its 52-percent shareholding in OTML by transferring its shares to the Papua New Guinea Sustainable Development Program. Following that, OTML's shareholders included the PNG Sustainable Development Program (52 percent), Inmet Mining (TSX:
IMN
) (18 percent) and the government of Papua New Guinea (30 percent); however, in 2013, the government of Papua New Guinea
nationalized the mine
.
Ok Tedi's main ore body includes both porphyry and skarn ores. The skarn ores are very high grade, and supply approximately 50 percent of the contained ore reserves.
Junior mining companies with skarn deposits
Calibre Mining (TSXV:CXB) has a joint ventures with Centerra Gold (TSX:CG), IAMGOLD (TSX:IMG) and B2Gold (TSX:BTO) for various projects within the Borosi mining disctrict in Nicaragua. The district remains largely underexplored for gold-copper-silver skarn mineralization and for porphyry gold-copper deposits and epithermal gold-silver systems. Fieldwork at the company's Monte Carmelo gold project has recently outlined skarn and structurally related gold mineralization.
The company also holds the Bambana prospect in Northeastern Nicaragua, which holds the historic Rosita copper mine. Rosita hosts a skarn copper deposit that is estimated to have produced 305 million pounds of copper, 177,737 ounces of gold and 2,629,720 ounces of silver during its more than 25 years of operation.
Cordoba Minerals (TSXV:CDB) is advancing the San Matias copper-gold project in Colombia. The project also includes the Alacran project, which consists of copper-gold skarn mineralization.

On April 6, the company
announced
that High Power Exploration, a private company that is indirectly controlled by Robert Friedland, had entered Phase 1 of a joint venture agreement that would allow the company to earn a 25-percent interest in the project by spending an additional C$6 million.
Kaizen Discovery (TSXV:KZD)
acquired the Pinaya copper-gold project in Peru in October 2015, and is exploring the area for large-scale copper-gold porphyry and skarn systems. Pinaya is located in the Andahuaylas-Yauri porphyry belt in Peru's provinces of Caylloma and Lampa, and hosts a number of world-class porphyry and skarn systems, such as Las Bambas, Tintaya, Constancia and Haquira.
On April 1, 2016, Kaizen arranged a
C$2.5-million financing
with its partner, ITOCHU Corporation of Japan, to fund further exploration activities at Pinaya.
Finally,
Entree Gold (TSX:ETG)
has a number of exploration targets that are prospective for skarn deposits near its Ann Mason deposit in Nevada. These include the Roulette, Minnesota and Shamrock targets. In particular, the Minnesota target, located in the northwest corner of the Ann Mason project area, is adjacent to the historical Minnesota iron mine, a copper-iron skarn deposit.
This article was originally published on March 24, 2011 by the Investing News Network.
Editorial Disclosure: Calibre Mining and Entree Gold are clients of the Investing News Network. This article is not paid-for content.