Copper Edges Above $7,000 After Facing 18-month Low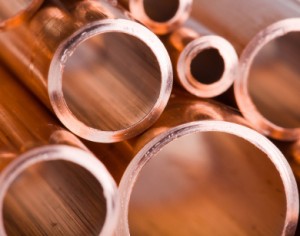 Copper had a rough ride this week on concerns about a slowdown in economic growth, particularly in China and the US, and on the World Bureau of Metal Statistics' announcement that supply exceeded demand by 129,000 tons in the first two months of the year. Thursday, copper came off an earlier 18-month low after data showed that business conditions were good for US mid-Atlantic manufacturers in March.

Copper was headed for bear market conditions Thursday, having dropped 20 percent below a peak reached in February last year, Bloomberg reported. A generally accepted definition of a bear market is a drop of 20 percent or more over at least a two-month period.
"The macro environment remains negative," Guy Wolf, head of market analytics at Marex Spectron Group in London told Bloomberg. "There is a lot of copper in inventories. There is no reason for buyers to step in aggressively yet."
But investors weren't ready to yield all and clung to data from the Federal Reserve Bank of Philadelphia, according to another Bloomberg article. This information shows that while business activity slowed, manufacturers in Eastern Pennsylvania, Southern New Jersey and Delaware expanded in April. In addition, a rebound in gold prices prompted some traders who had bet on lower prices to exit the market, providing temporary relief for copper prices, The Wall Street Journal reported
On the London Metal Exchange, copper for three-month delivery ended little changed at $7,087.50 per ton, having hit the 18-month low of $6,800 per ton earlier Thursday. It was the first time the metal had fallen below $7,000 since late 2011. COMEX copper for May delivery was up 0.5 percent, at $3.2040 per pound, in mid-afternoon trade in New York.
Company news
Freeport-McMoRan Copper & Gold (NYSE:FCX) cut its operating cash flow target for 2013 to $5.5 billion, from the $7-billion target announced in January, due to lower estimated average copper and gold prices. For copper, the company now expects an average price of $3.25 per pound instead of $3.65 per pound, while for gold it expects an average price of $1,400 per ounce instead of $1,700 per ounce. The company's average molybdenum price is unchanged at $11 per pound.
Rio Tinto (LSE:RIO,ASX:RIO,NYSE:RIO) said the Kennecott Bingham County copper mine will produce 100,000 metric tons (MT) less copper than planned this year after a landslide along the mine's northeastern wall. Separately, the company said it is in "advanced" talks to secure bank funds to expand its Oyu Tolgoi mine in Mongolia, Bloomberg Businessweek reported. In another article, Businessweek cited Mongolia's finance minister, Chultem Ulaan, as saying that the government will do an audit of the Oyu Tolgoi operation in order to understand reasons for an alleged $2-billion cost overrun at the mine. Meanwhile, The Wall Street Journal cited CEO Sam Walsh as saying that the company has no immediate plans to develop the Pebble copper and gold project in Alaska. The company owns a 10-percent indirect stake in the project through its 20-percent ownership of Northern Dynasty Minerals (TSX:NDM), which owns Pebble with Anglo American (LSE:AAL).
BHP Billiton (ASX:BHP,NYSE:BHP,LSE:BLT) maintained its production targets for the full year, stating that its Escondida copper mine in Chile is on track to increase production by at least 20 percent in 2013. The company also named a new senior management team that will join incoming CEO Andrew Mackenzie in May.
Glencore International (LSE:GLEN) said China's Ministry of Commerce has approved the company's merger with Xstrata  (LSE:XTA), subject to a few conditions, including that Glencore sell its post-merger interest in the Las Bambas copper project in Peru to a buyer approved by the ministry before September 30, 2014. The company must also commit to supplying Chinese customers with at least 900,000 dry MT of copper concentrate unless its forecast copper concentrate production increases or rises, in which case the concentrate offered to Chinese customers will be adjusted accordingly. Glencore now expects the merger to be effective May 2.
The Democratic Republic of the Congo banned exports of copper and cobalt concentrates, Reuters reported. Mines Minister Martin Kabwelulu said the move is intended to force mining companies to process and refine the metals before shipping them outside the country. The ban is unlikely to affect major producers such as Freeport-McMoRan and Glencore, which already process the bulk of their copper inside the country, Reuters said.
Junior company news
Sierra Metals (TSXV:SMT) said a prefeasibility study of its Bolivar mine in Mexico supports a 10-year mine life at an expanded output rate of 2,000 MT per day. Proven and probable ore reserves total 7.5 million MT, averaging 19.5 grams of silver per MT, 0.759-percent copper and 0.329-percent zinc.
CuOro Resources (TSXV:CUA) is considering strategic alternatives, including mergers, acquisitions, joint ventures, strategic partnerships and other corporate transactions, to enhance shareholder value. The company said it will not make a $1-million option payment that is due on the Santa Elena copper project in Colombia until it has completed a strategic review within 90 days.
Nevada Copper (TSX:NCU) is on track to receive, within the second quarter, two state permits it needs for the construction and operation of the Pumpkin Hollow mine project. The company said it expects to initiate full construction of the stage-one underground operation this year.
ABE Resources (TSXV:ABE) said IMX Resources (ASX:IXR) has purchased a 50-percent interest in the St. Stephen nickel-copper project in New Brunswick. The two companies will develop the project as a joint venture.
Copper Fox Metals (TSXV:CUU) acquired Bell Resources' Van Dyke copper deposit in Miami, Arizona for a total cost of C$2 million. It will also assume "continuing obligations" with respect to the deposit.
Securities Disclosure: I, Ragnhild Kjetland, hold no investment interest in any company mentioned in this article.