Copper Drops as Europe Worries Rattle Markets
Europe's continued vulnerability coupled with worries about Iranian oil supply is putting a damper on markets worldwide and pushing down copper.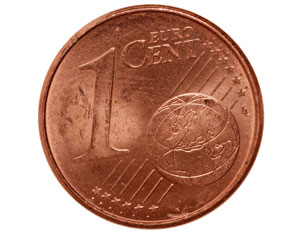 Geopolitical risks are driving commodity prices in the first week of trading in the new year, and the price of copper is no exception. With renewed concerns about Europe's ability to tackle its debt situation bogging down market sentiment on the one hand, and worries about oil supply falling as a result of anticipated sanctions against Iran are leading the red metal to falter. A possible slowdown in Chinese demand amid a weaker housing market is also weighing down the copper market.
There is growing fear that France will lose its AAA rating as the country paid more to sell its bonds Thursday amid continued anxiety about Europe's murky financial outlook. Standard & Poor's had warned last month that it may lower its debt rating for France as the Eurozone debt crisis continues to plague the continent and the French economy is perceived as more vulnerable to pervasive economic weakness than Germany. Thursday, France's Treasury held its first bond auction of 2012 and sold 4 billion euros of 10-year bonds at an average of 3.29 percent, up from 3.18 percent at its previous auction in early December.
Investors have been concerned too by the situation in Italy, as shares in the country's largest bank, UniCredit (BIT:UCG), were suspended Thursday from trading briefly as they fell to their bottom limit for the second straight day. Hungary too is stoking the flames of fear as investors worry that it will fail to get further aid from the International Monetary Fund and the European Union as the government changed laws governing the nation's central bank. Market players voted with their feet against Budapest as the government sold only 35 billion forint of the 45 billion forint's worth of one-year Treasury bills even though the average yield was at 9.96 percent, up from 7.91 percent paid in December.
Europe remaining on shaky ground is expected to hurt global economic prospects, which in turn is expected to dampen industrial output. At the same time, the price of oil is rising as the European Union mulls the possibility of imposing an import ban on oil from Iran. Such a move could push up the price of Brent crude to above $125 a barrel, up over $10 a barrel from current levels, according to Societe Generale. That in turn would eat into the bottom line of manufacturers worldwide.
In China, meanwhile, Chinese real estate web site group SouFun Holdings reported the country's housing prices falling for the fourth consecutive month in December, with prices in all of the country's 10 biggest cities going south.
Early Thursday, copper traded down 1.2 percent at $3.39 a pound. The red metal ended the day's trading session slightly higher at $3.41 a pound.
Meanwhile, BHP Billiton (ASX:BHP) has settled 2012 copper concentrate treatment and refining charges with Chinese copper smelters at $60 a ton and 6.00 cents a pound, up from $56.5 a ton and 5.65 cents a pound in 2011, according to Reuters. The news agency pointed out, however, that BHP's price is lower than the $63.5 a ton and 6.35 cents a pound for 2012. Freeport McMoRan (NYSE:FCX) has agreed to buy clean, standard concentrate from China's Jiangxi Copper and Japan's Pan Pacific Copper.
Japanese steelmaker Kobe Steel (TSE:5406), meanwhile, is on the lookout for a domestic partner in its copper as well as aluminum operations to cut costs. Its President, Hiroshi Sato, said at an event hosted by the Japan Iron and Steel Federation that the company would consider a merger but added that it is not in talks with any potential partner at the moment, Bloomberg reported.
On the supply side, Zambia's Chamber of Mines is expecting copper production capacity to reach 1.6 million tons a year by 2016 on the back of increased investment in the mining sector in the country, according to the Times of Zambia.
I, Shihoko Goto, have no interests in the companies mentioned in this article.