Copper Bottom's Not Here Yet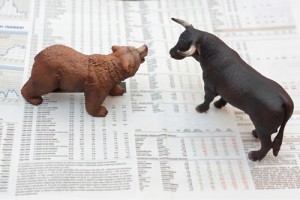 Copper prices may be picking up a slightly as the week draws to a close; however, the red metal's minor gains aren't enough to spark much confidence in metal prices in the near term. 
Today, COMEX copper for May delivery was up 0.9 percent, to $2.9930 a pound, as traders who bet on copper prices falling early in the year are cashed in ahead of the end of the first quarter.
Bill Baruch, senior market strategist at iiTrader in Chicago, told The Wall Street Journal that we're "seeing some profits taken today."
The red metal didn't get any support from economic data out of China and the US. Instead, the "uninspiring data" has been met with a "shaky stock market," which has weighed on copper, Bill O'Neill, a principal with commodities investment company Logic Advisors, told the news outlet.
Going lower? 
On the whole, however, the general consensus seems to be that copper isn't yet done playing with the bears.
In the last month, copper has broken through its support price of $3.15 and fallen below $3 on the back of poor Chinese economic data and geopolitical tensions in Crimea. The red metal is on track for a 12-percent loss in the first quarter of the year, and optimism isn't widespread when it comes to copper demand in the short term.
Citigroup, for one, sees copper prices remaining under pressure in the near-term. "Manufacturing activity has also slowed in response to last year's credit tightening, but we expect demand to reach a bottom soon," the firm said in a report.
Meanwhile, Investing.com's Michael Lombardi recently examined the copper-to-gold ratio to understand what is happening to the red metal. Lombardi concluded that copper prices have been on a downtrend since 2011. Having broken a 200-day moving average in 2013, copper is still very much on a bearish downswing. Beyond that, the publication explains how after the financial crisis, "the easy money supplied by the central banks in the global economy created the illusion that there was economic growth." However, Lombardi sees the reverse could be true.
"[C]opper prices may be heading toward the $2.00 level or lower, another 33% below where they are today," Lombardi said.
For every bear there is a bull
Perhaps the copper market hasn't reached the bottom just yet, and no one is quite sure when the market will start seeing the red metal start tracking up the chart. As Seeking Alpha contributor Itinerant writes, metals analysts are pretty unanimous in their absolute price floor at $2.72 per pound, limiting the downside from here to less than 10 percent. Meanwhile, price predictions for the upside point towards possible rewards of up to 30 percent within a year.
Given this scenario, Itinerant makes a case for copper miners, seeing as how they tend to offer leverage against copper prices. With several mines expected to come online within the next few years, there doesn't seem to be any major supply shortage concerns moving forward. And while Itinerant sees copper behaving very much like it has been of late in regards to the economy, the overall thesis is that a balance between supply and demand will see-saw for some time before things truly pick up, making it a good time for investors looking to buy at lows to start considering some opportunistic investments.
Securities Disclosure: I, Vivien Diniz, hold no direct investment interest in any company mentioned in this article.