Barrick Partners with Saudi Arabian Miner to Move Copper Project Forward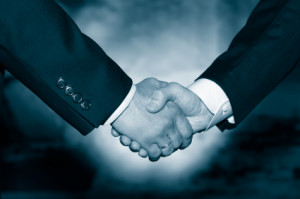 Barrick Gold (TSX:ABX,NYSE:ABX) has run into roadblocks with its large copper project in Saudi Arabia, but the company could soon make headway through a joint venture agreement with state-owned Saudi Arabian miner Ma'aden (TADAWUL:1211).
The leading gold miner announced on Sunday that it has reached an agreement to form a joint venture with Ma'aden regarding its Jabal Sayid copper mine. Under the terms of the agreement, Ma'aden will gain a 50-percent interest in the potentially low-cost, underground copper mine through a cash consideration of $210 million.
Barrick's president and CEO, Jamie Sokalsky, commented, "[t]his joint venture will enable the Jabal Sayid project to move forward with the benefit of Ma'aden's extensive experience in the Saudi Arabian mining sector, combined with Barrick's technical and operating expertise."
The project could certainly use a hand moving forward. According to Reuters, the Jabal Sayid mine has been "mired in regulatory and licensing woes" for some time. Barrick purchased the project from Equinox Minerals in 2011, and although most construction at the project has long been completed, issues regarding permitting and mining licenses have held the mine back from starting production.
As The Globe and Mail notes, the new partnership may be followed by others, and could be part of a new strategy for Barrick. The news outlet quotes Barrick's executive chairman, John Thornton, as saying, "[t]he concept of partnering with either governments or sources of capital or other mining companies to develop other assets will be a focus for us."
Following the recording of $11.5 billion in writedowns by the major miner last year, investors and analysts might be looking kindly on Barrick taking strategic measures to remain responsible to its shareholders. In addition to potentially helping the regulatory processes in Saudi Arabia go by a little more smoothly, Barrick's joint venture with a major Saudi miner also represents a more pragmatic approach to getting the project to production.
That isn't to say that the partnership won't be beneficial for Ma'aden as well. As an article from Mineweb points out, investing in what the miner has called Saudi Arabia's "most important copper project" fits with Ma'aden's strategy to diversify its portfolio. CEO Khaled bin Saleh Al Mudaifer has been quoted as saying, "[Jabal Sayid] is in its final development stage which will reduce the time required for realizing a return on the investment."
To be sure, the agreement is important to note for investors, both because it affirms the industry's confidence in copper following the metal's price rebound this year, and because of the example it provides in terms of responsible company management practices — an important consideration when looking at any resource-related company.
The Jabal Sayid mine is located 120 kilometers southeast of Medina and is anticipated to begin production in late 2015. Currently, the mine is expected to operate for 15 years based on proven and probable reserves of 1.4 billion pounds of copper. However, Barrick plans to conduct further exploration work in license areas surrounding the mine with the goal of extending the project's mine life.
Securities Disclosure: I, Teresa Matich, hold no investment interest in any companies mentioned.