Aquatic Informatics CEO Ed Quilty on Data Management and the Water Market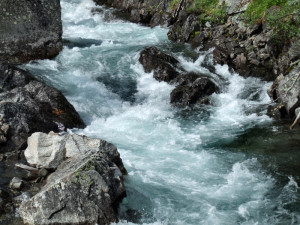 As Resource Investing News has previously explored, water is tied to the markets in many ways. For both developing nations and more well-off countries, water infrastructure and security of fresh water supplies are key issues that benefit from constantly improving technology.
Water management takes many forms and is an important part of conserving and optimizing water resources. To get more insight into this area, Resource Investing News recently spoke with Edward Quilty, Founder, President and CEO of Aquatic Informatics.
The privately held company focuses on solving water data management and analysis challenges by providing software solutions to various clients around the world. Quilty spoke about Aquatic Informatics and the importance of water data management, and mentioned several interesting publicly traded companies in the water management space.
The market for water data management
When asked about the typical clients Aquatic Informatics serves, Quilty's list was impressive. Most were government based, highlighting the growing importance of water management technologies for countries.
"Most of our customers are actually government agencies," he said. "We've got federal, state and provincial agencies. One large customer is the U.S. Geological Survey under the Department of the Interior, and Environment Canada also depends on AQUARIUS for managing its real-time water data. Between these two National agencies, data from over 10,000 water monitoring stations is managed in AQUARIUS."
"In the private sector, we've got hydro companies such as BC Hydro, Idaho power, and Sarawak Energy, so we serve hydropower companies. Also, in the private sector we've got mining companies like De Beers and others. However, that's a smaller part of our client group. The bulk of our clients are government."
The CEO stated that he has seen more investment by these sorts of clients as of late. "There's definitely a lot more spend," he said. "The market is growing. We're seeing in our space that our customers are investing in monitoring water more, expanding their networks."
In terms of accessing public markets, Quilty said that this wasn't in the cards for Aquatic Informatics, stating, "we just don't see it as a really good strategy for us."
However, employees and management own a significant portion of the company, and Aquatic Informatics has also seen some outside investment. Local Vancouver firm, Renewal Funds Management Co., is one of the largest shareholders in the company. "They invest in environmental and social type organizations, and they're the only outside VC we've had. They've been really great," said Quilty.
Water companies in the public space
Notably, Quilty also stated that there are "definitely lots of companies" operating in the public space in terms of water management. "The bigger one that seems to be making the most moves recently is Xylem (NYSE:XYM). They're publicly traded and they're consolidating a lot of the market. I'd say that's one of the bigger ones. Veolia water is also one that's quite active, and actually IBM (NYSE:IBM) is also very active in the market."
Xylem is a global water technology provider focused on water infrastructure and applied water services, while Veolia Water, the water branch of France's Veolia Environment (NYSE:VE) specializes in water treatment solutions for both drinking water and waste water.
One might be surprised to hear that tech giant IBM is interested in water, but Quilty points out that water management is more and more "a big data challenge."
"They do a lot in water actually, on the data management side," he said, "for making smarter cities, smarter decisions around water use on the drinking water treatment side, on the wastewater treatment side, and actually in natural resources too. That's the market we largely play in, monitoring rivers and lakes. They're also getting into ocean projects as well."
Clearly, Aquatic Informatics and other companies like it investing time in water technologies are poised to take advantage of a growing need for water management solutions. For miners specifically, given high water costs and water permitting challenges, consistently evolving water measurement and management technologies will certainly be welcome at market
In terms of what's next, Quilty saw "rapid growth" and "international expansion" are in the cards for Aquatic Informatics, noting how the company quickly broke out of the local Vancouver market. "Right from day one, most of our sales were in the U.S. and we've expanded to around 37 countries right now with 400 clients worldwide."
Securities Disclosure: I, Teresa Matich, hold no investment interest in any of the companies mentioned. 
Related reading:
Not a Drop to Drink: A Look at Water Scarcity