Analyst Commentary: Moonlight Shines on Canyon Copper
With a goal of building a pipeline of significant copper deposits, Canyon Copper (TSXV:CNC, OTCBB:CNYC) has added the Moonlight Copper Porphyry project in Plumas Country northern California, to its stable.
With a goal of building a pipeline of significant copper deposits, Canyon Copper (TSXV:CNC, OTCBB:CNYC) has added the Moonlight Copper Porphyry project in Plumas Country northern California, to its stable.
The company already owns the New York Canyon property, situated 48 km east of Hawthorne, Nevada. Canyon Copper plans to rapidly advance the New York Canyon project towards a possible near-term operation.
At Moonlight, Canyon Copper believes there is potential to at least double the current size of the resource.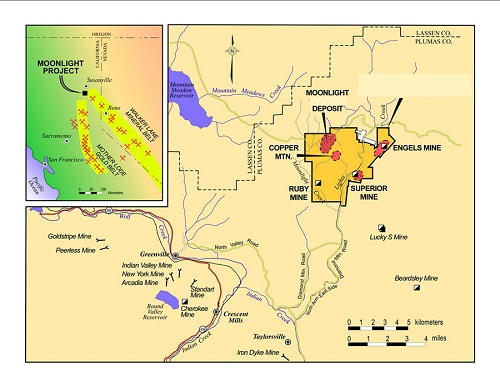 The Moonlight Copper Porphyry project hosts significant copper sulphide and copper-oxide mineralization that still remains open for expansion laterally as well as to depth. Mineralization was encountered to a vertical depth of 600 metres, which is the length of the deepest hole drilled on the target. This hole was mineralized throughout its length (averaging 0.185% Cu) and bottomed in 0.3% Cu. Most of the historic drilling typically tested to depths of about 250 to 300 vertical metres.
Additionally, historical work by previous operators Placer Dome and Sheffield Resources indicates that the area also contains substantial near surface oxide copper mineralization with could be amenable to low-cost SX-EW extraction methods. This oxide mineralization was not included in the resource reported in the 2007 Technical Report. A non-compliant NI 43-101 estimate suggests there could be at least 130 million lbs of additional copper in oxide form.
Current Resources
The NI 43-101 -compliant resource estimate completed in 2007 for Sheffield Resources, outlined an Indicated copper sulphide resource in 161 million tons of material that contains;
1.046 billion lbs copper (average grade 0.32% Cu),
485,000 oz gold (average grade 0.003 oz per ton),
and 16 million oz silver (average grade 0.099 oz per ton).
In addition to that an inferred resource contained in 88 million tons adds;
498 million lbs copper (averaging 0.282% Cu),
265,000 oz gold (averaging 0.003 oz per ton Au)
and 79 million oz silver (averaging 0.089 oz per ton Ag)
The distinction between indicated and inferred resource classifications is mainly a function of confidence. Indicated resources have a tighter drill spacing pattern with respect to inferred resources.
History
In the 1960s, Placer Amex completed US$6 million worth of exploration on the Moonlight project (equivalent to approximately US$35 million in today's dollars) that included 43,000 metres of diamond drilling. Placer Amax held the project from 1971 until 1994 when copper prices were very low then the company's focus shifted to gold and the property was dropped.
In June 2005, Sheffield Resources optioned the core claims from privately held Metamin Enterprises and proceeded to acquire additional ground surrounding the resource area. In 2006-7, Sheffield drilled 14 holes (or 3,394 metres), and released an updated NI-43-101 compliant resource estimate that included Placer Amax's previous 194 drill holes.
In 2008, Nevoro Inc acquired Sheffield Resources but before Nevoro could do any work on the Moonlight project, it was itself acquired by Starfield Resources in 2009 – mainly for Nevoro's nickel-copper-cobalt and chrome assets in the Montana. The Moonlight Copper asset was returned to Metamin Enterprises.
Potentially higher average copper grades
Interestingly, the 2007 Technical Report also notes that Placer realized that significant amounts of copper were lost during their drilling and because of this the copper grades estimated from the drilling – which are the grades used in the NI 43-101 resource estimation – are conservative and apparently understated. Sheffield's recent drilling recovered 44% more copper in their Moonlight Valley drill holes than in the adjacent Placer drill holes.
Reasons offered for the historically understated drill grades include improper orientation of the historical drill holes, small BX-size core in the historical drilling resulting in very poor recoveries, loss of copper minerals in the historical drilling as confirmed by Placer's own comparison sludge sampling, possible analytical issues, and perhaps other items as well. This means that the Moonlight copper deposit may also be potentially richer than indicated by historical drilling.
Option Agreement Summary
The president of Canyon Copper, Benjamin Ainsworth, is transferring the rights to the option agreement he made with the underlying vendor, Les Storey, and his private company, Metamin Enterprises, to Canyon Copper in return for staged payments of cash and shares of CNC totaling US$65,000 and 500,000 shares. In addition Mr. Ainsworth will receive an advanced royalty of US$15,000 per year commencing in 2014 which can be deduced from a 1% production royalty (which can be purchased by CNC for US$1 million).
A similar arrangement was made with the underlying vendor who will receive staged payment of cash and shares totaling US$50,000 and 500,000 shares of CNC in addition to an annual advanced royalty of US$15,000 which commences in 2014. (This can also be deducted from a 1% NSR which can be bought for US$1 million).
Canyon Copper is required to spend US$100,000 on exploration by February 2013.
Mining in California
As a result of a restrictive regulatory environment, the State of California is perceived as a difficult place to start up mining operations. That being said, the local community is enthusiastically in favor of economic development at the Moonlight project.
According to the 2007 NI-43-101 report completed by Sheffield Resources; "Preliminary discussions with state and federal personnel do not suggest any favoritism toward the environmental groups, but caution and the threat of legal action can slow the permitting process and decrease the opportunity of timely mine development during favorable economic times. However, proper communication and public relations with local communities, USFS personnel and county and state officials can minimize the impact of these groups in California on development at the Moonlight property."
Quoting the author's opinion in the 2007 NI-43-101 report; "If Sheffield continues to conduct operations with high regard for social and environmental concerns, there is no indication that permitting issues will cause undue delays."
New York Canyon Asset
It appears that Canyon Copper will focus its energy on first advancing its flagship asset, the New York Canyon project in Nevada, towards production. This project hosts three mineralized zones; the Longshot Ridge target, the Copper Queen target, and the Champion target. Currently only the Longshot Ridge target hosts a NI-43-101 compliant resource estimate which is outlined as follows:
Indicated resources of 16.25 million tons at an average grade of 0.43% copper hosting 139.75 million lbs copper based on a copper cut-off grade of 0.20%.
Inferred resources of 2.9 million tons at an average grade of 0.31% copper, containing 18.21 million lbs of copper, based on a copper cut-off grade of 0.20%.
Longshot Ridge has not been completely outlined and remains open to the North and to depth. In 1979 Conoco Oil outlined a Non NI-43-101 resource at the Copper Queen target which estimated 142 million tons grading 0.35% copper and 0.015% molybdenum. All three targets at the NYC project have significant expansion potential.
Bottom Line
The Moonlight copper project is a very promising copper-gold-silver porphyry system which has tremendous potential to be expanded. This project is a quality addition to Canyon Copper's current New York Canyon copper project in Nevada.
The company will have to be diligent when dealing with the local community in California as well as State and Federal regulatory agencies to avoid any potential roadblocks to potential development of the Moonlight copper project in the future.
Thomas Schuster, Analyst Bio:
With a degree in Geological Sciences from the University of Toronto, Thomas started his career in the 1990s as an exploration geologist in the famous Timmins mining camp in Northern Ontario. He then moved to Vancouver and took a position as staff Journalist at the well-known mining publication, The Northern Miner, reporting the merits and shortcomings of Canadian exploration and mining projects worldwide. This built a foundation for his later work as a Mining Analyst for the Toronto-based institutional investment firm, Fraser Mackenzie. Thomas is currently based in Vancouver working as an independent mining analyst.
Disclosure: No positions at time of writing.
Canyon Copper Corp. is a client of Dig Media. Dig Media was paid a fee for the creation and dissemination of this commentary.
Canyon Copper Corp. Enters Into Agreement to Acquire Moonlight Copper Porphyry Property
Canyon Copper Corp. (TSXV:CNC,OTCBB:CNYC) announced that it has entered into an assignment agreement with Metamin Enterprises Inc. to acquire the former Placer Dome Moonlight Project, a bulk tonnage porphyry copper, gold, silver property.