What Is Genetics Investing?
This niche market is changing how we think about human health.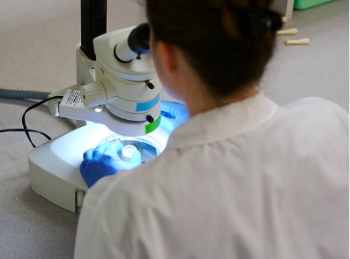 The study of genetic testing and therapies based on the alteration of human genes has been floated as a real possibility to advance and change the medical landscape for a quite some time now. The possibility of finding a huge return with a company in genetics investing is low, but new discoveries and studies have sparked interest in the industry.
Gene therapy can open the doors to medical knowledge that before wouldn't be discovered until the patient was facing a disease. There has been an increase in genetic data, thanks to databases that obtain the information from patients with the promise that their genes may help a researcher unlock a new treatment for a specific disease.
Some reports have indicated to the growth for the industry based on the curiosity and need for patients to find new therapies involved to their diseases, this year may see some serious winners in this space of life science.
A woman in Australia was able to survive ovarian cancer thanks to a procedure where she discovered her body carried the gene that made more likely for her to get the disease.
"Knowing you carry a genetic mutation has been very challenging… It was not the answers we wanted but it is the knowledge I have been given," Christine Christie told The Courier in Ballarat, Australia.
With that in mind, here the Investing News Network (INN) looks at what the genetics market looks like today, immuno-oncology trials, and its future outlook to better answer the question, "what is genetics investing?"
Genetics investing: patients need driving market forward
Despite warnings from medical officers, more and more patients have begun taking genetic tests in order to find if they are susceptible to getting diseases, such as cancer.
That being said, there are of course a number of companies making a name for themselves in the gene therapy market.  Case in point, at the start of the year, INN reported on how 2016 was the year a variety of companies in this sector jumped to the public market, and stock to watch in the industry. At the halfway mark of the year, INN looked at how these performed, with one of the five not performing as well at the time of publication.  The companies include: Editas Medicine (NASDAQ:EDIT), Audentes Therapeutics (NASDAQ:BOLD), AveXis (NASDAQ:AVXS),  and Intellia Therapeutics (NASDAQ:NTLA), while CRISPR Therapeutics (NASDAQ:CRSP) was the fifth to watch for at the start of the year.
The late resurgence of genetic therapy can be partly attributed to the revolution brought by CRISPR-Cas9 System, which has opened the doors to genome editing, a modern technique where direct alteration is made to improve the system and develop new more specific drugs.
"We can generate hundreds of knock-out models a month on a rolling platform. And that's really only possible because of the CRISPR-Cas9 technology. It's pretty much all pervasive," Chris Lowe, Head of Research Operations at Horizon told Labiotech.eu
PricewaterhouseCoopers (PwC) describes personalized medicine as a "disruptive innovation" for this reason. Emerging from the completion of the Human Genome Project (HGP), progress in genomics and proteomics research, and the development of "targeted" therapeutics, personalized medicines should ultimately improve health outcomes by providing individuals with a more streamlined, targeted healthcare plan.
The race for the I/O market
A fascinating development in the genetic business is the immuno-oncology trials taking place at similar times between AstraZeneca (NYSE:AZN), Bristol (NYSE:BMY) and Merck (NYSE:MRK).
In July, AstraZeneca reported its study on a combination candidate of Imfinzi and CTLA-4 inhibitor tremelimumab, missed the primary endpoint of the trial. Following the market disappointment with the announcement, INN reported that analysts at Barclays had deemed Bristol and Merck as the leaders of the I/O space. AstraZeneca responded to the decline by entering a new partnership with Merck which sees the companies working together on co-developing their cancer therapies.
A report last year from the Tufts Center for the Study of Drug Development (CSDD) expects the sales for the I/O market, worldwide, to produce annual revenues between $25 billion and $40 billion by 2020, as reported by Outsourcing-Pharma.
AstraZeneca suffered a major blow to its I/O plans in July when the company's MYSTIC study stumbled since the "checkpoint inhibitor Imfinzi failed to improve progression-free survival (PFS)" when treating lung cancer patients.
"We are skeptical of Mystic's ability to show an OS benefit for both mono and combo following the PFS fails, given that it will be further confounded by cross over," Jefferies analyst Jeffrey Holford wrote in a research note, according to BioPharma DIVE.
Genetics investing: future estimates
Lastly, in terms of genetics investing, a market estimate report indicated research would only grow from 2016 up to 2024, with the US and Europe taking the lead. A summary of the report's pointed to government initiatives being capable to "improve healthcare delivery to all sections of the population to propel demand for genetic testing."
The market for these healthcare solutions is growing. In its June 2016 report, Grand View Research estimates that the global market will reach US$2,452.5 billion by 2022 and anticipates that a great deal of that growth will come from the Asia-Pacific region.
It can be inferred that interest in personalized medicine is driving genetics investing. This, in turn, is revolutionizing the way we think about disease, healthcare and the most effective paths of treatment.
A Variant Market Research report indicated global cell and tissue market would increase to $36,744 million by 2024 due to a rising interest and investment in cell-based research and tissue engineering. "[The] complexity of cell culture techniques and moral concern over mismanagement of animals may limit the adoption of cell and tissue culture," the report stated.
The application includes vaccine production, toxicity tests, biopharmaceutical production, gene therapy, drug screening as well as its development, and cancer research to round it up. Another projection is the projected growth for the Asia-Pacific to experience the fastest CAGR (compound annual growth rate) starting from last year and well into 2024.
Don't forget to follow us @INN_LifeScience  for real-time news updates.
This is an update to an article originally published in 2015. 
Securities Disclosure: I, Bryan Mc Govern, hold no direct investment interest in any company mentioned in this article.