Cannabis Weekly Round-Up: Cannabis Collection Set to Debut in Canada
Sep. 14, 2018 11:05AM PST
Cannabis Investing News
The Investing News Network rounds up some of the biggest company and market news in the cannabis market for the past trading week.
During the past trading week (September 10 to 14), a new type of product was introduced for the Canadian recreational market grouping five different licensed producers (LPs) together.
The rapid rise of a Canadian licensed producer's stock in the US and general market updates complete this Cannabis Weekly Round-Up.
Shares for Canadian licensed producer Tilray (NASDAQ:TLRY) have been red hot following the rumor of a new alcohol player making its way into the market. This past trading week Tilray obtained approval to export its medical product into Germany. The company's stock continued to rise exorbitantly.
Charlie Bilello, director of research at Pension Partners, manager of the ATAC Rotation Fund (ATACX) highlighted the growth of the stock in comparison to other more established companies like Macy's (NYSE: M), Under Armour (NYSE:UAA) since the cannabis company passed them both in terms of market cap.
On Friday (September 14) shares of the company finally slowed down the relentless rush seen in the public market. Tilray opened at a price of US$100.60 per share and close to 2 p.m. EST shares of the company were priced at US$107.52, a 9.98 percent reduction from its previous close.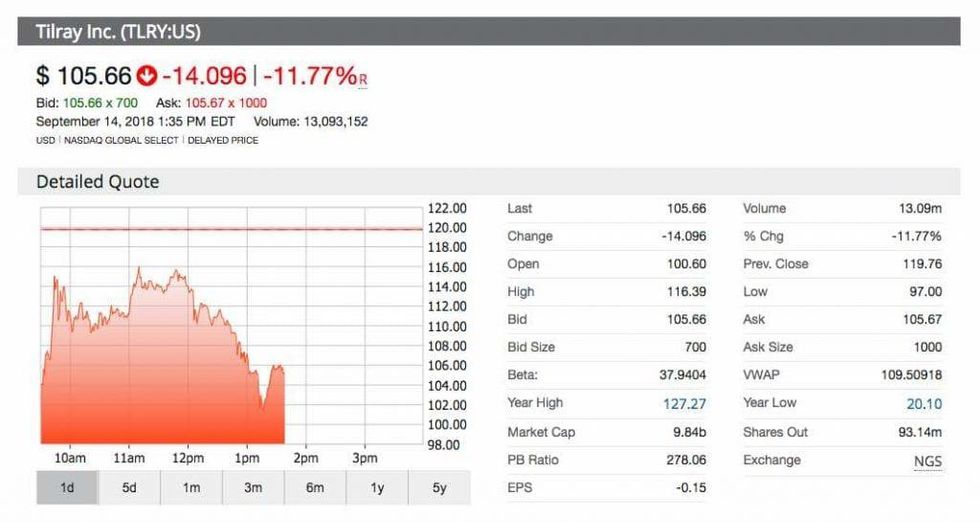 Introduction of cannabis product groups up Canadian producers
This past trading week it was revealed four public cannabis producers will join forces through a new cannabis product set to enter the Ontario market with legalization starting on October 17. A company called AHLOT, which has a direct financial tie with TerrAscend (CSE:TER), curated a collection of five one-gram dried flower items from the different producers.
Greg Pantelic, CEO of AHLOT, told the Investing News Network (INN) this product seeks to aid consumers getting rushed with options in terms of cannabis offerings from the various LPs with supply agreements for the recreational market across Canada.
"Not only will it be difficult to distinguish between the hundreds of new brands on the market, but it will be immensely daunting for consumers of all experience levels to determine which strains are right for them," Pantelic said.
The collection will include product from Organigram (TSXV:OGI), Emblem (TSXV:EMC), TerrAscend (CSE:TER), Supreme Cannabis Company (TSXV:FIRE) and Starseed Holdings.
Final design of the AHLOT Cannabis Collections: Discovery Series Vol. 1 SUBMISSION
Policy changes in the US
US Sen. Dianne Feinstein (D-CA) has reversed her long stance against cannabis this past week. The senator, who had been against legalizing the drug, pivoted as she attached her support to the STATES Act, a bill introduced by a bipartisan group from Sens. Elizabeth Warren (D-MA) and Cory Gardner (R-CO) in June.
Marijuana Moment reported Feinstein was allowed to sign up solo on the bill since her role as the ranking member of the Senate Judiciary Committee can boost the momentum for the bill.
This move represents a change in views regarding cannabis policy in the US, where the drug remains illegal on a federal level, and its potential with voters. Polls overwhelmingly show both Democrat and Republican voters want cannabis legalization.
The bill would update the federal Controlled Substances Act (CSA) to dismiss the cannabis business in state that have legalized the drug.
Market update
Aurora Cannabis (TSX:ACB) announced the launch of Australis Capital as a public company on the Canadian Securities Exchange (CSE) under the ticker symbol "AUSA."
Australis will seek to capitalize in the US cannabis market, which has gained momentum as regulation moves closer towards legalization. Aurora indicated the new public venture can access the fragmented market and offer capital to "quality operations and technology innovators" who desperately need it.
Shareholders of Aurora approved the decision to spin out Australis into its own separate public entity in July. However, Aurora still holds a right of acquisition for the company:
Following the spin-out of Australis, Aurora will hold two back-in warrants that provide the Company with the right to acquire an interest in Australis, subject to the approval of the TSX, if laws in the U.S. and TSX regulatory requirements change to permit the Company to do so.
Similarly to Tilray's Germany announcement, Maricann Group (CSE:MARI) also secured an entry into the German cannabis market, and this past week the licensed producer sent its first shipment of cannabidiol (CBD) capsules to the country.
Don't forget to follow us @INN_Cannabis for real-time news updates!
Securities Disclosure: I, Bryan Mc Govern, hold no direct investment interest in any company mentioned in this article.
Editorial Disclosure: Emblem, the Supreme Cannabis Company and Maricann Group are clients of the Investing News Network. This article is not paid-for content.
---
** This article is updated each week. Please scroll to the top for the most recent information**
Cannabis Weekly Round-Up: HEXO Rises Following Shareholder Letter
By Bryan Mc Govern, September 7, 2018
During the past trading week (September 3 to 7), the stock of a Canadian licensed producer (LP) jumped thanks to a letter from a shareholder requesting a change in the company's strategies.
Canadian licensed producer HEXO (TSX:HEXO), formerly known as Hydropothecary, enjoyed a boost to its share price following the publication of a letter from Riposte Capital, a company claiming to be the second largest public shareholder of the cannabis producer on Thursday (September 6).
Riposte Capital expressed concerns of HEXO's share price and stock performance given its activity in the sector and steady development.
"As significant shareholders we encourage management and the Board to act decisively at the next scheduled Board meeting to initiate a review of strategic alternatives to maximize shareholder value," Riposte Capital wrote in its letter. The company also suggest HEXO to consider a complete sale.
Following the publication of these requests from Riposte Capital, HEXO's share price jumped a whopping 16.4 percent to close the trading session with a price of C$7.10.
During a televised interview, Sébastien St-Louis, HEXO's co-founder and CEO, confirmed the goal for the company is to get acquired at one point either in the next year or within the next 10 years. The executive also revealed HEXO is working on obtaining a US listing on the NASDAQ or NYSE.
As a request from the Investment Industry Regulatory Organization of Canada (IIROC) HEXO confirmed no material changes in its corporate development as of Friday (September 7) that would explain its significant stock ride this week.
"It appears that yesterday's public comments from shareholders have contributed to the changes in the stock price," St-Louis said in the statement.
The cannabis producer made headlines as it secured a partnership with Molson Coors Brewing (NYSE:TAP;TSX:TPX) to create a joint venture set to develop cannabis infused beverages once regulations in Canada allow these products. Riposte Capital suggest for HEXO to obtain a "meaningful direct investment" from the alcohol producer.
Aphria to re-enter US market amid exit
Aphria (TSX:APH) confirmed the sale agreement for its remaining stake into Liberty Health Sciences (CSE:LHS), a multi-state US operator with cannabis assets in Florida. The Canadian producer was forced to dump its existing interest in the country due to the federal regulations on the drug and a guidance issued by the Canadian exchange regulators.
According to Vic Neufeld, CEO of Aphria, this move gives the company the option to "advance its existing global strategic plan unencumbered by US exposure." The executive added Aphria will be back into the US market at a more appropriate time for the company.
Aphria confirmed the buyers will acquire over 64 million shares from Liberty for a "five-year promissory note due September 6, 2023 bearing interest at 12 [percent] per annum," for close to over C$59 million. Aphria holds the right to buy back the stock for up to five years. 
Shares of both Aphria and Liberty jumped on the news with the two finishing the trading session on Thursday with a closing price of C$21.35 and C$0.99 respectively.
Market updates
It was a busy week for Auxly Cannabis Group (TSXV:XLY) as the streaming cannabis company signed deals with two Canadian licensed producers in the space. Auxly announced a strategic investment into Delta 9 Cannabis (TSXV:NINE) for a total investment of C$16.2 million.
Delta 9 will use this investment to fund its expansion of a cultivation facility in Winnipeg. "We are now well funded not only for our current phase of expansion through 2019 but have a war chest we can use to seize new opportunities that Delta 9 has been working on for several months," John Arbuthnot, CEO of Delta 9, said.
Auxly secured exclusive purchasing rights for product from Delta 9.
"Effective January 1, 2019 and until January 1, 2029, Auxly will have the right to purchase 1,000 kilograms of dried cannabis per annum as well as 100 kilograms of cannabis trim. In addition, effective July 1, 2020 and until July 1, 2030, Auxly will have the right to purchase an additional 4,000 kilograms per annum as well as 400 kilograms of cannabis trim," the statement from the two companies indicated.
Auxly also entered into a definitive agreement with Aphria through its subsidiary Dosecann. The subsidiary will purchase up to 20,000 kilograms dried flower and cannabis oil from the LP set to be distributed in international markets as indicated by Auxly.
These markets include Mexico, Portugal and Serbia while some product will also be used in Canada.
"This agreement serves as a key source of interim supply that bridges the gap between now and when the bulk of our streaming partners come online," Hugo Alves, president and director of Auxly, said.
Thanks to the booming growth of the cannabis sector and rocketing prices in the public market on Friday (September 7) Horizons ETFs Management announced its popular Horizons Marijuana Life Sciences Index ETF (TSX:HMMJ) reached C$1 billion for its assets under management.
"HMMJ's growth has far exceeded our expectations as investors have strongly supported the sector in anticipation of Canada's upcoming recreational marijuana legalization," Steve Hawkins, president and CEO of Horizons ETFs, said in a statement. According to Horizons, HMMJ has risen in value 16 percent over a year-to-date and 162.51 percent over a one year period.
Lastly, the Investing News Network provided investors with a quick recap on the biggest stories of August for the cannabis sector in video form. Watch below to catch up on what grabbed our attention during the month.
---
Don't forget to follow us @INN_Cannabis for real-time news updates!
Securities Disclosure: I, Bryan Mc Govern, hold no direct investment interest in any company mentioned in this article.
Investing News Network websites or approved third-party tools use cookies. Please refer to the cookie policy for collected data, privacy and GDPR compliance. By continuing to browse the site, you agree to our use of cookies.