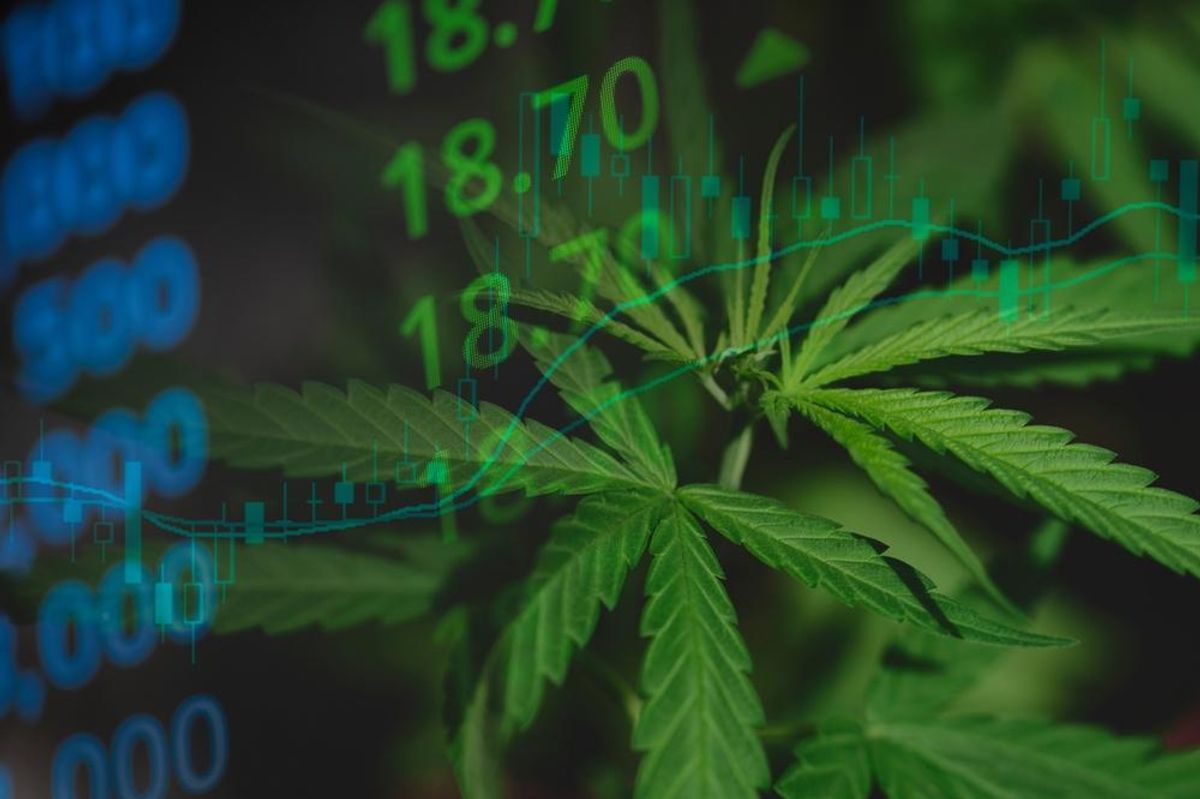 What events moved the needle and created a significant impact in the turbulent cannabis stock market in 2022?
Click here to read the previous cannabis market update.
There's a lot of waiting around happening in the cannabis market right now — stakeholders are waiting for meaningful political reform in the US, they are waiting for consolidation and they are waiting for more financial stability.
After a year full of pressure thanks in large part to significant inflation and widespread economic difficulties caused by Russia's invasion of Ukraine and the lingering effects of the COVID-19 pandemic, the cannabis stock story has taken a hit yet again.
While there have been victories that will impact the long-term future of the industry and perhaps eventually open the doors to more markets, it's clear 2022 didn't offer cannabis investors the prettiest picture.
---
Here the Investing News Network (INN) presents a look back at the major events for the cannabis investment market in 2022 alongside expert commentary from stakeholders across the board.
US Congress has chokehold on cannabis stocks
Despite significant political advances in the US, the cannabis market continues to face uncertainty due to inaction in Congress.
Investors are eagerly watching for movement on the Secure and Fair Enforcement (SAFE) Banking Act, but it looks like they may still have longer to wait. This piece of legislation would open the doors to cleaner financial options for cannabis operators in the US, and according to early stage speculation, could even allow publicly listed cannabis companies to uplist on senior US exchanges.
In December, Democratic leaders in the Senate have made mad-dash efforts to pass SAFE, including an attempt to attach it the National Defense Authorization Act. With Congress set to drastically change next year as the Republicans take control of the House of Representatives, this was a chance to get in ahead of gridlock and political difficulties.
But the attempt was dismissed by Senate Republican leader Mitch McConnell. "If Democrats wanted these controversial items so badly, they had two years to move them across the floor," he said.
This standoff on the political stage can be blamed on the inaction of Democratic leaders, one cannabis fund manager told INN.
"I think it's more about the Democrats infighting than it is the Republicans not willing to vote on SAFE Banking," Charles Taerk, president and CEO of Faircourt Asset Management, said. The executive thinks the issue is that Democratic leaders are looking to establish "far-reaching legislation," which is discouraging their counterparts from issuing support.
"The Democrats have been in control of Congress for two years, and they haven't brought SAFE Banking forward as a standalone bill," he said. "If they really wanted to find common ground, I think there was time over the last two years."
Yet again, cannabis investors are holding their breath waiting for potential changes in the US.
"It's quite a precarious situation, to be very honest, and it's very difficult to manage; there is no one right way to take a look at it," Nawan Butt of Purpose Investments told INN when asked about strategies to use during this kind of wait-and-see period.
One investment expert wrote that cannabis stocks have seen drastic periods of volatility to end the year thanks to the political back-and-forth currently on display. "This political theater is likely going to continue for a few more weeks, which is wearing thin on cannabis public market sentiment and there is risk of increased volatility until there is clarity," Morgan Paxhia, managing director and co-founder of Poseidon Investment Management, said in an article.
Could Canopy's deal change the cannabis stock landscape?
As it has many times in years past, major cannabis company Canopy Growth (NASDAQ:CGC,TSX:WEED) ended up making one of the industry's most significant announcements of the year.
It's no secret that some Canadian growers are keenly interested in exploring opportunities in the US marketplace. These firms believe they will be able to leverage their access to mature capital to establish ventures in the country.
However, so far that dream has stayed out of reach — due to federal sanctions on cannabis below the border, Canadian operators haven't been allowed to pursue plant-touching businesses directly.
Several firms have looked at alternative options to enter the US, but as time passes it's becoming increasingly complicated for Canadians to catch up with the mature crop of US multi-state operators.
With that in mind, Canopy announced in late October that it will pursue the US cannabis market in a front-facing manner. It has approval from the Toronto Stock Exchange to set up Canopy USA, which will hold all of the company's existing US interests.
"We expect to unleash the full power of Canopy's scalable and ideally-positioned U.S. cannabis ecosystem to unlock potential expansion opportunities," David Klein, Canopy's CEO, said.
The shocking development upended the way stakeholders and investors see the role of stock exchanges in the cannabis space, and what could be possible despite a lack of US federal protections.
But one securities regulator is not so keen on all the changes Canopy's decision may create. The NASDAQ objected to the Canadian company's idea via a disclosure with the US Securities and Exchange Commission.
"Nasdaq has proposed that such (financial) consolidation is impermissible under Nasdaq's general policies," the filing said, according to a report from MJBizDaily. Canopy and the NASDAQ are now in the midst of a back and forth and will have to hash out their different perspectives, with Canopy saying its listings are at risk.
"As such, there can be no assurance that we will remain listed on the stock exchanges we are currently listed on, which could have a material adverse effect on our business, financial condition and results of operations," Canopy said in a disclosure.
Overall, the Canopy situation remains an unknown scenario for investors in the cannabis industry.
"I think everybody else is watching them very, very closely," Butt told INN. The Purpose Investments expert explained that when it comes to leveraging the US play, many companies are looking for significant access to capital.
"It's really that access to capital and access to investors and being able to develop volumes on their flows that a lot of these companies are looking for, and we think there's a potential opportunity here," he said.
What were some of the other significant cannabis deals in 2022?
Aside from Canopy's big move, 2022 brought diverse transactions, from mergers to acquisitions to closures and bankruptcies.
One of the biggest deals this year was Cresco Labs' (CSE:CL,OTCQX:CRLBF) approximately US$2 billion acquisition of fellow US operator Columbia Care, a New York-based firm with an interest in the coveted state market.
"It's a unique opportunity to create industry leadership; it's a very important time with some sort of federal regulatory reform, we think, on the horizon," said Cresco CEO Charlie Bachtell at the time of the news.
Investment experts have told INN the Canadian market is set to see a variety of strategic mergers and partnerships in order to survive the effects of financial whiplash caused by a downturn in sentiment.
One such deal took place this year in a curious way, when Tilray (NASDAQ:TLRY,TSX:TLRY) and HEXO (NASDAQ:HEXO,TSX:HEXO) partnered up, with HEXO selling its debt to Tilray. Tilray now has a direct option to convert an ownership stake into its peer.
"What it allows us to do is, there's certain synergies that the partnership … can potentially bring to the market," Charlie Bowman, HEXO's CEO, previously told INN in an interview.
Similar to other cannabis companies before it, Charlotte's Web Holdings (TSX:CWEB,OTCQX:CWBHF) secured an investment deal worth nearly US$60 million with British American Tobacco (BAT) (NYSE:BTI). Kingsley Wheaton, chief growth officer with BAT, said the company was interested in a variety of products from Charlotte's Web, as well as its brand equity.
This is not the first time BAT has invested in the cannabis space — the firm previously established a relationship with Canadian grower Organigram (NASDAQ:OGI,TSX:OGI) and recently German firm Sanity Group.
Lastly, one of the most significant deals this year came when SNDL (NASDAQ:SNDL) agreed to buy the Valens Company (NASDAQ:VLNS,TSX:VLNS), a picks-and-shovels cannabis play, in an-all stock deal.
The transaction has been approved by Valens shareholders. "We believe the pro forma company provides investors with attractive exposure not only to the highest revenue generating cannabis company in Canada trading well under its tangible book value but also a dominant platform that can become a global leader in cannabis," Tyler Robson, CEO of Valens, said.
Why did cannabis stocks perform poorly in 2022?
One of the main reasons for the poor performance of cannabis stocks in 2022 has been the inability of both large and small companies to effectively access capital.
"The theme for 2022 is we're seeing a cannabis capital collapse, to be honest, and even if you're able to raise when it's very difficult, the cost of capital is much more expensive than before," Rami El-Cheikh told INN.
Most cannabis operators remain unprofitable with exceedingly high cash burn rates, said El-Cheikh, who is a strategy partner and cannabis lead with EY-Parthenon. "If you think about supply/demand and pricing trends, obviously in Canada the market continues to grow. But the pace of growth is slowing. That's what we're seeing. All operators in this space are hurting because supply continues to outstrip demand," he explained to INN.
The EY expert told INN that 2022 has been marked by ongoing bankruptcies and much-needed restructuring from cannabis companies. "If you look at the CCAA filings, 41 percent in 2022 were cannabis companies, so it's quite high," he said.
In a mid-year report, Horizons ETFs outlines the progress of its flagship cannabis fund, confirming what the industry has seen for some time — since the "green rush" highs of 2018 and early 2019, cannabis investments have been on a downturn.
In the past, this trend has been credited squarely to the excesses of publicly traded Canadian cannabis operators with extensive aspirations and limited options.
But in 2022, the negativity reached US cannabis operators, which previously were full of promise and potential. This past year, the Horizons US Marijuana Index ETF (NEO:HMUS), which is dedicated to US names, has depreciated in value by 10.05 percent. The fund started the year trading a price point of over C$20, but now finds itself below the C$10 mark.
Similarly the AdvisorShares Pure US Cannabis ETF (NYSEAMERICAN:MSOS), an actively managed cannabis ETF, has struggled throughout 2022, seeing an over 50 percent drop.
Investor takeaway
The cannabis investment market suffered another difficult period in 2022. The industry's struggle continued, but the investment storyline is transforming as the market moves from growth to consolidation.
Don't forget to follow us @INN_Cannabis for real-time news updates!

Securities Disclosure: I, Bryan Mc Govern, hold no direct investment interest in any company mentioned in this article.
Editorial Disclosure: The Investing News Network does not guarantee the accuracy or thoroughness of the information reported in the interviews it conducts. The opinions expressed in these interviews do not reflect the opinions of the Investing News Network and do not constitute investment advice. All readers are encouraged to perform their own due diligence.
Investing News Network websites or approved third-party tools use cookies. Please refer to the cookie policy for collected data, privacy and GDPR compliance. By continuing to browse the site, you agree to our use of cookies.