Overview

CanAlaska Uranium (TSXV:CVV,OTCQB:CVVUF) is a Canadian exploration company developing a portfolio of high-grade uranium and nickel projects located across the country. The company follows a project generator model, with properties in both the Athabasca and the Thompson Nickel Belt region.

CanAlaska Uranium collectively holds one of the largest land positions in the Athabasca Basin with approximately 1.2 million acres in land claims. In total, the company holds 12 uranium projects. The company's strategic investments have attracted the interest of major mining companies including Cameco (TSX:CCO,NYSE:CCJ), Denison (TSX:DML,NYSE:DNN). Prior activities have been with KORES, KEPCO, Mitsubishi and De Beers.
CanAlaska Uranium's flagship West McArthur project is a joint venture in partnership with Cameco, with CanAlaska serving as operator. Results from the 2019 drill program at West McArthur returned 0.70 meters at 6.8 percent U3O8 within 2.1 meters averaging 2.3 percent U3O8. This drilling extended earlier 5 percent U3O8 drill intersections, and confirmed an extensive mineralizing event. The 2019 results contained high-grade uranium as well as base metal mineralization, similar in character to the nearby high-grade Fox Lake uranium deposit.
In May 2020 CanAlaska Uranium announced the company had staked a further 29,671 hectares of land in four large blocks northeast of the Athabasca Basin. While the project areas lie outside the current boundaries of the Basin, the sandstone remnants described in the Pinkham Lake area reflect an extension of Athabasca mineralization.
CanAlaska Uranium has also entered into an option agreement with Fjordland Exploration (TSXV:FEX) giving the company an opportunity to earn 80 percent interest in CanAlaska's North Thompson Nickel project. According to the agreement, Fjordland has an opportunity to earn an 80 percent interest in the North Thompson Nickel Project by contributing exploration expenditures of $9M, 8.5M common Fjordland Exploration shares and other considerations.
Company Highlights
Holds an extensive portfolio of uranium and nickel projects in Canada, including projects located in the Athabasca Basin and Thompson Nickel Belt
West McArthur uranium project is under a joint venture with Cameco, with a 2019 drill program extending the high-grade uranium zone on the property
2019 drill results at West McArthur returned 0.70 meters @ 6.8 percent U3O8 within 2.1 meters averaging 2.3 percent U3O8
Portfolio of resource projects have attracted the current attention of Cameco and Denison
Partnered with Fjordland Exploration on the North Thompson Nickel Project
CanAlaska completed its winter drilling on its wholly-owned Waterbury uranium project and intersected polymetallic mineralization. The program consisted of 1,347.5 metres of drilling in three drill holes.
The company announced new uranium occurrences within 5 km long "cr3" structural corridor, west of Gryphon and Phoenix at the Moon Lake South JV project.
CanAlaska staked new targets at its Chymko project, totalling 32,603 hectares, in the central Athabasca Basin located 100 km west of the Key Lake mine and mill complex.
CanAlaska increased its land position in the western Athabasca Basin by staking 28,328 hectares of new uranium claims.
Key Projects
CanAlaska Uranium's West McArthur Property
The West McArthur project is located in the Athabasca Basin approximately six kilometers away from the producing McArthur River mine owned by Cameco. Between 2002 and 2012, McArthur river produced 225.5 million pounds U3O8 grading 13.5 percent U3O8 per tonne. The project was consolidated by CanAlaska Uranium in 2016, giving the company 100 percent ownership of the property following a deal with Mitsubishi Development Pty Ltd.
Under an option agreement signed with Cameco, CanAlaska Uranium conducted drilling on the West McArthur property that returned a new zone of high-grade uranium mineralization at Grid 5. In 2018, the company resumed operatorship of the West McArthur property with Cameco signed on as a 30 percent joint venture partner. Under the terms of the joint venture agreement, both CanAlaska and Cameco agreed to focus on expanding Grid 5 with a 2019 drill program.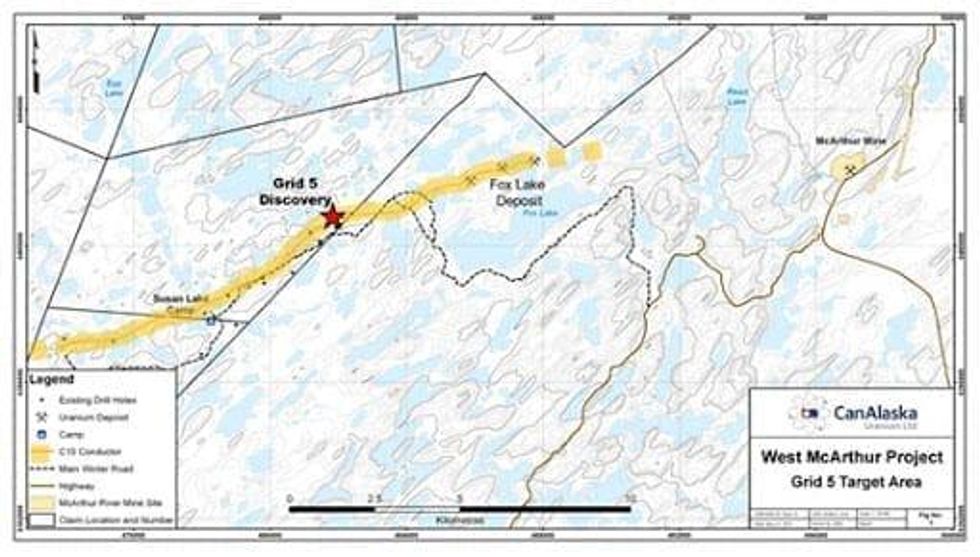 In October of 2019, CanAlaska Uranium announced the results from its 2019 drill program in partnership with Cameco. Highlights of the drill results included 0.70 meters at 6.8 percent U3O8 within 2.1 meters averaging 2.3 percent U3O8.
CanAlaska Uranium's Cree East Project
The Cree East uranium project is located in the southeast corner of the Athabasca Basin, approximately 35 kilometers west of Cameco's Key Lake Mine and uranium mill. The project comprises 16 contiguous mineral claims totaling 55,935 hectares. The project is wholly-owned by CanAlaska Uranium, which has established nine target areas across the property, with the prior assistance of KEPCO and KORES.
Exploration
CanAlaska first began exploring Cree East in 2005, conducting VTEM airborne surveys across the property to determine priority targets. In 2006 the company collected over 2,000 surface rock samples and over 400 lake sediment samples, defining three large areas of dravite and clay alteration on the surface, with localized boulder samples containing anomalous uranium. CanAlaska later conducted additional IP-Resistivity and Audio Magneto Telluric geophysical surveys to further define the targets.
In 2008 CanAlaska Uranium conducted a $1.6 million exploration program at Cree East, returning strong fracturing and alteration in most drill holes with faulting in many of the drill holes as well. Geochemical enrichment of uranium and other elements was found in both the basement and sandstone.
Exploration work including additional geophysical surveys was conducted on Grid 7 at Cree East between 2009 and 2012 in order to improve the drill targets on the property. In total, 91 holes were drilled covering 34,638 meters resulting in nine target zones. All nine zones have shown indications of hydrothermal alteration or uranium mineralization.
Northeast Athabasca Targets
In May 2020 CanAlaska announced it had staked four large blocks of land just outside of the Athabasca Basin totaling 114 square miles. The staked area focused on regional structures similar to those hosting the nearby high-grade Collins Bay-Eagle Point uranium deposits.
The targets on the four land claims are basement-hosted large uranium deposits similar to those found at Eagle Point, Arrow and Millennium. CanAlaska Uranium believes the sandstone remnants described in the nearby Pinkham Lake area reflect the possibility that the area could be a continuation of the Athabasca Basin.
Thompson Nickel Properties
CanAlaska Uranium owns three properties in the Thompson Nickel Belt: Strong, Hunter and Manibridge. The Thompson Nickel Belt is home to over 18 nickel deposits. Since 1959, the region has produced an estimated 5 billion pounds of nickel.
Hunter Property
The Hunter Property is located 20 kilometers north of Thompson, Manitoba. The property consists of 11 land claims totaling 12,520 hectares and has been approved for a mineral exploration license. CanAlaska Uranium believes the property is underlain by the same series of formations that host the nickel deposits along the Thompson Nickel Belt and considers the property to be an extension of the belt. Using historical exploration data, a number of exploration targets have been defined surrounding the Mel deposit, which was first located in the 1970s.
From 2000 through 2005 CanAlaska Uranium conducted extensive UTEM and AMT surveys, resulting in a high number of drill targets. A number of these targets are expected to require follow-up work.
Strong Property
The Strong project is comprised of 6,140 hectares of land approximately 26 kilometers away from Thompson, Manitoba including one mineral exploration license. The Strong property was explored by a number of companies during the 1950s and 1970s, leading to the discovery of the Mel deposit located to the east of the Hunter property. Falconbridge and Crowflight Minerals Inc. were previously active on the Strong Property between 1998 and 2005.
CanAlaska Uranium has established significant exploration targets that have been defined on both properties based on historical data. A VTEM survey completed in 2007 provided the company with a series of targets, none of which have been drilled. Several of these targets are in the same structural position as the Mel deposit.
Manibridge Property
The Manibridge Property, acquired by CanAlaska Uranium in 2018, consists of 19 land claims totaling 4,368 hectares. The property is located 125 kilometers southwest of Thompson and is accessible by road via Highway 6. The claims held by CanAlaska Uranium also include the site of the reclaimed Manibridge Mine, which operated between 1971 and 1977 based on an initial resource of 1.4 million tonnes at an average grade of 2.25 percent nickel and 0.27 percent copper.
North Thompson Nickel Project
In May 2020 CanAlaska Uranium announced the company had entered into an option agreement with Fjordland Exploration (TSXV:FEX) giving the company an opportunity to earn 80 percent interest in CanAlaska's North Thompson Nickel project.
Under the terms of the agreement, Fjordland has an opportunity to earn 80 percent interest in the North Thompson Nickel Project by contributing exploration expenditures of $9M, 8.5M common Fjordland Exploration shares and other considerations. The North Thompson Nickel Project consists of the Strong, Hunter and Hunter Claims for a combined total of 18,685 hectares located approximately 25 kilometers from Thompson, Manitoba.
Management Team
Ambassador Thomas Graham Jr. — Chairman of the Board, Director,
Ambassador Thomas Graham, Jr. is one of the world's leading experts in nuclear non-proliferation. Amb. Graham has served under four successive U.S. Presidents as a senior U.S. diplomat involved in the negotiation of every major international arms control and non-proliferation agreement for the past 35 years. This includes the SALT, START, ABM, INF, NPT, CFE and CTBT Treaties. Amb. Graham has served with the U.S. Arms Control and Disarmament Agency and as the Special Representative of the President of the United States for Arms Control, Non-Proliferation, and Disarmament, in which role he successfully led U.S. government efforts to achieve the permanent extension of the Nuclear Non-Proliferation Treaty.
Cory Belyk — CEO and Executive Vice President
Cory Belyk is a professional geologist with nearly 30 years of experience working for major and junior mining companies in the Athabasca Basin and worldwide. Prior to joining CanAlaska in 2019 as Chief Operating Officer, he was Director of Exploration for Cameco's international operations including Mongolia and Australia. Mr. Belyk was also a member of Cameco's exploration management team during the Fox Lake and West McArthur uranium discoveries in Saskatchewan. Mr. Belyk holds a Bachelor's (1994) degree in Geology from the University of Saskatchewan and a Certificate in Negotiation from Harvard Law School (2014). He is a registered member of the Association of Professional Engineers and Geoscientists of Saskatchewan.
Peter G. Dasler — P.Geo. President, Director
Recognizing the favorable upturn of the uranium cycle in early 2004, Mr. Dasler positioned CanAlaska Uranium (then CanAlaska Ventures Ltd.) to become a significant presence in the field of Canadian uranium exploration by staking mineral claims in the most favorable districts of Canada's Athabasca Basin, home to the world's largest-richest uranium mines. He has since assembled an expert geological team that has enabled CanAlaska to carry out over $50 million in exploration and advance multiple uranium projects towards discovery.
Nathan Bridge — Vice President of Exploration
Nathan Bridge has over a decade of experience managing exploration, delineation, and geotechnical drilling programs at Cameco Corporation. He was senior Geologist on Cameco's Fox Lake discovery team that took the deposit from exploration stage, through discovery, and into resource definition. Nathan has spent the majority of his career exploring uranium and in 2017 he led the exploration program that discovered the 42 Zone on the Company's West McArthur project.
Dr. Karl Schimann — Senior Exploration Consultant
Dr. Schimann possesses extensive experience in mineral exploration, spanning a career in exploration geology of over 30 years and across three continents. He has participated in significant discoveries for uranium and base metals and has also led various exploration and mining initiatives for gold and diamonds. Between 1977 and 1997, Dr. Schimann was employed by French uranium giant AREVA (previously COGEMA) as a Senior Geologist and Project Manager, where he was a key member of the team that undertook the discovery and development of the massive Cigar Lake uranium mine. In total, he spent twenty years with AREVA, ten of which were based in Canada's Athabasca Basin, home to the world's largest-richest uranium mines.
Harry Chan — Chief Financial Officer
Harry Chan has over 20 years of experience working in several different industries ranging from public practice, sports entertainment, wholesale distribution and telecommunications. He is a graduate of the University of British Columbia and received his Certified General Accountant designation in BC in 1996.
Jean Luc Roy — Director
Mr. Roy is an independent Director of the Company (2007 — present). He has over 20 years of experience in the mining industry. The majority of his experience has been in Africa for companies such as International Gold Resources, Ashanti Goldfields Inc., Senafo, and First Quantum Minerals. Mr. Roy has managed projects from exploration through to production in three different countries. As Managing Director for First Quantum Minerals, Jean Luc played a crucial role in securing extensive land positions and by successfully placing a mining operation into production in the Democratic Republic of Congo during a period of major unrest in the country. Mr. Roy is presently a resident of Burkina Faso where is COO of Ampella Mining Ltd an Australian listed company focused on gold exploration in West Africa with their flagship property Batie West.
Victor Fern — Director
Independent Director of the Company (2007-present); road maintenance supervisor for Athabasca Development Corporation (2009-present); mill training foreman and a mill process operator for Cameco Corporation; past Chief of the Fond Du Lac Denesuline First Nation (/2005–2007). Mr. Fern has lived in Fond du Lac all of his life, he is a traditional land user and still hunts and fish for food in the area. He is active in community development, and works with local committees. Mr. Fern has been involved in environmental monitoring in the Northern Athabasca area and is involved with various business interest in the Fond du Lac area.
Karen Lloyd — Director
Karen Lloyd comes from a strong and significant strategy and marketing background across five different industries including mining, telecommunications, online payments, executive training and banking. This depth of experience comes from her employment with Telus Communications, Hongkong Bank of Canada and Cameco Corporation. Between 2009 and 2020, Ms. Lloyd managed a team of contract and inventory specialists to seamlessly fulfill global uranium sales generating annual revenue of between $1.8 and $2.4 billion for Cameco Corporation as a Director in Cameco's Marketing team. In April 2021, Ms. Lloyd joined Kreos Aviation as Chief Operating Officer where she oversees all aspects of the Kreos operations including asset management, strategic alliances, flight operations, maintenance, fuel operations, marketing and sales, and business development.
Geoff Gay — Director
Geoff Gay is currently Chief Executive Officer of Athabasca Basin Development, an Indigenous-owned investment company based in Saskatchewan. Mr. Gay has been its executive leader, and subsequent CEO, since the company's inception nineteen years ago and was instrumental in establishing and growing the company to where it is today. As CEO, Mr. Gay is responsible to articulate the vision of the partnership with a focus on creating value for the unit holders and leading the company in long term strategic planning and implementation, evaluating new opportunities for investment, assessing and mitigating risk, and overseeing all financial aspects of the partnership. In 2017, Mr. Gay was named Business Leader of the Year by Saskatchewan Chamber of Commerce at its annual ABEX awards.
Shane Shircliff — Advisor
Shane Shircliff has over twenty years of experience in senior management and corporate director roles for both publicly traded and private companies, and has extensive experience with various publicly traded regulatory regimes. Mr. Shircliff's breadth of expertise over his career includes negotiation, deal structure, due diligence and transacting mergers, acquisitions and divestitures totaling over one billion dollars in value. Industries of experience include logistics, finance, natural resources, exploration and mining, retail, real estate and construction. Mr. Shircliff has been directly involved with all aspects of developing resource projects encompassing lithium, uranium, gold, silver, industrial minerals, diamonds as well as oil and gas in a variety of countries. Mr. Shircliff is the founder and Chief Executive Officer of Clinworth Management Corp., a private company, which provides management, acquisition, divestiture and corporate development services to a wide range of clients.
Request an Investor Kit
EXCITING upcoming projects!
IN-DEPTH reliable insights!
SUCCESSFUL growth strategies!
VALUE-BASED content!
CanAlaska Uranium