Overview
In 2020, the global point-of-care testing (POCT) market was valued at US 34.49 Billion and expected to expand at an annual growth rate (CAGR) of 9.4 percent to reach a projected US 81.37 Billion by 2028. The upsurge will be driven largely by increased demand for screening and managing chronic diseases as well as rapidly assessing infectious diseases such as COVID-19.
The accessibility of POCT has been an increasing priority of the world's leading health organizations and experts. Pharmacies are ideal 'hubs' within the community to offer patients better access to the numbers they need to know for preventing or treating conditions such as diabetes and heart disease or the timely diagnosis of infection.
Avricore Health Inc. (TSXV:AVCR) is a pharmacy service innovator focused on acquiring and developing early-stage technologies aimed at moving pharmacy forward. Through its flagship offering HealthTab™ (a wholly owned subsidiary), its mission is to make actionable health information more accessible to everyone by creating the world's largest network of rapid testing devices in community pharmacies.
HealthTab™ is a turnkey point-of-care testing solution that effectively turns pharmacies
into diagnostic hubs (sometimes known as 'Community Diagnostic Centres' or CDCs) and connects them on a single, cloud-based platform.
The HealthTab™ network model is unlike anything in pharmacy today. It gives knowledgeable and trusted pharmacists a greater role in primary care delivery, while empowering patients to take more control of their health. It also reduces costs and waiting times and provides many potential revenue streams including: equipment leasing & consumables, direct access testing, disease prevention & management programs, sponsored health programs, decentralized clinical trials, real world data (RWD) sets, and third party app integration through API.In June 2021, Avricore signed a Master Agreement with select Shoppers Drug Mart pharmacies to pilot the HealthTab™ platform. This agreement allows patients access to point-of-care blood screening and health-data management for potential risks for developing diabetes and cardiovascular conditions through the HealthTab™-integrated Afinion 2™ analyzers by Abbott Rapid Diagnostics.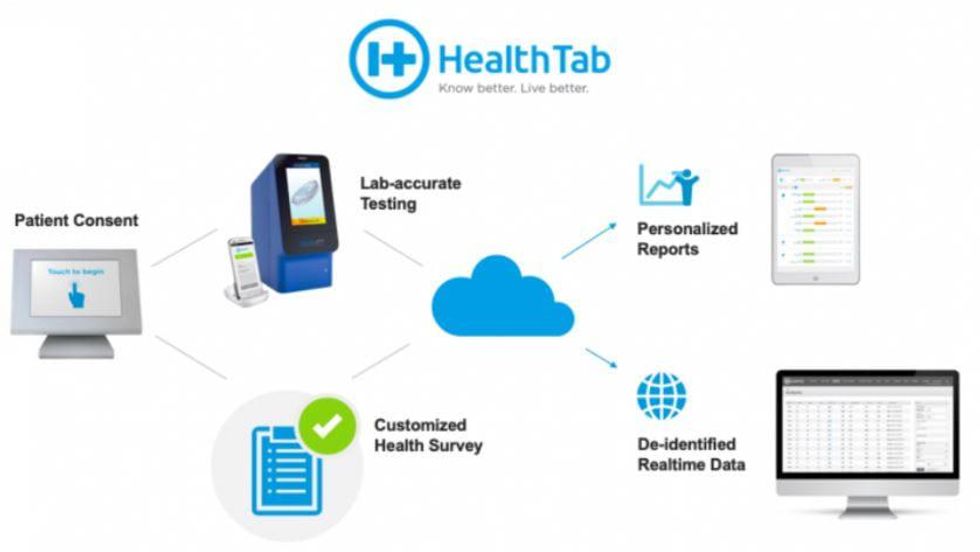 Avricore is the first pharmacy solutions provider to partner with Abbott (NYSE:ABT), the global healthcare company and diagnostics leader in Canada. In May 2021, it signed a supplier distribution agreement to expand the distribution of Abbott's Afinion 2™ and associated tests for diabetes and heart disease screening in community pharmacies in Canada. This agreement includes valuable HbA1c testing, a critical marker for the screening and management of diabetes.
Near term goals for the company include expansion into more pharmacies across Canada, followed soon after by entering the US and UK markets. It has made significant strides in testing and developing its technology and is moving into the commercialization stage.
Strategic partnerships like Abbott and pharmacy-focused pilot opportunities advance Avricore closer to becoming an incredibly dominant player in the community diagnostics space. The company aims to make actionable health information more accessible for everyone by creating the world's largest rapid testing network in pharmacy.
Company Highlights
Avricore Health Inc is a pharmacy solutions provider that combines best-in-class point-of-care technologies with a secure, cloud-based platform for tackling pressing global health issues
The wholly owned subsidiary, HealthTab™, offers fast, accurate and cost effective point-of-care screening. With just a few drops of blood from a finger prick, results are available on the spot and data is available in real time
The current test menu includes up to 23 key biomarkers for screening and managing chronic diseases, such as diabetes and heart disease (e.g. HbA1c, Lipid Profile, eGFR). HealthTab™ has also recently added capabilities for bacterial and viral tests, such as strep and COVID-19
The company leverages strategic partnerships with notable names in the diagnostic space, including Abbott Rapid Diagnostics, a global healthcare company and leader in diagnostics. This partnership allows Avricore to use Abbott's Afinion 2™ analyzer to offer high quality, low-cost screening tests
In June 2021, Avricore announced its Master Agreement to pilot its HealthTab ™ platform for diabetes management in select Shoppers Drug Mart pharmacies
Avricore's ultimate aim is to make actionable health information more accessible to everyone by creating the world's largest network of rapid testing devices in community pharmacy
The company expanded patient testing with the HealthTab™ platform in select Shoppers Drug Mart® pharmacies in British Columbia, bringing its diabetes screening program to Western Canada for the first time.
Management Team
Avricore's leadership team brings a diverse portfolio of expertise across healthcare and biotech industries as well as technology, finance and communications. Together, they share a common vision for moving pharmacy forward and have positioned the company for significant future growth and expansion.
Hector Bremner – CEO
Hector Bremner has over fifteen years of senior and executive experience across various industries, including international trade, natural gas, marketing and communications. He has owned and operated TOUCH Marketing, a boutique marketing and communication firm based in Vancouver, from 2007 to 2013.
Bremner has also served as the executive assistant to the Deputy Premier and Minister of Natural Gas Development, Responsible for Housing, as well as the Minister of International Trade and Minister of Small Business. In 2015, he joined Vancouver's Pace Group Communications as VP of Public Affairs.
David Hall – Chairman and Director
David Hall's leadership spans five different companies. Aside from acting as Chairman and Director at Avricore, he is also currently the Chairman of RepliCel Life Sciences, a member of the board of TrichoScience Innovations, AdvantageBC and Providence Health Care Research Institute.
Hall also served as Chairman of Perceptronix Medical, Inc., Chief Financial Officer, Secretary & Treasurer of Angiotech Pharmaceuticals, Inc., President & Director at Newcastle Resources Ltd. and Chairman for LifeSciences British Columbia.
Kiki Smith – CFO
Kiki Smith has over 20 years of experience assisting private and public companies in the roles of accountant, corporate controller and CFO in mining, oil & gas, real estate, high technology, food production and investment fund management. She currently provides consulting services in M&A, financial reporting and regulatory compliance to several public and private companies across several investment sectors.
Smith is also a member of the Chartered Professional Accountants of British Columbia. She has a Bachelor's degree in Economics from the University of British Columbia.
Rodger Seccombe – Head of HealthTab™ Division
Rodger Seccombe is the co-founder and former CEO of HealthTab™ Inc. He has over 20 years of experience launching and running companies in software, healthcare technology and clean energy. Seccombe is a recognized industry expert in direct-to-consumer and point-of-care testing technology.
In 2006, he joined the start-up team at Canadian Bioenergy Corporation and helped pioneer the development of the renewable fuel industry in Canada. Before HealthTab™, he designed and developed cloud-based informatics systems currently in use by some of the world's leading medical laboratories and instrument manufacturers.
Request an Investor Kit
EXCITING upcoming projects!
IN-DEPTH reliable insights!
SUCCESSFUL growth strategies!
VALUE-BASED content!
Avricore Health