Zinc Investing
Zinc Price Update: H1 2022 in Review
Jul. 20, 2022 01:50PM PST
Here's an overview of the main factors that impacted the zinc market in H1 2022, and what's ahead for the rest of the year.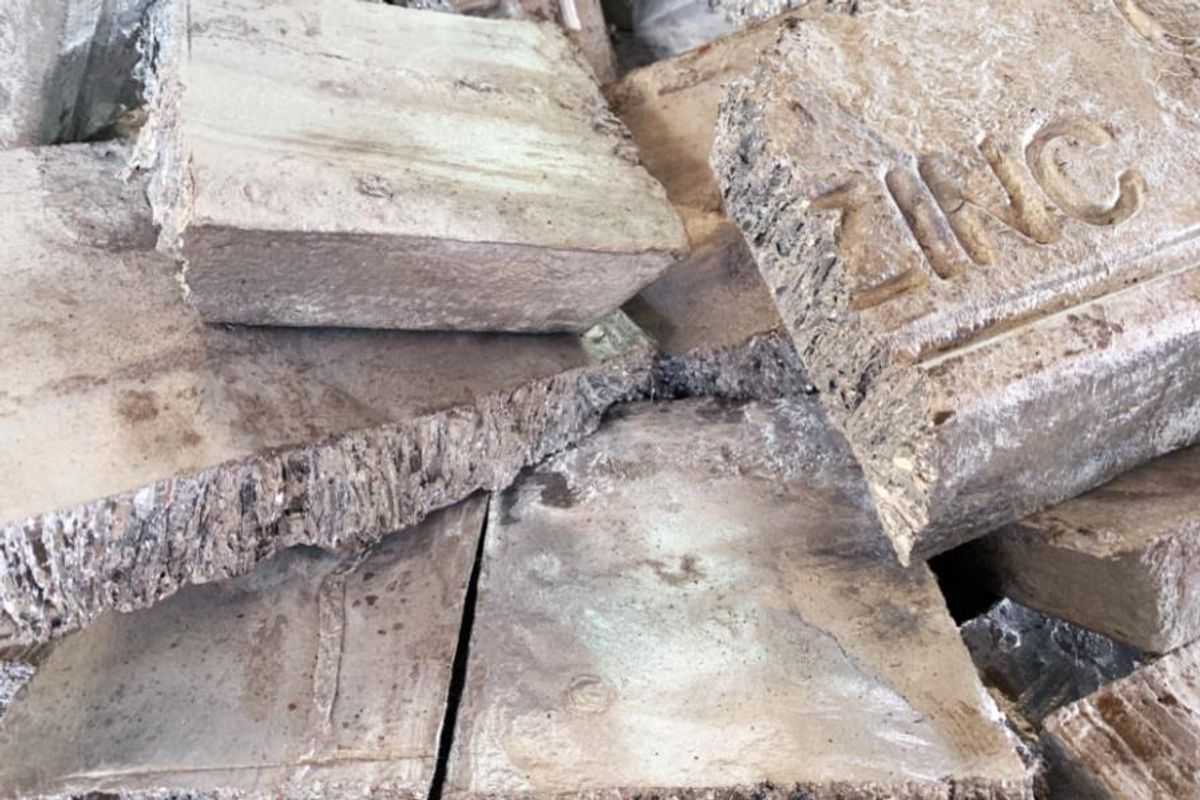 Click here to read the latest zinc price update.
Zinc prices rose steadily last year as demand rebounded following the easing of COVID-19 restrictions and supply tightened on the back of the energy crisis.
The base metal performed in an upward trend during the first three months of 2022, hitting its highest point in the second quarter at the US$4,500 per metric ton (MT) mark.
With the first half of the year now over, the Investing News Network (INN) caught up with analysts, economists and experts alike to find out what's ahead for zinc supply, demand and prices.
---
Zinc price update: H1 overview
At the end of last year, analysts were expecting zinc to remain high throughout the first months of the new year, and the base metal lived up to expectations.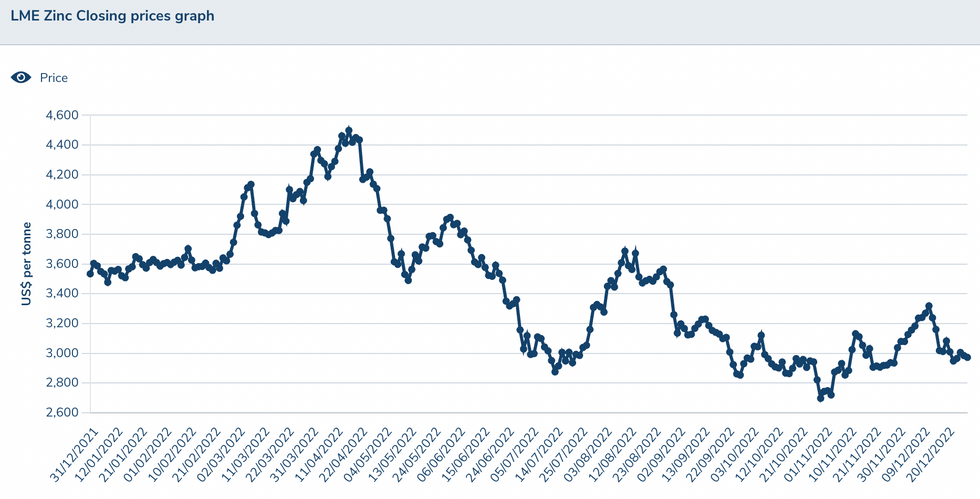 Price performance of zinc in H1 2022
Chart via London Metal Exchange
Zinc prices hit their highest level of the year on April 19, trading at US$4,498.50 — a more than 24 percent jump since the beginning of 2022.
"Zinc prices were stronger in the first half of 2022 than we expected at the start of the year, mainly due to the impact of Russia's invasion of Ukraine on energy prices and zinc prices," Helen O'Cleary of CRU Group said.
High power costs in Europe impacted the space since last year, but the energy crisis deepened in 2022 on the back of the Russia-Ukraine war, which led to more smelters cutting back on production, increasing fears of tight supply.
Speaking with the Investing News Network (INN) about the zinc market, Jonathan Leng of Wood Mackenzie said prices performed as he had expected in the first six months of the year.
"Zinc began the year at US$3,600, which is fairly high for the metal, but then really took off in late March, pushing up to over US$4,500 briefly in April," he explained.
"This was based on the solid fundamentals of low and falling metal stocks on the exchanges as demand was good in most regions, while refined production was constrained by high power prices in Europe, the permanent closure of the Flin Flon smelter in Canada and disruptions at several other smelters."
All these factors paired with volatility hitting the markets and a US dollar on the rise put pressure on the base metal as the year progressed, ending the first half of 2022 trading at US$3,157 — down around 12 percent.
"Zinc was caught up in the broader selloff of base metals in June, amid souring global growth prospects, although prices held up relatively well compared to other industrial metals," a July report from FocusEconomics reads. "A decelerating global economy, renewed lockdowns in China and aggressive monetary policy tightening among major central banks have all weighed on zinc prices over recent months."
Zinc price update: Supply and demand
In 2021, the zinc market recovered from pandemic-related constraints as economies reopened following tough containment measures such as strict lockdowns. But in the second half, all eyes turned to the energy crisis in Europe, which increased costs and put pressure on supply, sending prices to their highest level in 14 years.
However, during the first six months of 2022, fresh COVID-19 restrictions in China hit several metals markets. Demand for zinc was no exception as China is a top consumer of the metal.
"The rebound in the end-use side of the economy seems set to be much slower, with fears of renewed coronavirus restrictions damaging sentiment and encouraging consumers and businesses to save instead of spending," Leng said when asked about Chinese demand for zinc so far this year.
"Perhaps the greatest drag on the Chinese economy comes from the property sector, which has seen the nascent recovery from last year's downturn effectively reversed by this year's lockdowns," he added.
CRU's O'Cleary echoed this sentiment, saying China's post-new year recovery was weak even before large-scale lockdowns in China. CRU estimates that Chinese zinc demand contracted by 6 percent year-on-year in H1.
"We are already seeing a gradual pickup in demand in China and currently expect a return to zinc demand growth in the second half," she said. "But full-year growth in 2022 is expected to contract by 2.1 percent year-on-year."
As a result, there are growing expectations that the Chinese government will deploy a package of stimulus measures sooner than was expected a few months ago.
"This stimulus will inevitably be focused on infrastructure, which is traditionally zinc intensive and should support a pickup in Chinese zinc demand that could be expected to gain momentum going into 2023," Leng said.
In terms of zinc supply so far this year, power costs have been top of mind for market participants. Back in October, one of the world's top zinc smelters, Nyrstar (EBR:NYR), said that it was planning to cut production at its European smelter operations. At the time, mining giant Glencore (LSE:GLEN,OTC Pink:GLCNF) also said it was adjusting production to reduce exposure to peak power pricing periods during the day.
"Overall, we don't think the reduction in output was as dramatic as implied by the initial headlines," Leng said. "We understand that most smelters were only modulating power consumption — reducing production at the tankhouse when power prices are high, but raising output, say at night or weekends, when prices are typically lower."
CRU estimates that high energy costs in Europe accounted for around 67,000 MT of smelter output losses in Q1.
"We currently expect a further 40,000 to 45,000 tonnes of disruption in Q2 in Europe and 15,000 tonnes of non-energy-related disruption elsewhere in ex-China," O'Cleary said.
Looking ahead to the next six months, what remains to be seen is where power prices will be next winter.
"But they are sure to remain high and will jump much higher if there are further disruptions to gas supply," Leng said. "A major threat comes from more countries having their gas supplies cut off from Russia."
Woodmac expects a gradual increase in both mine and smelter supply in the second half of this year, with refined output benefiting from the restart of Nyrstar's Auby zinc smelter and steady production at most other smelters.
"With the current level of treatment charges and if the zinc price rebounds and premia remain high, it should be supportive for smelter production even if electricity prices move a little," Leng said. "If we have blackouts and restrictions on power consumption for industrial users, we could see several major smelters being suspended."
Overall, Woodmac has reduced its forecast by around 250,000 MT of zinc metal, with its refined production forecast tightened by around 300,000 MT.
"With demand being a little stronger than expected in the first half, this has partially offset the downward revision for the second half with the worsening economic outlook," Leng said.
At the beginning of the year, CRU was forecasting a refined market deficit in 2022 of 100,000 MT.
"We are now forecasting a global refined deficit of almost 250,000 tonnes, 170,000 tonnes of which is accounted for by our smelter disruption allowance," O'Cleary said.
Zinc price update: What's ahead?
As the second half of the year begins, Woodmac is forecasting that zinc prices will recover from current levels to average US$3,600 in the third quarter.
One catalyst to watch is London Metal Exchange stocks, which are at a level where price volatility can be high.
"Our base-case assumption is that although individual economies may experience technical recessions in the coming months, global zinc demand growth will remain positive," Leng commented.
For CRU's O'Cleary, fears of recession are expected to be outweighed by rising energy prices in Europe.
"(We expect this) to lead to smelter cutbacks in H2," she said. During the second half, CRU has a disruption allowance of 110,000 MT for countries excluding China, most of which the firm expects to materialize in Europe.
For the medium-term outlook, an area zinc investors should watch is the emergence of large new mine projects.
"We had expected Ozernoye in Russia to start up in November, but now assume this to be delayed to 2024 due to the impact of sanctions on the importing of key equipment," Leng said. "The Gamsberg expansion also looks to be going ahead, but timing is yet to be confirmed. This will likely trigger Vedanta (NSE:VEDL,BOM:500295) to commission one or maybe two smelter projects to treat the additional concentrate."
Don't forget to follow us @INN_Resource for real-time news updates!
Securities Disclosure: I, Priscila Barrera, hold no direct investment interest in any company mentioned in this article.
Editorial Disclosure: The Investing News Network does not guarantee the accuracy or thoroughness of the information reported in the interviews it conducts. The opinions expressed in these interviews do not reflect the opinions of the Investing News Network and do not constitute investment advice. All readers are encouraged to perform their own due diligence.
https://www.linkedin.com/in/priscilabarrera/
pbarrera@investingnews.com
Priscila is originally from Buenos Aires, Argentina, where she earned a BA in Communications at Universidad de San Andres. She moved to Vancouver for the first time in 2010 and fell in love with the city. A few years after she went to London, UK, to study a MA in Journalism at Kingston University and came back in 2016. She enjoys reading, drinking coffee and travelling.
Investing News Network websites or approved third-party tools use cookies. Please refer to the cookie policy for collected data, privacy and GDPR compliance. By continuing to browse the site, you agree to our use of cookies. 
Priscila is originally from Buenos Aires, Argentina, where she earned a BA in Communications at Universidad de San Andres. She moved to Vancouver for the first time in 2010 and fell in love with the city. A few years after she went to London, UK, to study a MA in Journalism at Kingston University and came back in 2016. She enjoys reading, drinking coffee and travelling.