Overview
Fossil fuels have taken us far, but the future is electric. Surging electric vehicle (EV) demand and global government initiatives prioritizing battery metals make the importance of clean energy crystal clear. As a result, battery metals are expected to remain in robust demand. Lithium, famous for its role in EV batteries, will see supply and demand increase according to the research firm, Fastmarket, that anticipates the United States will play 'catch up' with Europe and China in 2022.
Additionally, financial markets analysts at Refinitiv are forecasting another strong year for global mine production as year-on-year growth reaches four percent, up from three percent in 2021. This research shows that the mining industry is recovering from the global disruption caused by the COVID-19 pandemic. Moreover, as the world races towards green technologies that require high-capacity batteries, some mining companies are preparing to meet future demands.
Usha Resources (
TSXV:USHA
,OTCQB:USHA, FSE:JO0) is a Canadian junior exploration company, focused on advancing early-stage assets known for battery and base metals throughout North America. The company has four promising assets in highly-ranked jurisdictions, including Nevada, Arizona, Montana in the United States and Ontario in Canada. Lithium, copper, nickel, and cobalt are the company's focus as it is preparing to meet the global demand for battery metals as the world transitions to clean energy.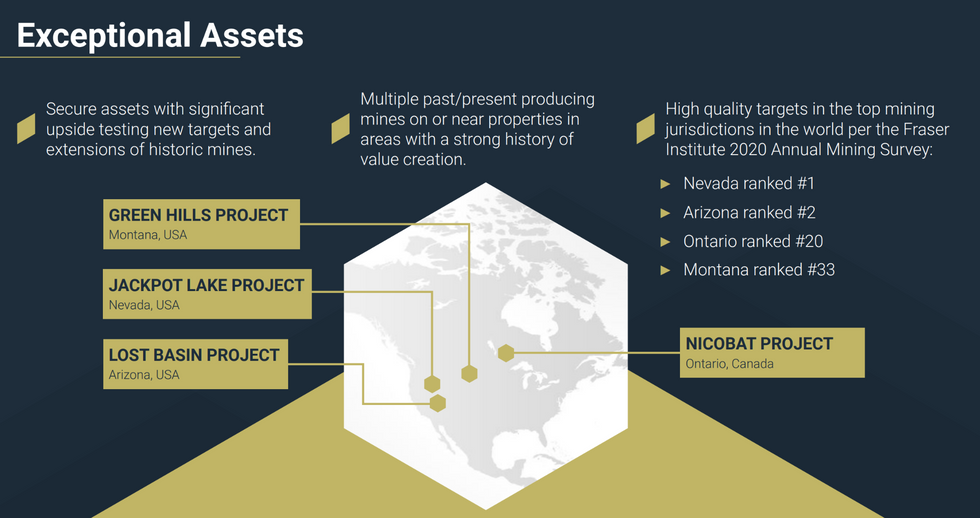 Jackpot Lake was recently acquired to strengthen the company's battery metals portfolio and is located in Nevada, the world's third-ranked mining jurisdiction. Usha Resources' new asset is drill-ready, and an exploration program will commence immediately, with drilling planned to take place in Q2 2022. The 2,800-acre project contains 140 mining claims and is a brine project, which means it can provide higher yields at a lower cost with margins nearly double those of hard rock lithium production. In addition, the project is only 35 kilometers away from Las Vegas and has excellent access roads to support future production.
The company has a team of skilled geologists leading its exploration efforts. Andrew Tims, technical advisor and professional geologist, earned a reputation through his work with major mining companies, such as Teck Resources (NYSE:TECK) and Hemlo Gold Mines (TSXV:HMLO). Tims played a vital role in taking the Rainy River gold mine from 550,000 ounces to over six million ounces.
Dean Besserer, technical advisor and professional geologist, brings over two decades of experience spanning over 50 countries. Besserer has led massive exploration projects with budgets exceeding US$20 million. Additionally, he's worked with BHP Billiton (NYSE:BHP), DeBeers, and Aston Minerals (ASX:ASO).
The company has a strong management team with decades of experience. Deepak Varshney, CEO and director, has led multiple TSX-listed companies and been responsible for raising millions of dollars in equity financing. Collectively, the team holds over 130 years of management experience in the public markets across over 15 companies that are both Tier 1 and Tier 2 issuers on the TSX.
Highlights
Usha Resources is a Canadian exploration company targeting multiple assets containing base and battery metals, including lithium, copper, and nickel.
The company recently acquired Jackpot Lake in Nevada, a drill-ready lithium asset that will commence drilling exploration during Q2 2022.
Other projects are located in mining-friendly jurisdictions, including Arizona, Montana, and Ontario.
The company is presently completing a spinout of its Ontario project, providing shareholders with a 20 percent share dividend at no cost, if they own shares prior to the record date.
Skilled professional geologists, with experience cultivating mining projects, lead the company's exploration programs.
Usha Resources has a management team with directly-relevant experience in the mining industry.
Key Projects
The Jackpot Lake Project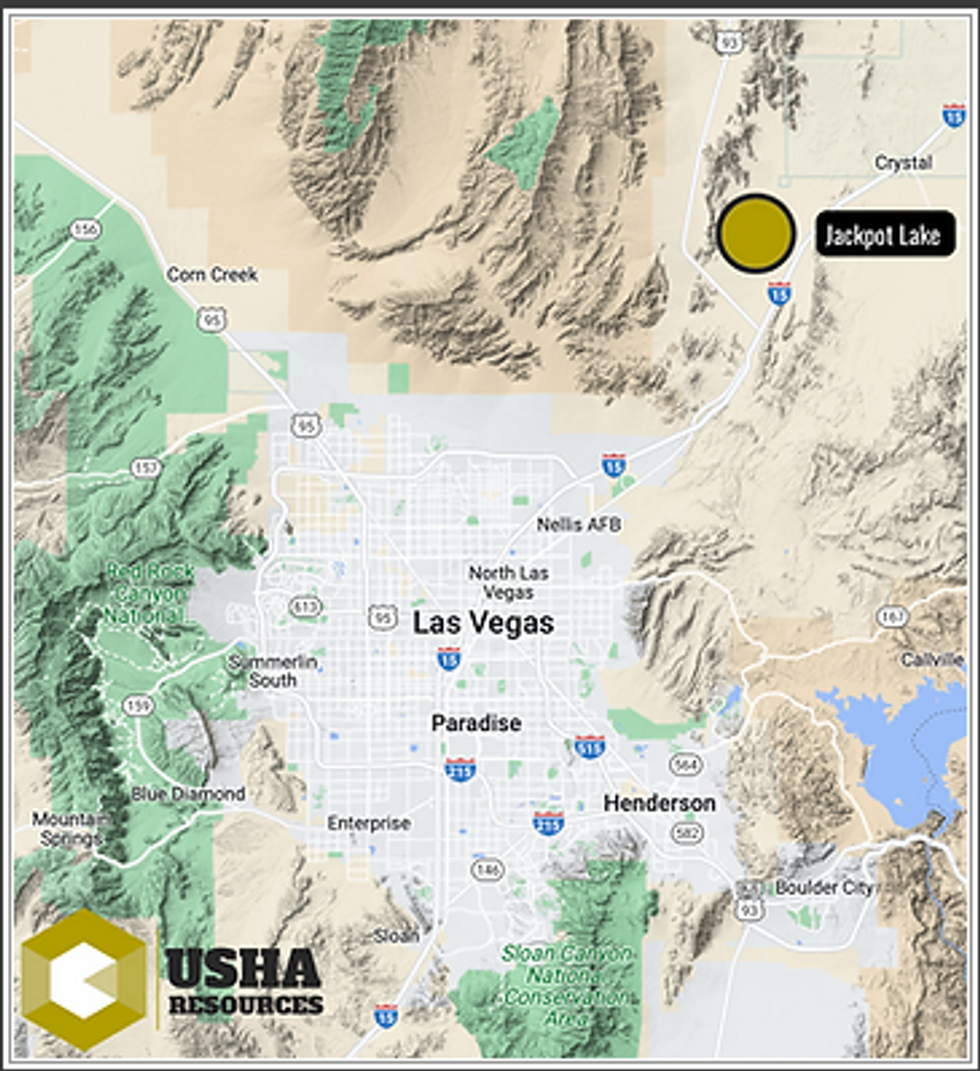 The company's newest project is a drill-ready lithium brine project only 35 kilometers northeast of Las Vegas, Nevada. The project contains 140 mining claims over 2,800 acres. Nevada is a highly mining-friendly area, falling within the top five jurisdictions for several years. The project contains a similar deposit style as Albemarle's Silver Peak Lithium Mine, in continuous operation since 1966.
Project Highlights:
Excellent Historical Results: 129 core samples have found lithium in every core with an average lithium value of 175 ppm and up to 550 ppm. Lithium values at Clayton Valley, where Albemarle's Silver Peak Lithium Mine is located, typically range from 75 to 250 ppm of lithium.
A Drill-Ready Project: Geophysical work has been completed to identify a five-by-two-kilometer anomaly with a thickness reaching 380 meters that is ready to be drilled. Gravitational surveying identified a sizable closed basin beneath Jackpot, and supporting controlled-source audio-frequency magnetotellurics (CSAMT) surveying found extensive enriched brines.
Multi-Year Development Strategy: Usha Resources has a multiphase plan to explore the new project beginning in 2022. A complete NI 43-101 resource estimate is slated for 2022, additional drilling and metallurgy are planned for 2023, and development and optimization are planned for 2024 and beyond.
The Lost Basin Project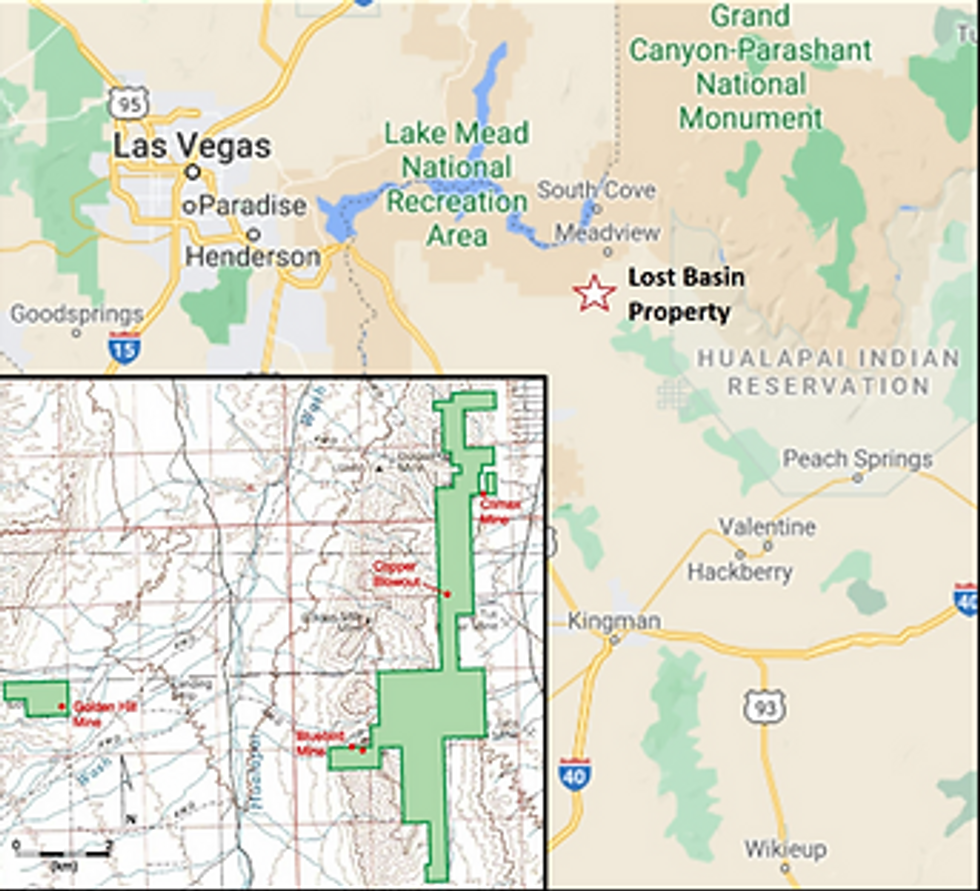 The Lost Basin gold-copper project is located in mining-friendly Arizona and consists of 133 mining claims. The project has excellent road access with high-grade, widespread gold grades. The company's exploration programs will focus on areas with little to no recorded drilling.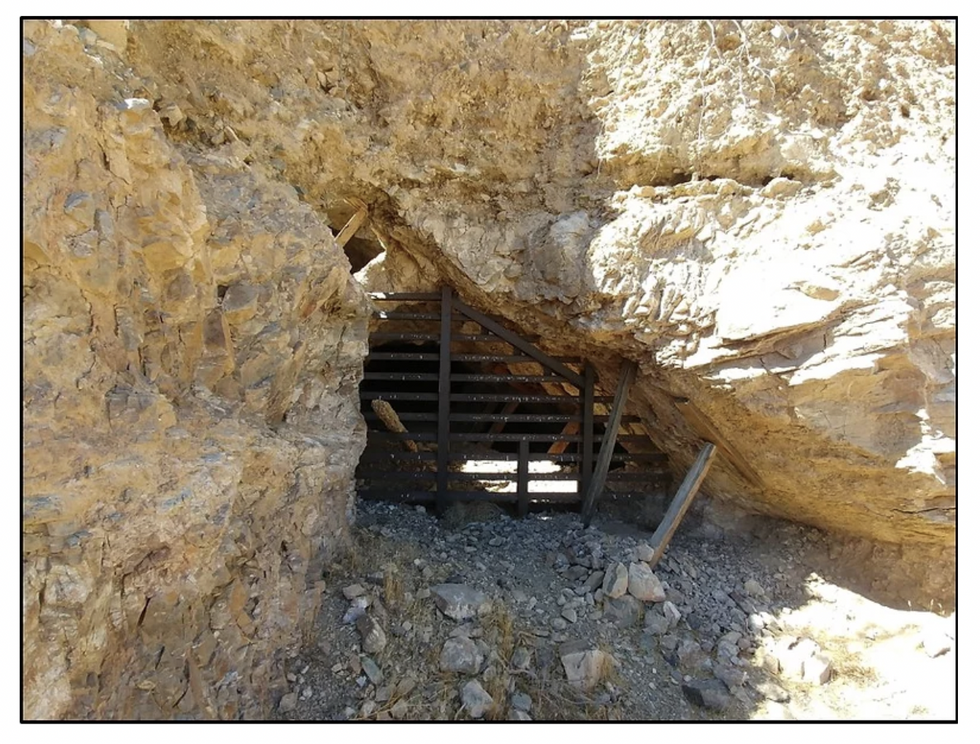 Project Highlights:
Encouraging Historical Results: Gold mines dating back to the 1870s are scattered throughout the project's area, with limited material removed. Historical non-compliant results have indicated deposits with results up to 77 g/t gold and 19.1 percent copper.
Exploration Planned for Unexplored Deposits: Usha Resources has identified drill targets of potentially economic gold mineralization that contain up to 0.8 g/t, along with additional targets in other claims that may reach up to 2.27 g/t gold.
Core Drilling and Soil Sampling Programs Planned: The company has already completed the initial phase of exploration that has identified targets for the next phase, consisting of drilling, soil sampling, trenching, and rock sampling.
The Nicobat Project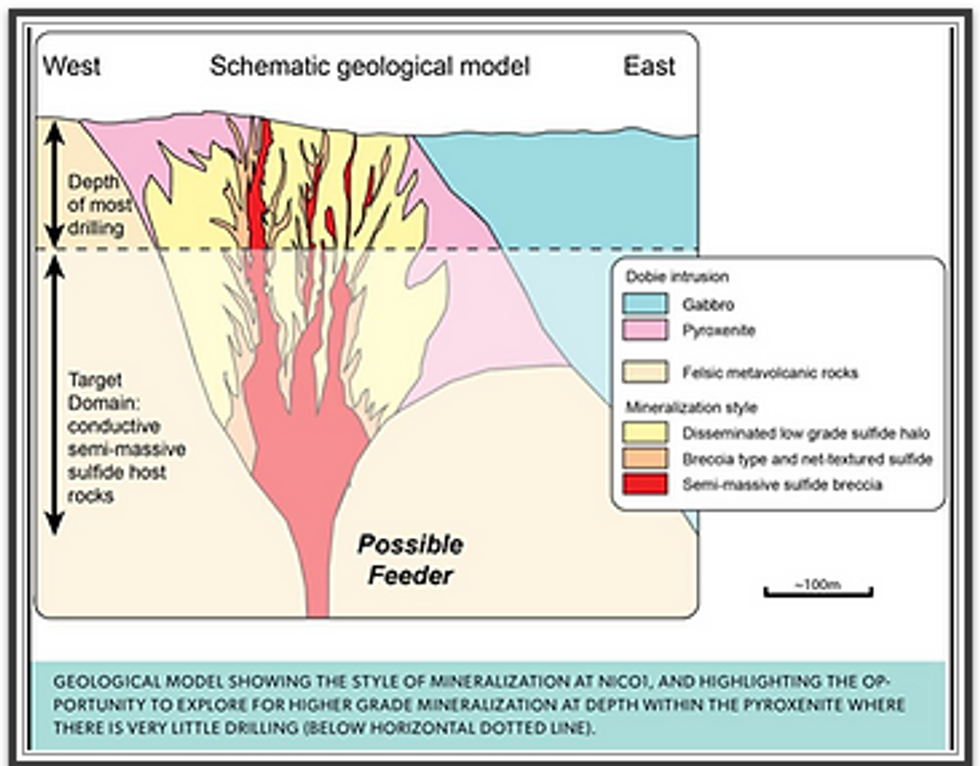 The company's nickel-copper-cobalt project is located in Ontario, Canada. Historic exploration work between 1952 and 1972 included over 15,000 metres of drilling, 220 drill holes, and numerous bulk samples that identified a non-compliant historic resource of 5.3 megatonnes, grading 0.24 percent nickel.
Recent exploration work includes over 4,000 metres of drilling that has confirmed high-grade nickel-copper shoots exist that are considerably better than previously recorded in the historical drilling. This is highlighted by drillhole A-04-15 intersecting from surface to approximately 63.75 metres a weighted average of 1.05 percent nickel and 2.18 percent copper. This included an approximately 9.8-metre interval of 1.92 percent nickel from 53.95 to 63.75 metres.
The company has recently announced its intention to spinout the asset into its own publicly trading vehicle, providing Usha Resources shareholders with a 20 percent share dividend, provided they own shares prior to the record date.
Project Highlights:
Substantial Historical Work: Over 220 drill hills and metallurgical studies were conducted between 1952 and 1972. A non-compliant resource report indicated 6.35 million short tons of ore. Additional results indicated 5.3 million short tons grading 0.28 percent copper and 0.24 percent nickel.
Targets Identified for Additional Exploration: Two primary exploration targets have been identified, including a broader zone of high-grade mineralization and a basal concentration of magmatic sulfides.
Focus on Making Compliant Resource Estimates: Historical data is non-compliant, so Usha Resources aims to conduct multiple exploration projects to create compliant estimates.
Spinout Share Dividend: Shareholders of Usha Resources, prior to the record date, will receive a 20 percent share dividend at no cost.
The Green Hills Project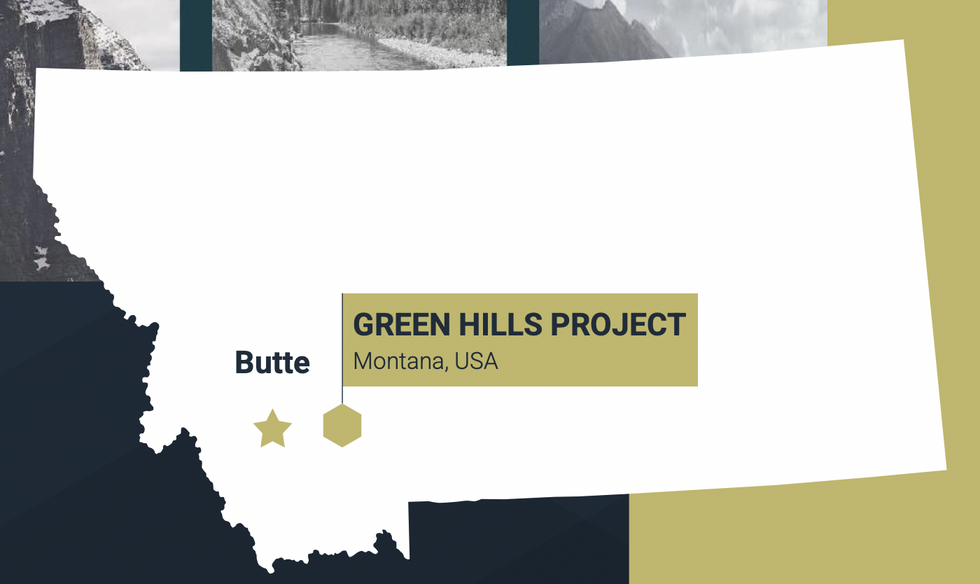 The Green Hills Project, acquisition pending, contains 152 unpatented claims over 18.14 square kilometers. The asset is located in mining-friendly Montana, a state with straightforward mining legislation. The Green Hills Project contains copper, cobalt, gold, and silver. Many claims within the project's area have been explored or mined.
Project Highlights:
Excellent Historical Results: Drill and trench results include 1.2 percent copper, 0.036 percent copper, and 200 ppb gold. Additional results have shown up to 4.27 percent copper, 0.07 percent cobalt, and 2.3 g/t gold.
Geological Formations Similar to Producing Projects: The project's 20-kilometer-long gossanous zone has a formation similar to Teck Mining's Sullivan Mine, which has produced 26 million tons of lead, zinc, and silver. Additionally, Jervois Mining's Idaho Cobalt Deposit has significant copper, cobalt, and gold occurrences.
Extensive Exploration Planned: Usha Resources plans to conduct more exploration surveys, including additional geophysical mapping and interpretation, to identify priority targets for its upcoming drilling program.
Management Team
Deepak Varshney - CEO & Director
Deepak Varshney is a professional geologist with over ten years of experience in capital markets, mineral exploration, and development. As CEO, he is involved in marketing, financing, and corporate development. Varshney has established long-standing relationships with an extensive network of high net worth retail investors, brokers, and private equity groups and has been responsible for raising millions of dollars in equity financing.
Khalid Naeem - CFO
Khalid Naeem is a Canadian Chartered Professional Accountant (CPA) with over 15 years of financial and executive experience. Naeem has extensive experience in tax and compliance, public and private enterprises' financial policy, management, and internal financial reporting. His experience includes senior roles at junior mining corporations, oil and public gas companies, and the Canada Revenue Agency.
Navin Varshney - Director
Navin Varshney, a professional geologist, is a co-founder and director of Usha who's had a four-decade career analyzing and speculating in the metals, mining, and technology sectors. He has significant experience specializing in developing, structuring, and financing venture capital companies. During his tenure, Varshney has been instrumental in creating several initial public offerings (IPOs) and capital pool companies (CPCs), successfully closing deals for all of them. In addition, he has served on many public company boards, holding positions which include president, chief executive officer, chief financial officer, and director.
Adrian Smith - Director
Adrian Smith has over ten years of experience working in the mining and exploration industries, including time as an underground mine geologist. He is currently CEO of ArcPacific Resources and serves on the boards of many public companies including ML Gold and Go Cobalt Mining.
Dave Ellett - Director
David 'Dave' Ellett is a former defenseman in the National Hockey League (NHL) who enjoyed a successful 16-year career, primarily playing for the Winnipeg Jets and Toronto Maple Leafs. During his NHL career, Ellett co-founded ProIce Management, a wealth management company geared toward professional athletes. Since retiring from the NHL, he has spent 20 years in the capital markets and the mineral exploration and development sectors, among other business ventures. This includes owning and managing an automotive dealership and a Canadian Hockey League (CHL) franchise. His experience includes serving as a director of several junior mining companies, focusing on logistics, fundraising, and project acquisition.
Leif Smither - Director
Leif Smither has had a successful three-decade career in the mineral exploration industry as an investor, officer, and director of multiple publicly listed companies. He brings strong technical and management skills to the company. His experience includes a four-year stint as the head of corporate development for Starfield Resources, a TSXV Tier 1 issuer, since becoming a TSX issuer. Smither was involved in financing one of the largest undeveloped nickel-copper deposits.
Request an Investor Kit
EXCITING upcoming projects!
IN-DEPTH reliable insights!
SUCCESSFUL growth strategies!
VALUE-BASED content!
Usha Resources