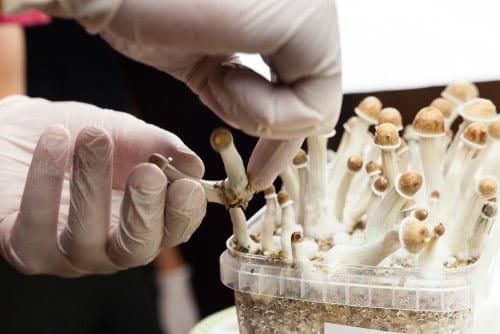 The magic mushroom landscape has launched a research race for companies evaluating new treatments connecting psychedelics and mental health.
When it comes to psychedelics and mental health, investors have just started to see what is possible.
In addition to investors, the emerging industry for psychedelic drug therapies has caught the eye of the capital markets as various companies race to develop novel medical treatments.
Through the therapeutic use of psychedelic experiences, these companies plan to offer relief for patients using drugs based on psychedelic mushrooms.
---
With research showing promising results in terms of where the industry may be heading — including treatments for mental health issues such as anxiety and post-traumatic stress disorder (PTSD) — here the Investing News Network (INN) offers a closer look at the connection between psychedelics and mental health.
Psychedelics and mental health: Psychedelic ingredients to know
The conversation around psychedelic drugs as a solution for serious mental health issues has picked up recently, with new research continuing to expand knowledge on these therapies and on the benefits to patients.
As it stands, the market is divided into the following psychedelic substances, as per Research and Markets:
DMT (N, N-dimethyltryptamine, the active ingredient in Ayahuasca)
Ibogaine
Ketamine
LSD (lysergic acid diethylamide)
MDMA (3,4-methylenedioxy-methamphetamine)
Psilocybin
The US, a standard bearer for the drug regulation landscape, currently lists most of these psychedelic ingredients as illegal under its scheduled drug categories.
But despite the current regulations, the US Food and Drug Administration (FDA) has shown it is interested in and willing to engage with psychedelic drug breakthroughs. The FDA awards "breakthrough therapy" priority status to promising drugs with the potential to treat unmet medical needs.
The drug agency has awarded its breakthrough therapy moniker to psilocybin studies treating major depressive disorder, and to MDMA studies treating PTSD, confirming their potential as a medical benefit to patients.
With an abundance of caution, the FDA has shown support for clinical trials evaluating psychedelics, although not monetarily, given the Schedule 1 status of psychedelics. Companies with drug candidates designated as breakthrough therapies are also given review priority when clinical data is produced.
Based on this support and on encouraging discussions with medical authorities, companies are pursuing medical research on psychedelics despite the lack of serious widespread legalization conversations at the moment.
Patrick Trucchio, managing director of equity research at HC Wainwright, told attendees at a recent Psychedelic Capital event that several publicly traded psychedelics companies in the research and development stages are expected to release clinical trial results throughout 2022.
For a deeper dive into specific clinical trials for psychedelics, check out INN's article 4 Psychedelic Studies Investors Should Watch in 2022.

Psychedelics and mental health: Research paves way for investor excitement
As they move forward, psychedelics companies are using research to pursue proven results, following the example of the pharmaceutical industry by being heavily centered on traditional drug development paths.
Operating companies are pursuing research-heavy approaches with the goal of developing brand-new medical products based on psychedelic medicines. One such company is Mind Medicine (NEO:MMED,NASDAQ:MNMD), or MindMed, the first publicly traded psychedelic drugs researcher.
In early 2022, MindMed was issued an investigational new drug clearance from the FDA for a clinical study on using LSD to treat generalized anxiety disorder. Dubbed Project Lucy, the MindMed study consists of a Phase 2b human trial. The company first approached the FDA about the study in 2020, marking the first time it would employ an "experiential" psychedelic therapy as part of its overall research pipeline.
"The results of this trial will guide the dose selection and development strategy for our pivotal Phase 3 clinical trials," Robert Barrow, CEO and director of MindMed, said.
MindMed released positive top-line data from the Phase 2b trial in May 2022. "We are encouraged by the positive data showing that LSD produced rapid, strong and long-lasting reductions in anxiety and depression symptoms up to 16 weeks post treatment compared with a placebo," said Executive President Dr. Miri Halperin Wernli. "These results represent the highest quality research ever conducted with LSD in anxiety disorders."
Other clinical studies opening up the doors for the psychedelic investment space include a trial for an MDMA therapy for PTSD being conducted by the Canadian division of the Multidisciplinary Association for Psychedelic Studies (MAPS). In May 2021, the results of a Phase 3 trial confirmed the efficacy and safety of an MDMA-assisted therapy for PTSD under a MAPS protocol. The positive data led the journal Science to designate MAPS' MDMA-assisted therapy as one of its top 10 scientific breakthroughs of the year in 2021.
As of May 2022, MAPS had advanced the clinical study to Phase 3 trial enrollment, and was on track to submit a new drug application to the FDA in the first half of 2023.
Psychedelics and mental health: Modern mental health advancements
If one thing is clear, it's that the psychedelics industry is poised to investigate products and therapies for use in the next wave of medical treatment for anxiety, depression and potentially even opioid addiction.
Research conducted by Harvard's Department of Psychology is investigating the ability of psilocybin to suppress the brain's chemical reaction of serotonin and dopamine to potentially combat addiction. "These studies can also provide essential foundational evidence for the link between psilocybin and OUD and maximize the likelihood of ethical and safe clinical trials that assess the treatment potential of this compound," researchers have said.
A recent John Hopkins University of Medicine research study found that psilocybin may also relieve symptoms of depression in a shorter time than traditional antidepressant treatments.
Meanwhile, athletes are proclaiming the benefits of these drugs for head-related injuries.
Former NHL player Daniel Carcillo, a two-time Stanley Cup champion, has spoken at length about the way plant-based medicine, in particular psychedelics, helped his treatment after his departure from the world of hockey.
Carcillo has stepped into advocacy work for novel therapies for the treatment of concussions and mental health disorders, alongside other head injuries for professional athletes.
Psychedelics and mental health: Investor takeaway
Investors looking to jump aboard the psychedelics investment train will have to seriously consider the implications of following high-grade research akin to the work seen in the pharmaceutical industry — including the lengthy timelines associated with those efforts.
However, the potential of breakthrough drugs and approvals offers the possibility of future gains as companies focus on developing the new wave of psychedelics and mental health treatments.
This is an updated version of an article first published by the Investing News Network in 2020.

Don't forget to follow @INN_LifeScience for real-time updates!
Securities Disclosure: I, Melissa Pistilli, hold no direct investment interest in any company mentioned in this article.
How to Invest in Psychedelics:
Featured Psychedelics Investing Stocks
Investing News Network websites or approved third-party tools use cookies. Please refer to the  cookie policy for collected data, privacy and GDPR compliance. By continuing to browse the site, you agree to our use of cookies.