Cleantech Investing
Solar Energy Stocks: 6 Biggest US Companies in 2023
May. 17, 2023 01:30PM PST
Growth in the US solar energy market is expected to skyrocket in the coming years. Get ready by checking out the top US solar energy stocks.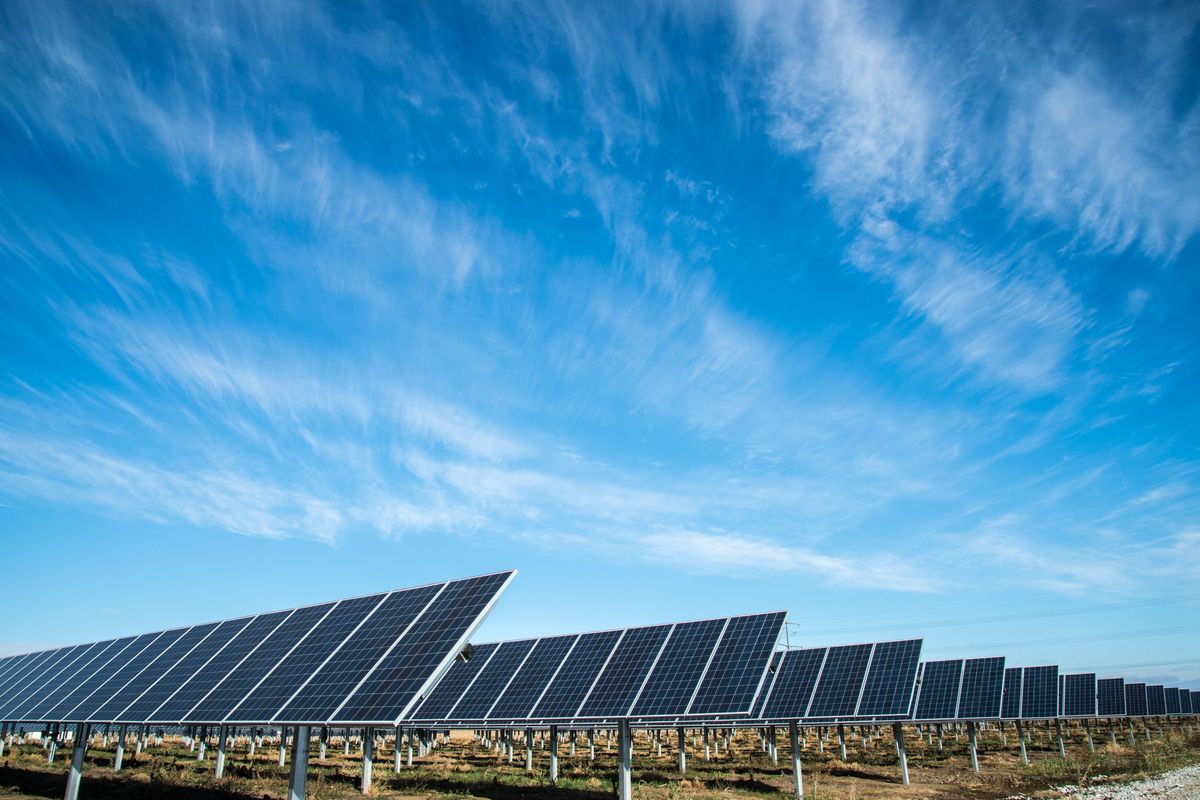 As the Biden administration pushes to tackle climate change in America, the top US solar energy stocks offer opportunities for investors looking to enter the clean energy sector.
According to the latest report from the Solar Energy Industries Association and Wood Mackenzie, during 2022, solar accounted for 50 percent of new electricity-generating power, and the US market installed 20.2 gigawatts (GW) of solar capacity during that period. Residential solar installations totaled 6 GW of direct current, up 40 percent over the previous year.
Over the next decade, the firms forecast that the solar industry will continue to break annual installation records. From 2022 to 2033, they expect total solar deployment to grow from 141 GW of direct current to 700 GW of direct current.
---
Following US President Joe Biden's mid-2022 executive action geared at spurring clean energy manufacturing in the country, the Solar Energy Industries Association released the following statement:
"We applaud President Biden's thoughtful approach to addressing the current crisis of the paralyzed solar supply chain. The president is providing improved business certainty today while harnessing the power of the Defense Production Act for tomorrow. Today's actions protect existing solar jobs, will lead to increased employment in the solar industry and foster a robust solar manufacturing base here at home."
What are the top US solar energy stocks?
Upside potential in the US solar energy market really came to light with SunRun's (NASDAQ:RUN) US$3.2 billion all-stock acquisition of Vivint Solar in 2020. This trend continued on a worldwide scale the next year, with Solar Industry Magazine reporting that in 2021, there were 58 solar corporate deals, the most in a year since 2010. Total global corporate funding, including venture capital and M&A deals, reached US$27.8 billion for the year, up 91 percent over 2020.
In 2022, although total corporate funding fell by 13 percent to US$24.1 billion, M&A activity increased a by 20 percent year-over-year and venture capital and private equity funding increased by 56 percent to reach a record US$7 billion. Of the 128 solar sector M&A deals recorded in 2022, eight surpassed a value of $1 billion.
Even though the costs involved in producing electricity from solar energy are higher than they are for traditional sources, companies in the sector have a number of financial benefits, largely due to the ongoing green energy transition. These include government subsidies and tax credits to encourage the production of clean energy.

To help investors learn more about individual solar-focused companies, the Investing News Network has put together a list of the top US solar energy stocks by market cap. The list below includes companies listed on the NASDAQ and NYSE, and it was generated using TradingView's stock screener on May 11, 2023.
Market cap: US$153.982 billion
NextEra Energy Resources is the top clean energy company in North America, and leads the world in wind and solar energy production. The firm develops, constructs and operates electric power projects, markets electricity to wholesale customers and invests in critical infrastructure for power delivery. NextEra's operations include more than 150 wind and solar universal energy centers located in 26 states and four provinces in Canada; they generate more than 17,000 megawatts of wind and solar energy.
The diversified energy company recently declared a regular quarterly common stock dividend of US$0.4675 per share, payable on March 15. In 2023's first quarter, the company's subsidiary Florida Power & Light added nearly 970 megawatts of low-cost solar, bringing its total solar portfolio to nearly 4,600 megawatts.
Market cap: US$19.569 billion
First Solar designs and manufactures solar power systems and uses thin-film semiconductor technology to manufacture solar modules. The company's supporting services include finance, construction, maintenance and end-of-life panel recycling.
In May 2023, First Solar acquired European thin-film technology leader Evolar for about US$38 million paid at closing and up to an additional US$42 million if certain technical milestones are achieved. The acquisition will help the company fast track the development of commercial-scale thin-film photovoltaics.
Market cap: US$16.681 billion
SolarEdge Technologies bills itself as "a global leader in smart energy technology," addressing a broad range of energy market segments through its photovoltaic, storage, electric vehicle charging, battery, uninterruptible power supply and grid service solutions. The company has developed the SolarEdge DC optimized inverter solution for managing photovoltaic systems. This smart inverter maximizes power generation while lowering the cost of energy produced by the photovoltaic system.
In early 2023, SolarEdge announced a multi-year agreement that will allow leading US residential solar installer Freedom Forever to supply its customers with SolarEdge's suite of Home Smart Energy Ecosystem smart energy products and solutions. "We are proud to enter this strategic cooperation with Freedom Forever to provide smarter, more efficient, and more powerful solar and battery solutions to homes across the United States," said SolarEdge CEO Zvi Lando.
Market cap: US$8.693 billion
Brookfield Renewable Partners is one of the world's largest publicly traded renewable power companies. It sells the bulk of its power production under long-term, fixed-rate power purchase agreements.
Brookfield Renewable's expansive asset portfolio includes hydroelectric, wind and solar energy-generation facilities, as well as energy storage assets. This translates into roughly 21,000 megawatts of capacity and nearly 6,000 generating facilities across North America, South America, Europe and Asia. In 2022, Brookfield acquired Scout Clean Energy for US$1 billion and bought Standard Solar for US$540 million. The same year, the company partnered with major uranium producer Cameco (TSX:CCO,NYSE:CCJ) to acquire Westinghouse Electric Company, one of the world's largest nuclear services businesses.
Market cap: US$6.162 billion
Clearway Energy owns, operates and acquires contracted renewable and conventional energy-generation and thermal infrastructure assets across the US. The electric utility company's operations include conventional generation, renewables and thermal power.
Clearway Energy, which prides itself as being "built for 21st century energy markets," provides customers with low-cost clean energy generated from solar and wind installations across North America. The company's portfolio includes more than 7 GW of wind, solar and energy storage operations.
Market cap: US$3.6 billion
SunRun is one of the leading home solar panel, battery storage and energy services companies in the US. Founded in 2007, the San Francisco-based company provides residential solar electricity via installing, monitoring and maintaining solar panels on homeowners' rooftops. SunRun is a pioneer in home solar service plans, making local clean energy more accessible with no upfront costs. The company's Brightbox home battery solution allows customers to access affordable and reliable energy.
SunRun's purchase of Vivint Solar, at the time the number two company in the US solar energy sector by market share, allowed for the creation of a new solar energy giant in the US residential solar market.
Is there a solar energy ETF?
Investors who don't want to focus on specific stocks may want to consider exchange-traded funds (ETFs). Within the solar sector, there are two solar energy ETFs, the Invesco Solar ETF (ARCA:TAN) and the Global X Solar ETF (NASDAQ:RAYS). Invesco's ETF tracks the MAC Global Solar Energy Index and offers exposure to a broad basket of solar energy companies, and Global X's ETF holds a variety of companies involved in solar technology, including those developing technologies that use it.
This is an updated version of an article originally published by the Investing News Network in 2017.

Don't forget to follow us @INN_Technology for real-time news updates!
Securities Disclosure: I, Melissa Pistilli, hold no direct investment interest in any company mentioned in this article.
https://twitter.com/INN_Resource
https://www.linkedin.com/in/melissa-pistilli-865271a9/
mpistilli@investingnews.com
Melissa Pistilli has been reporting on the markets and educating investors since 2006. She has covered a wide variety of industries in the investment space including mining, cannabis, tech and pharmaceuticals. She helps to educate investors about opportunities in a variety of growth markets. Melissa holds a bachelor's degree in English education as well as a master's degree in the teaching of writing, both from Humboldt State University, California.
Investing News Network websites or approved third-party tools use cookies. Please refer to the cookie policy for collected data, privacy and GDPR compliance. By continuing to browse the site, you agree to our use of cookies. 
Melissa Pistilli has been reporting on the markets and educating investors since 2006. She has covered a wide variety of industries in the investment space including mining, cannabis, tech and pharmaceuticals. She helps to educate investors about opportunities in a variety of growth markets. Melissa holds a bachelor's degree in English education as well as a master's degree in the teaching of writing, both from Humboldt State University, California.