6 Top US Solar Energy Stocks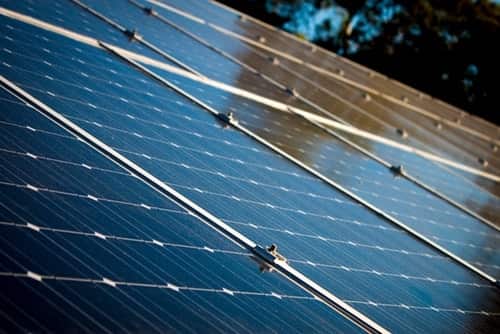 Growth in the US solar energy market is expected to skyrocket in the coming years. Get ready by checking out the top US solar energy stocks.
As the Biden administration pushes to tackle climate change in America, the top US solar energy stocks offer opportunities for investors looking to enter the clean energy sector.
According to the most recent report from the Solar Energy Industries Association (SEIA) and Wood Mackenzie, during Q1 2021, solar accounted for 40 percent of new electricity-generating power. The US solar market installed just over 5 gigawatts (GW) of solar capacity during that period, making it the largest first quarter on record.
Over the next three years, Wood Mackenzie forecasts that the solar industry will continue to break annual installation records. Between 2021 and 2026, another 160 GW of direct current (dc) capacity is projected to be installed, bringing the total operating photovoltaic fleet to over 250 GWdc.
The SEIA further states that for the solar industry, the most important parts of the Biden administration's American Jobs Plan include "extending the ITC and expanding the credit to include direct-pay, extending the production tax credit, incentives to build out the transmission grid, and a target to make the electric sector 100 (percent) carbon-free by 2035."
Top US solar energy stocks to consider
While the global COVID-19 pandemic has disrupted growth in markets across the board, the upside potential in the US solar energy market still exists. Evidence of this can be seen in SunRun's (NASDAQ:RUN) US$3.2 billion all-stock acquisition of Vivint Solar in 2020.
The trend has continued on a global scale into 2021, with Solar Industry Magazine reporting that in the first half of 2021, there were 54 solar corporate M&A deals compared to 25 in the first half of 2020.
In early 2021, Gibraltar Industries (NASDAQ:ROCK) made two such acquisitions in an effort to expand its solar energy portfolio. The renewable energy company acquired solar racking technology firm TerraSmart for US$220 million, and software solutions provider Sunfig for US$3.75 million.
Even though the costs involved in producing electricity from solar energy are higher than they are for traditional sources, companies in the sector have a number of financial benefits. These include government subsidies and tax credits to encourage the production of clean energy.
To help investors learn more about individual solar companies, the Investing News Network has put together a list of the top US solar energy stocks. The companies below are listed on the NASDAQ and NYSE, and were generated using MarketWatch's stock screener. Companies are posted in alphabetical order, and numbers were current as of market close on September 8, 2021.
1. Azure Power Global (NYSE:AZRE)
Market cap: US$1.09 billion
Based in New Delhi, India, Azure Power Global is a producer and developer of solar energy. The company's services include designing, engineering, constructing, maintaining and operating grid-integrated solar energy projects for customers worldwide. These projects range from utility-scale to micro-grid entities to rooftop solar installations.
Azure Power offers solar power solutions to government utilities and independent industrial and commercial customers based on long-term, fixed-price contracts. It operates over 37 utility-scale projects and several commercial rooftop projects with a combined rated capacity of about 1,011 megawatts.
2. Clearway Energy (NYSE:CWEN)
Market cap: US$3.7 billion
Clearway Energy owns, operates and acquires contracted renewable and conventional energy-generation and thermal infrastructure assets across the US. The electric utility company's operations include conventional generation, renewables and thermal power.
Clearway Energy, which bills itself as being "built for 21st century energy markets," prides itself on providing customers with low-cost clean energy generated from solar and wind installations across North America. The company's portfolio includes more than 8,000 megawatts of wind-, solar- and natural gas-fired power-generation facilities, as well as district-scale energy systems.
3. First Solar (NASDAQ:FSLR)
Market cap: US$10.13 billion
First Solar designs and manufactures solar power systems and uses a thin-film semiconductor technology to manufacture solar modules. The company's supporting services include finance, construction, maintenance and end-of-life panel recycling.
In April 2021, First Solar began construction on its third manufacturing facility in Ohio. The 3.3 GWdc facility is expected to come online in the first half of 2023. Once fully operational, the company's Northwest Ohio footprint will have a total annual capacity of 6 GWdc, making it the largest fully vertically integrated solar manufacturing complex outside China.
4. SunRun
Market cap: US$9.23 billion
SunRun is one of the leading home solar panel, battery storage and energy services companies in the US. Founded in 2007, the San Francisco-based company provides residential solar electricity via installing, monitoring and maintaining solar panels on homeowners' rooftops. SunRun is a pioneer in home solar service plans, making local clean energy more accessible with no upfront costs. The company's Brightbox home battery solution allows customers to access affordable and reliable energy.
SunRun's purchase of Vivint Solar, at the time the number two company in the US solar energy sector by market share, allowed for the creation of a new solar energy giant in the US residential solar market.
5. SunPower (NASDAQ:SPWR)
Market cap: US$3.71 billion
SunPower specializes in the design, manufacturing and delivery of solar panels, solar power generation systems and energy storage. The company's business segments include residential and light commercial, as well as commercial and industrial solutions.
Over the summer, SunPower partnered with renewable energy startup Wallbox, a provider of electric vehicle charging solutions. The deal will give new SunPower customers the option to install a Wallbox home electric vehicle charger at the same time as their SunPower installation.
6. VivoPower International (NASDAQ:VVPR)
Market cap: US$91.14 million
Closing out this top US solar energy stocks list is VivoPower International. VivoPower was originally founded in 2014, and formed VivoPower in Australia and Asia that same year. By 2016, VivoPower was established in the UK and US, and had begun trading on the NASDAQ. The company is principally engaged in solar electricity-generation facilities across many stages of development. With its global reach, VivoPower provides everything for the construction and operation of various solar projects.
VivoPower also provides financing, consulting, engineering and project management services for other developers. It holds a number of subsidiaries, such as VivoRex and VivoPower USA.
Exchange-traded funds
Investors who don't want to focus on specific stocks may want to consider exchange-traded funds (ETFs). Within the solar sector, there is only one solar energy ETF, the Invesco Solar ETF (ARCA:TAN). It tracks the MAC Global Solar Energy Index, and offers exposure to a broad basket of solar energy companies.
This is an updated version of an article originally published by the Investing News Network in 2017.
Don't forget to follow us @INN_Technology for real-time news updates!
Securities Disclosure: I, Melissa Pistilli, hold no direct investment interest in any company mentioned in this article.