China to Lead in Global Clean Energy, Report Says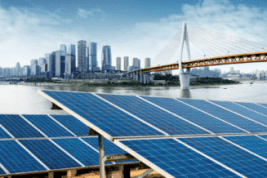 A new report release by the Institute for Energy Economics and Financial Analysis (IEEFA) indicates China is in a good position to be a leader in the clean energy sector.
All eyes are on China on becoming a leader in the clean energy sector, which a new report from the Institute for Energy Economics and Financial Analysis (IEEFA) says is pretty likely.
The report, released on January 9, highlights that China has made exceptional progress since 2016 thanks to improved infrastructure required to transport locally produced energy and the US withdrawing form the Paris Climate Accord has benefited China's growth in the sector. As a result, the country is well on its way to becoming a global leader in clean energy projects.
"The clean energy market is growing at a rapid pace and China is setting itself up as a global technology leader while the US government looks the other way," Tim Buckley, director of energy finance studies at IEEFA said in the release. "Although China isn't necessarily intending to fill the climate leadership void left by the US withdrawal from Paris, it will certainly be very comfortable providing technology leadership and financial capacity so as to dominate fast-growing sectors such as solar energy, electric vehicles and batteries."

China's progress falls on the heels of additional advancements made in 2017, such as those led by the country's state-owned utility, engineering and finance companies, while the nation's dominance has been catapulted by the Belt and Road Initiative (BRI) by sending outbound infrastructure investment along ancient trading routes.
Case in point, Chinese merger and acquisition (M&A) in other countries that are BRI-related were on the rise in 2017. Having totaled roughly US$31 billion in 2016, by August of last year, that number had been well surpassed. The report highlights that Chinese overseas M&A activities will be on the rise again in 2018 thanks to the BRI initiative.
What's more, the country has well been on the path of moving away from coal, effectively putting China in a good position to "lead this new energy world." With the US effectively removing itself from the Paris agreement, the decision "led to China's quick reaffirmation of its emission-reduction pledge that allows it to further project itself as a responsible major power while addressing its domestic air pollution concerns and building world-leading capacity in new energy markets."
While the report touched on a number of key initiatives China is making to ensure itself as a leader in the clean energy sector moving forward, other key highlights include its growth in solar.
Chinese solar manufacturers accounted for more than 60 percent of global solar production. 2017 was an especially transformative year, with a substantial increase in global manufacturing capacity in the first half of 2017 compared to the second half of 2016.
In a geographical sense, the report states the capacity expansion announcements were "more heavily weighted" towards China in 2016, and in 2017 the country accounted for 70 percent of planned expansions.
"Chinese solar module manufacturers continued to feature strongly in overseas solar generation projects," the report read. Chinese companies contributed to projects in Asia, Latin America, Africa and the Middle East, whereas in the secondary market companies took ownership of solar plants in the US.
While the US is dropping off in dramatic fashion in terms of clean energy innovations, particularly as US president Donald Trump has pledged to revive the coal industry, the IEEFA report states that India is "now following China's energy sector lead," with the addition of its economic weight to ensure global energy deployments are well on their way to driving deflation.
Investor takeaway
Despite Trump set on his ways on boosting coal, an independent energy agency has allegedly rejected the president's plan to "bolster coal-fired and nuclear power plants with subsidies." According to the Guardian, the decision was led by the Republican-controlled Federal Energy Regulatory Commission (FERC).
For investors looking to take the plunge in the clean energy sector, learning about the Top US Regions for Cleantechnology is a helpful segue into the industry .
Don't forget to follow us @INN_Technology for real-time news updates!
Securities Disclosure: I, Jocelyn Aspa, hold no direct investment interest in any company mentioned in this article.