INN Senior Editor Andrew Topf chats with Gavin Dirom, president and CEO of the Association for Mineral Exploration British Columbia, during last week's Roundup event in Vancouver.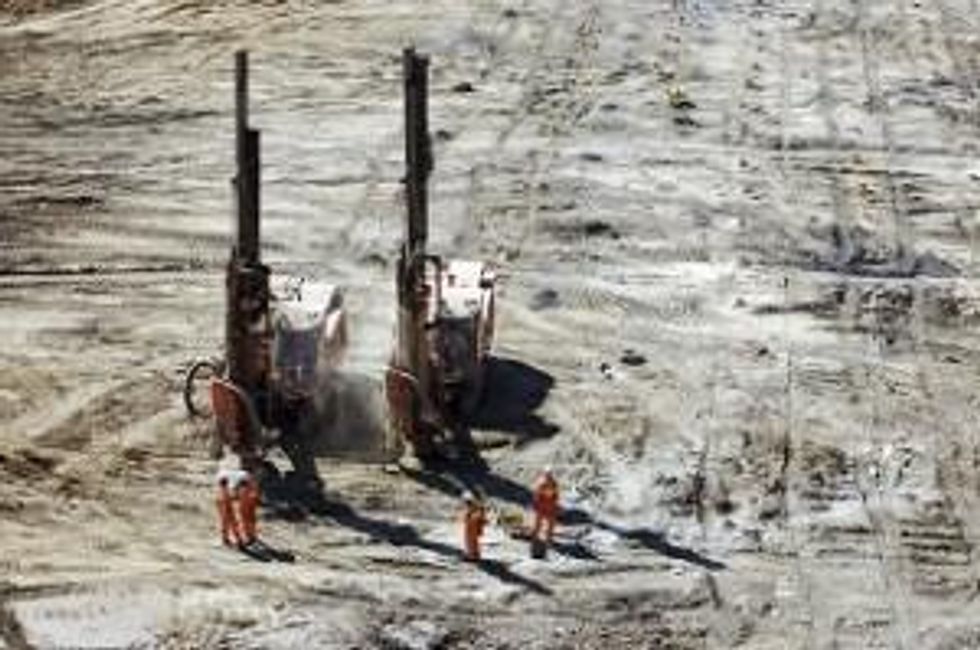 At last week's Roundup event in Vancouver, INN Senior Editor Andrew Topf had a chance to speak with Gavin Dirom, president and CEO of the Association for Mineral Exploration British Columbia (AME BC), which hosted the event.
In the interview below, Gavin touches on a number of important topics germane to mineral exploration in British Columbia, including permitting, First Nations issues, the Northwest Transmission Line and the coming provincial election.
Andrew Topf: It's been another busy Roundup this year. AME BC put out a press release saying mineral exploration expenditures are up again this year to $680 million, which is 47 percent higher than 2011 — a record year. How is it that BC can have a higher expenditure rate when juniors are having trouble raising money?
Gavin Dirom: Good question. $5.3 billion was raised last year by BC-based companies, a thousand odd companies. That's actually down. It's down by over $1 billion. What's interesting is that more of that money is being directed to BC because we've created a climate, an investment climate; that money is actually attracted to BC now. That's exactly what we've tried to do as an industry, working with government and others to create that magnet for investment.
AT: What's driving that investment?
GD: It's a combination of factors. I think it's the openness of the industry and the government in embracing investment and making it clear that it's welcome. It sounds trivial, but you need a very strong message that it's welcome and supported in the jurisdiction. We have projects that are getting into construction. Some of them of course are getting into production. That's based just on fundamentals. It's the technical side.
And it's the extremely rich geology in the province that we're blessed with. Manufacturing likes low costs of power. You factor in other policy measures, like the tax credits, all these things contribute to that magnet affect. It's extremely positive. It's exactly what we're trying to do.
AT: Of that $680 million in expenditures, where is most of the exploration occurring?
GD: About half of that is in coal, and the other major amount is being directed towards advanced projects. These are brownfield sites, a lot of them. It's a very important thing to recognize that there's not a lot of greenfield exploration happening right now. Those typically are where the discoveries are made. It's a cycle thing that we're seeing now.
AT: Is there one metal that stands out as more comparable to coal?
GD: Copper. Gold. Gold is very important. You've got Pretium Resources' (TSX:PVG) Brucejack project and the KSM copper-gold project by Seabridge Gold (TSX:SEA,NYSE:SA) as two examples. We have these amazing porphry deposits like Red Chris [by Imperial Metals (TSX:III)], that when they drilled deeper, they realized that its richer ore bodies go deeper, and it adds a lot of value to that potential project.
AT: BC Premier Christy Clark announced $7 million to reduce red tape for exploration permitting. How big a deal is that?
GD: I think it's great news, given that the government coffers are stretched to say the least. The revenue from natural gas is way down. There's a lot to go around, right? Education and health are demanding a lot of their resources. To squeeze out $7 million directed at improving the permitting even further, I think is fantastic.
We always argued that the return on investment is huge. Once you get these projects through, it's generating revenue and paying employees for 20, 30 years, it's a multi-generational revenue maker — we all do good by it.
AT: The Northwest Transmission line is currently under construction in Northwestern BC. It will provide power to mines and mining camps in Northern BC. How significant is that project to opening up the province more to mining and mineral exploration?
GD: It's one of the best things that the government can do in terms of building infrastructure that encourages investment and encourages development. One of the competitive advantages in British Columbia is low-cost power. In that area, it's very rugged country. Infrastructure was limited in terms of roads. It's there, but it's still not as developed as the southern part of British Columbia. Putting a power line in, which from my understanding will be completed in 2014, bringing power to anywhere from seven to 12 to potentially 20 mine projects, is huge.
This is an area known as the Golden Triangle for good reasons. You had Eskay Creek, one of the richest silver mines in the world at one point, and they're mining gold. There's lots of other examples as well. It's a historic and very rich mining area and exploration region in BC.
AT: Would some of those projects, like the Red Chris mine, be uneconomic without that power line?
GD: It wouldn't be as robust. It becomes more marginal. In their case, it was actually part of their environmental assessment. In fact, there was a condition that they would go forward subject to connecting to electricity, to a power line.
AT: The issue of aboriginal titles has been an impediment to mining in BC. There are a lot of unresolved land claims. Do you see that situation improving?
GD: I think you know, these agreements on resource revenue sharing take a significant amount of consultation. There's already consultation on all the exploration work. It's important. It helps build certainty. It builds relationships. Is it perfect? Is it challenging? Yes, of course. There's lots of work to be done.
AT: I was reading about a court decision in the Yukon where the Ross River Dena Council is suing the Yukon government for failing to consult and ignoring aboriginal rights. Here's an example where consultation wasn't done. Could it set a precedent for BC mineral explorers having to consult First Nations? You mentioned consultation is already being done in the exploration permit stage.
GD: I think it's pretty simple at this point. The go-forward plan is to sit down and have a good discussion with BC First Nations and to find out to what extent that decision in Yukon applies to BC. As you might know, the Yukon government hasn't made any public statement. That's why you're not going to see the BC government making a statement yet, because the lead is the Yukon government.
AT: A bit of a fun question on the BC election coming up in May. You hear people in the industry talking about what will happen if the Liberal government loses and we get a new NDP government in power. How will that affect mineral exploration?
GD: I don't know. What I will tell you is we have been working hard and I think it's fair to say, taking the politics out of our industry. Our intention is to basically launch an election campaign, be pro-mining. Basically, put together a campaign that is directed at taking the politics out of the industry and encouraging the understanding of the industry no matter the outcome, NDP, Liberal or Conservative.
AT: OK. Just to clarify, that campaign, as you're calling it, is independent of the current government?
GD: Absolutely. We have no ties with any of the parties. To be clear, we're nonpartisan. The basics of this association are we're not for profit. We're nonpartisan. We're industry driven.
AT: Another kind of fun question. What are you bullish on in 2013? How does it look in terms of metals that BC specializes in?
GD: It seems like there's a shift now that there's an ability to, or an interest maybe, to reinvest back into the junior market and projects that are real and very positive. We might look back and I could be wrong, but it looks like we've weathered the worst of it. I'm still a big believer. I think many would agree in that [commodities] supercycle. Are we down a bit? Well, sure. But the trend is still up.
We still have incredible demand in emerging economies. They're slowing down, but, you know, maybe it's 11 to 9 percent, or a 2-percent reduction in China's growth; it's still a huge amount of growth. This supercycle theory I think is still real. A lot of these commodities [demanded by China], I think BC is really well positioned for in 2013: coal, copper, and gold.
The fact is it's here. We have great geology, great mineral development potential. We have the proof in the pudding in terms of historical mines, like the Sullivan mine. These are world-class deposits.
We have amazing lead–zinc mines and so many other [products]. Highland Valley, one of the largest copper-ore mines in the world, they're efficient. They're productive. Now you have Pretium's Brucejack, you've got not just grams per tonne gold, but kilograms per tonne gold.
That's exciting news. People notice it. That drives further and further interest. Yes, I'm bullish on 2013.
AT: Thanks for speaking with me today, Gavin.
GD: Thanks Andrew.
Related Reading:
BC Exploration Spending Skyrockets
Featured
Investing News Network websites or approved third-party tools use cookies. Please refer to the  cookie policy for collected data, privacy and GDPR compliance. By continuing to browse the site, you agree to our use of cookies.