Silver Rallies, Closes Above $24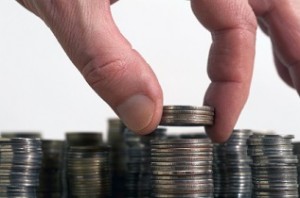 Early in the week, much of the discussion about silver centered on how unimpressive its price action had been compared to gold's upward moves. But Thursday provided reason for a change of conversation: silver rallied. Up by more than 5 percent, the metal gained $1.24 and posted a final New York spot price of $24.40.
Silver's break above the $24 level came during a week that began with only modest gains. Although the metal was in positive territory on Monday, silver could not mimic the strong upward moves seen in the gold market. Silver only managed gains of $0.13, finishing the day at $23.41.
Tuesday, silver lost its balance and fell below $23. The metal could be found trading as low as $22.62. Although it clawed back some of the losses, silver finished $0.48 in the red, at $22.94.
It was only midweek that silver seemed to really seize onto the vibe in the gold market. By Thursday afternoon, silver had soared. At the close of floor trading, May silver on the COMEX was up $1.34, at $24.18.
Though silver is benefiting from the momentum in the gold market, the yellow market has been attracting much more safe haven support. Silver's price increases have been largely attributed to short covering, speculative buying and bargain hunting.
Meanwhile, premiums on Silver Eagles are reportedly soaring as the coins are said to be increasingly more difficult to come by. A Kitco article notes that premiums have doubled in the past few weeks and in some case are up by 40 percent.
As per information from GFMS' World Silver Survey 2013, released this week, investment demand increased last year, though by less than 1 percent. However, investment activity was deemed the dominant price driver. Over 1 billion ounces of silver were produced in 2012, according to GFMS. With an appetite that led to the consumption of 253 million ounces, investors accounted for about a quarter of total demand.
Company news
The Mexican Center for Philanthropy has granted Coeur d'Alene Mines (TSX:CDM,NYSE:CDE) the Socially Responsible Business Distinction Award for 2012.
Each year, the Mexican Center for Philanthropy recognizes companies that have demonstrated responsible corporate ethics and governance practices as well as a dedication to improving the social and environmental landscapes in which they operate. Coeur said it received the award for its Palmarejo mine in Chihuahua. This is the fifth consecutive year the company has received this award.
Scorpio Mining (TSX:SPM,OTC Pink:SMNPF) reported notable production declines from its Nuestra Senora mine in Sinaloa, Mexico.
"The Nuestra Señora Operation delivered increased recoveries in Q1 for all metals compared to Q4 2012, and record plant throughput in Q1 compared to any previous quarter," said Pierre Lacombe, president and CEO of Scorpio.
He added that lower head grades for silver and zinc were largely offset by higher head grades of copper and lead. Silver and zinc production in Q1 2013 decreased by 15.2 percent and 3.8 percent, respectively. Copper and lead produced increased by 26.7 percent and 35.9 percent, respectively. The net effect was that total silver equivalent ounces decreased by 3.5 percent compared to the previous quarter.
SilverCrest Mines (TSXV:SVL,AMEX:SVLC) reported that the 153,481 ounces of silver it produced in Q1 at the Saint Elena mine in Sonora, Mexico are consistent with the 153,863 ounces produced in Q4 2012.
Gold production fell 8 percent, to 7,225 ounces. Ore processing also declined, falling 18 percent.
The company attributed the reduction in processing and the 5-percent decline in silver equivalent ounces to the decision to accelerate waste removal now as opposed to doing so in the summer.
"Our decision to accelerate waste removal is consistent with our overall mine plan for 2013 operations. We are comfortable that as the ultimate strip ratio declines and the ore grades in the pit continue to increase we will meet our production and cost projections for the year," said President J. Scott Drever. "We expect the positive results of improvements in these two metrics to become apparent in the second half of 2013."
Sunset Cove Mining (TSXV:SSM) received commitments for $200,000 of units in a previously announced private placement. Under the terms of the deal, one unit consists of a common share at C$0.05 and a warrant with a share purchase price of $0.10. Each warrant is subject to an acceleration right. The company will use the proceeds for general working capital.
Securities Disclosure: I, Michelle Smith, do not hold equity interest in any of the companies mentioned in this article.
Related reading: