Silver Miners Undeterred by Mexican Drug War
By Melissa Pistilli—Exclusive to Silver Investing News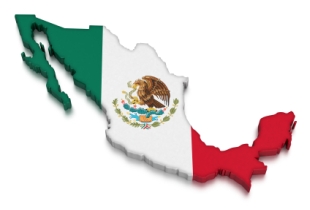 The turf war between rival Mexican drug lords has been a thorn in the side of the nation's government for decades. But shortly after President Felipe Calderon took office in 2006, the Mexican Drug War became a battle between rival gangs and the Mexican government itself. Although government intervention was so painfully needed, the result of the military-led offensive has been a 23 percent increase in the nation's homicide rate since 2005, with recent official figures from the National Institute of Statistics showing 22 murders per 100,000 inhabitants in 2010.
Despite the growing violence, foreign companies aren't closing up shop. Bloomberg News reported Monday that Mexican economists had raised their 2011 forecast for Foreign Direct Investment 11 percent to $19.7 billion. Mexico is an attractive place to do business for many reasons including its shared border with the United States, and low-cost, yet skilled labor force. "Relatively speaking it is reasonably safe," Loren Skeist, president of Spellman, a high voltage power supply manufacturer, told Randal C. Archinold, the New York Times bureau chief for Mexico. "There are compelling reasons, if you are willing to do it with reasonable security, to want to be in Mexico."
Are mining companies at risk?
As one of the world's leading producers of silver, Mexico has a long mining history dating back to the Spanish conquest. The nation's favorable mining laws and vast mineral deposits, including copper and gold, make it incredibly attractive to mining firms. The mining industry plays an important role in the Mexican economy and mining companies are expected to invest more than $4 billion in 2011 toward operations in the country.
However, Mexico's mining community hasn't been entirely sheltered from the violence associated with the ongoing drug war. In July of this year, Reuters reported that several armed men entered the Met-Mex metals complex in northern Mexico and killed four subcontractors in service warehouses some distance from the refining operations run by Mexican miner Peñoles (MXK:PE&OLES).
Peñoles representatives said the attack did not affect production and state police have said they believe the four subcontractors, providing cleaning and grounds work services, were directly targeted, although a possible motive wasn't given.
Such violent incidents may leave investors wondering if their shares in mining companies operating in resource-rich Mexico are worth the risk.
Silver Investing News recently spoke with two mining companies with operations in northern Mexico to gauge whether or not they have been impacted by the drug war and how they are working to mitigate risk.
David Wolfin, CEO of Avino Silver & Gold Mines (AMEX:ASM) (TSXV:ASM), whose company has been operating in Durango, Mexico since the late 1960s, said Avino hasn't been affected in any way by the violence in the region. "They are not directly targeting tourists and businesses; it's essentially a turf war between the Chapo Guzman and Los Zetas gangs," said Wolfin from his downtown Vancouver office.
When asked if Avino has any concerns about transporting their mined product along the highways, Wolfin replied, "mining companies which produce concentrate, like Avino, are not a direct target. The concentrate, a black powder substance, is worthless to the drug gangs because it requires a smelter to refine it, so we haven't been targeted or threatened." He added that Avino's location also provides protection because most of the mining operations are not in a remote area. The Avino property is within an hour's drive outside the city of Durango along a busy road.
The company re-commenced production activities on the property this year. Wolfin also said that the company does have security guards on site, but hasn't felt the need to increase that security.
Hugh Clarke, Vice President of Corporate Communications for Endeavour Silver (NYSE:EXK)(TSX:EDR), which produces 1,000 ounce silver bars on location at its Guanacevi property in Durango, also reports that operations haven't been impacted by the drug war.
"We have an armored vehicle that comes to pick up those silver bars and deliver them to a refiner," said Clarke. "Once the bars are in the armored vehicle, they become the responsibility of the fully-bonded company we have contracted and if anything does happen it is covered by their insurance."
Besides the silver bars, Endeavour is also very concerned with the safety of its employees as they travel the roads. "We have strong guidelines for our workers: don't travel alone, don't travel at night, and use a company vehicle that is clearly marked Endeavour Silver." Clarke adds that the company is "by the far largest employer in the district" and believes that fact helps to mitigate risk as the company is respected in the community.
Avino, too, is confident their long-standing reputation and good working relationships with the surrounding villages dissuades cartel members from posing a threat to the miner's operations or to employees. "We have a good rapport with the local residents as evidenced by our longstanding 30-year agreements with the farmers in the area," explains Wolfin. "Such agreements are needed in order to have full access to the roads on their property. We also have had a very low turnover in mine workers during the 27 years the mine was in operation prior to the mine's closure in 2001, with many people working for us for over 20 years."
Mexico still among the world's top ten mining jurisdictions
The level of violence varies widely across Mexico, according to a report from the Trans-Border Institute at the University of San Diego which says that 70 percent of the violence is concentrated in only 3.2 percent of all the nation's municipalities.
"If you're watching the news in the US or Canada, Mexico looks like a horror show," said Endeavour's Hugh Clarke. "The reality is different. Yes, the stuff we see on television is horrible, some innocent people have been caught up in the crossfire and it doesn't seem to be getting better, but so much of it is localized to the border states and cities; and its between the rival drug gangs as well as between the army and the gangs."
Clarke says the concerns Endeavour is hearing from investors and potential investors in the North America are vastly different from those held by European investors.
"Typically, when we hold a meeting with a gathering of investors or potential investors, concerns about the drug war in Mexico do come up a lot in the States, and in Canada it comes up but its further down the agenda. In Europe, this doesn't come up at all," he explains. "It's really a function of the nature of the media in the US, and to some degree in Canada."
Chris Berry, founder of House Mountain Partners, told Silver Investing News that he doesn't see the drug war having too great an impact financially on mining companies operating in Mexico. "If you look at the share prices of many junior and senior mining companies who operate wholly or partially in Mexico, the narco-trafficking issue doesn't seem to have had an overly negative effect," said Berry.
In spite of the escalating violence, the Fraser Institute's 2011 survey of global mining jurisdictions, which considers political risk amongst other factors, ranked Mexico 10th , ahead of Peru, Manitoba, Brazil and Alaska.
"The reality is that 'bad stuff' can happen to a mining project anywhere in the world and a mining operation is fraught with various risks," adds Berry. "Mexico has a long, positive history of mining in its culture and I think this is a favorable factor that people sometimes forget when focusing on the headlines surrounding narco-trafficking."
 I, Melissa Pistilli, hold indirect interest in Avino Silver & Gold Mines.