Silver Bears Gain Advantage, Bulls Fight Back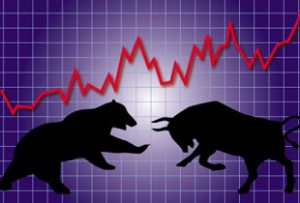 Some of the more squeamish silver investors who tuned in to the market action last Friday may have found it difficult to contain breakfast, much less have lunch. After a better-than-expected US jobs report, silver fell off the cliff. The metal lost $1.35 that day, closing at $30.91 and shifting the technical advantage to the bears. Since then, silver has recovered those losses to return to the territory where it has traded over the past couple of weeks. Though the silver market deceptively appears to have been muddling along over the past week, some warn that it looks vulnerable.
Silver's rise this week came despite conditions that were not often not supportive. Coming out of the gate this week, the metal faced downward pressure. With the US presidential election on Tuesday, many market gurus encouraged staying on the sidelines Monday and many investors seemed to follow that advice. However, silver managed gains despite having to fight adverse currency action and was able to post a close above $31.
Tuesday there was a clear risk-on vibe. Conditions in the silver market began improving before the opening of North American markets and the strength endured throughout the day. Silver gained $0.84, placing the metal two pennies above the $32 mark. The boost was credited to rallying equities, positive action in the gold market and technical short covering.
By Wednesday, one of the major market uncertainties was put to rest. Americans had re-elected President Obama for a second term. Attention quickly returned to economic factors in both the US and Europe.
Market participants were again concerned about the fact that the looming "fiscal cliff" — the nearly $600 billion worth of tax increases and spending cuts that could push the economy back into recession when they take effect in January — must still be reckoned as that means another debt-ceiling debacle could be growing ever closer.
Meanwhile, Spanish bond yields are again raising concerns in the EU. Even more worrying for some is speculation that the Spanish government will not ask for a bailout this year. Added to these factors are Greece's ongoing economic problems, which have appeared back on the radar. The Greek government approved more austerity measures this week, and that prompted violent protests by the country's citizens.
Amid these concerns silver lost $0.18 Wednesday, resulting in a close once again below the $32 level.
The close
Thursday, silver clawed its way back again. December silver on the COMEX was up $0.46 at $32.13 as the US day session concluded. The New York spot market closed with gains of $0.47 at $32.31.
This week's closing New York spot price is pennies away from the price last week. However, the market is not quite in the same condition given last Friday's losses.
"Support is at Monday's low at $30.68," said Scotiabank. "Momentum is low and we would see a close below Monday's low as bearish."
Bulls and bears have now essentially leveled the playing field. Silver investors may want to prepare for a tussle.
Company news
Hecla Mining (NYSE:HL) is expecting to bring its Lucky Friday mine in Idaho back online next year.
"We are pleased to announce that shaft rehabilitation at the Lucky Friday mine advanced on schedule during the third quarter, and we anticipate being in production in the first quarter of 2013 and ramping up through the year to more than 2 million ounces by year end," said president and CEO Phillips Baker.
Care and maintenance costs for the third quarter were $6.1 million, including depreciation of $1.5 million.
Silver Bull Resources (NYSE:SVBL,TSX:SVB) announced that drill results from the eighth batch of drill holes on the Shallow Silver Zone at its Sierra Mojada project in Coahuila, Mexico show that it intersects high-grade silver.
Highlights include 174.59 grams per ton of silver over 17.5 meters, including 529.35 g/t silver over 4.6 meters as well as 134.43 g/t silver including 232.07 g/t silver over 14.8 meters.
Kootenay Silver (TSXV:KTN) announced that it closed a fully-subscribed $8,253,000 brokered private placement financing. It has secured drilling contracts and has begun mobilizing drill rigs to commence a major multi-phase 30,000-meter drill and resource expansion program on its flagship Promontorio silver project in Sonora, Mexico.
Securities Disclosure: I, Michelle Smith, do not hold equity interests in any companies mentioned in this article.