Royal Canadian Mint Buying 3 Million Ounces of Silver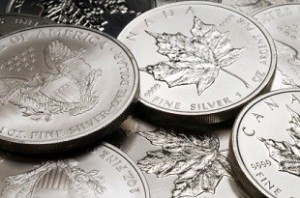 After the Royal Canadian Mint (RCM) closed its initial public offering (IPO) of 5 million silver exchange-traded receipts (ETRs) on Monday, the firm announced that it has purchased over 3 million ounces of silver for its Canadian Silver Reserves Program, which allows interested parties to own the white metal in its physical form without requiring them to arrange for delivery or storage of the metal. 
With this program, the RCM aims to provide an exchange-traded investment vehicle that tracks the price of the metal while making it possible for institutional and retail investors in all Canadian provinces and territories to invest in physical silver.
As part of its efforts to achieve this goal, last Monday the RCM reached an agreement with a syndicate of underwriters led by TD Securities and National Bank Financial under which those organizations will purchase ETRs and resell them to the public.
The RCM said the TSX has conditionally approved the listing of ETRs for trade on the exchange. Those denominated in Canadian currency will trade under the symbol MNS and those in US dollars will be under the symbol MNS.U. This listing is subject to the Mint fulfilling certain requirements on or before January 10, 2013.
With each ETR priced at C$20, or US$19.98, the IPO grossed C$100 million. From this amount, the underwriters received a 3 percent fee and other expenses associated with the offering were deducted. That left net proceeds of $96,050,000, which the RCM is using to purchase 3,097,625.28 ounces of silver bullion on behalf of the initial investors at an average spot price of US$31.07 an ounce.
On that basis, each ETR will represent 0.619525 ounces of silver.
To be clear, the RCM said the silver bullion evidenced by the ETRs will be legally and beneficially owned by ETR holders and not by the Mint.
"The Mint will act as custodian of the silver bullion on behalf of the ETR Holders and will hold the silver bullion in its facilities," a SEDAR document states.
For its services, the RCM will charge a 0.45 percent per annum fee that will be calculated and accrued daily. The Mint said it will withdraw the silver bullion necessary to satisfy this fee each month.
The involvement of an exchange, the fees and custodian set up may make ETRs sound a lot like silver-backed ETFs. A very key difference, however, is the options for investors who decide to sever ties with those facilitating their investments.
With silver ETFs, investors have a single redemption option: they can sell their shares for cash. On the other hand, investors can redeem ETRs for cash, Canadian Silver Maple Leaf coins or silver bars.
But there is some fine print that investors should be aware of before jumping into these securities.
Though individually ETRs are economically priced, investors should note that they are only eligible to redeem the instruments for silver bullion if making a request that represents a minimum of 5,000 ETRs.
Each such request will be subject to a C$100 redemption fee and a fabrication fee of US$3 per ounce for silver Maple Leaf coins, US$1.50 per ounce for 100-ounce bars or US$0.25 per ounce for London Good Delivery bars, depending on the forms in which one chooses to receive the metal.
Investors are also responsible for the arrangements and expenses associated with the pick up and delivery of their silver by an industry-recognized armored carrier.
The Mint said ETR holders will not be charged a fee for cash redemptions. However, the cash redemption price per ETR will be equal to 95 percent of the lesser of:
(i) the volume-weighted average trading price of the ETRs on the TSX for the last five trading days, including the redemption date, and
(ii) the NAV (calculated by multiplying silver by silver price) per ETR on the redemption date.
Redemptions, in any case, will only begin on February 15, 2013. Thereafter, investors have a redemption opportunity once a month, generally on the 15th if it is a normal trading day.
Each ETR also provides holders with two purchase rights. On September 19, 2013 and September 18, 2014, those holding these securities can purchase a number of additional ETRs for C$20.
"It would be beneficial to exercise a Purchase Right if an ETR holder wanted to acquire additional silver and believed silver could be acquired on more favorable terms through the exercise of purchase right than through the purchase of ETRs on the TSX," the Mint explained.
"Assuming that ETRs trade at a premium to the NAV per ETR, if an ETR holder believes the premium plus the trade execution expenses will exceed the costs associated with exercise of a purchase right it would be advantageous to acquire additional ETRs through the exercise of a purchase right rather than on the TSX."
In addition to the costs associated with these securities, investors must consider the risks.
Losses may be incurred both as a result of silver price diminution and if any price gains do not exceed applicable fees, the Mint forewarned.
"An investor could lose all or a significant portion of his or her investment in the ETRs."
Furthermore, the RCM noted that these investments may not suitable for those who are unfamiliar with the silver market or are unwilling or unable to bear the risk attendant to a security of this type.
The Canadian Silver Reserves Program follows the launch of a peer program for gold launched in November 2011.
"One year after the resounding success of our Canadian Gold Reserves Program, the Mint is pleased that the launch of our Canadian Silver Reserves Program is being enthusiastically met by investors looking for a convenient, economical and secure way to hold physical silver," said Ian E. Bennett, president and CEO of the Royal Canadian Mint.
"The Mint is proud to leverage its capabilities to expand our ETR program and give even more investors the opportunity to hold direct title to precious metals securely stored at the Royal Canadian Mint."
Securities Disclosure: I, Michelle Smith, do not hold equity interests in any companies mentioned in this article.