Precious Metals Weekly Round-Up: Gold Heads for Worst Week This Year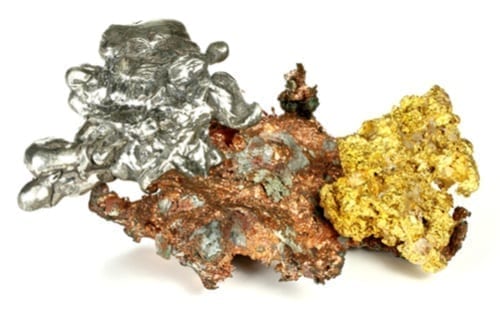 The precious metals took some hits on Friday (March 1) as the US dollar rallied and the equity markets experienced a bounce back.
Gold prices dipped to a two-week low on Friday (March 1) as a revived US dollar and a bounce back in the equity markets put pressure on the precious metal.
The yellow metal is currently set for its biggest weekly fall in close to four months.
"The news on jobs and gross domestic product (GDP) was more favorable for the dollar, which has been gaining value. Because of that we are continuing to see some long liquidations," said Afshin Nabavi, senior vice president at MKS SA.
"We have breached US$1,315 and US$1,310, which are very important support levels. Won't be surprised even if we see a test of US$1,300 later today," he added.
The greenback managed to push down gold after it gained steam from better-than-expected fourth quarter US GDP data and hitting a 10-week high against the yen.
"After [gold] failed last week to rise above US$1,350, the gold price is nearing the psychologically important US$1,300 per troy ounce mark again today," Commerzbank analysts said.
Investors will keep a keen eye on the yellow metal to see if it can stay above the US$1,300 threshold.
As of 9:48 a.m. EST, gold was trading at US$1,307.80 per ounce.
Meanwhile, silver was also down for the week as the US dollar's rally also kept the white metal's prices down.
As of 9:57 a.m. EST, silver was down 1.03 percent, trading at US$15.41 per ounce — once again staying below the US$16 threshold.

As for the other precious metals, platinum was down slightly on Friday but on course for a third straight weekly gain. As of 11:10 a.m. EST, the metal was trading at US$860.00 per ounce.
For its part, palladium is steady after hitting an all-time high of US$1,565.09 earlier this week.
"Palladium prices continued their remarkable rise over the last month, remaining above gold prices and reaching a fresh all-time high," noted analysts at FocusEconomics.
"Also, there won't be a substitution from palladium to platinum as it is very difficult to achieve and takes a very long time to make sure it is compliant," they added.
The metal is headed for a fourth consecutive week of gains and as of 11:17 a.m. EST, palladium was trading at US$1,531.00 per ounce.
Precious metals top news stories
Our top precious metals stories this week includes Barrick Gold (TSX:ABX, NYSE:GOLD) making an official bid to merge with Newmont Mining (NYSE:NEM), Pan American Silver (TSX:PAAS,NASDAQ:PAAS) closing its US$1.07-billion acquisition of Tahoe Resources (TSX:THO,NYSE:TAHO) and a story on if palladium is headed for a bubble.
Barrick Gold made an official bid to merge with Newmont Mining early Monday (February 25), in a deal that Barrick believes would create US$7 billion in net present value (NPV) of real synergies.
The potential merger, which was hinted at on Friday (February 22), would combine the two largest gold producers in the world, be worth close to US$18 billion in stock and would focus largely on both of the company's assets in Nevada.
"Nevada is the crux of our proposal," Mark Bristow, president and CEO of Barrick said in a conference call following the announcement.
Pan American Silver has solidified its position as the world's premier silver producer after closing the US$1.07-billion acquisition of Tahoe Resources on Friday (February 25). The silver miner, which has found success with its six mines in Mexico, Peru, Argentina and Bolivia, as well as gold mines in Peru and Canada, now holds all the issued and outstanding shares of Tahoe.
"The completion of the arrangement establishes the world's premier silver mining company with an industry-leading portfolio of assets, a robust growth profile and attractive operating margins," said Michael Steinmann, president and CEO of Pan American Silver.
As palladium continues its steady climb, maintaining its rally over US$1,500 per ounce, many analysts have grown concerned that the commodity may be in a bubble.
The precious metal, which is most commonly used to control harmful emissions in gasoline-fueled cars, has soared 40 percent in the past four months, hitting repeated records as demand surges and a supply deficit deepens.
"Palladium prices continued their remarkable rise over the last month, remaining above gold prices and reaching a fresh all-time high," noted analysts at FocusEconomics.
Also in the news
Also making news this week, Bloomberg reported that Barrick Gold has no plans to increase the amount offered in its hostile takeover bid of Newmont Mining. The news comes from a person familiar with the matter who wished not to be identified due to the private nature of the talks.
Barrick's CEO Mark Bristow revealed that the company has received less push-back from investors on this zero-premium deal than the one for Randgold, "where we had to do some convincing of the logic of an at-market transaction."
By contrast, Douglas Groh, portfolio manager at Tocqueville Asset Management in New York, which owns 1.35 million shares of Newmont and 175,625 shares of Barrick, stated, "it seems arrogant on Barrick's behalf to assume shareholders will believe in the value creation of the merged Barrick-Newmont entity as the offset to a premium that's not paid in the marketplace directly in the bid."
Adding, "it's cheeky on their part to assume shareholders are so naïve to assume premium value will come through their execution."
Meanwhile, Impala Platinum (Implats) (JSE:IMP) is planning to build a palladium mine by 2021 thanks to the metal's rally and bullish outlook.
The miner believes that it mine will be viable to start production by 2024.
"I believe the change in platinum group metals is structural and not cyclical, so we are fully confident that the buoyant market we see today is going to prevail for the next 10 years," CEO Nico Muller told reporters in Johannesburg after announcing earnings Thursday.
"When you contemplate a project like this, you have to have a long-range view, and we have a very bullish position at the moment," he added.
Don't forget to follow us @INN_Resource for real-time news updates!
Securities Disclosure: I, Nicole Rashotte, hold no direct investment interest in any company mentioned in this article.