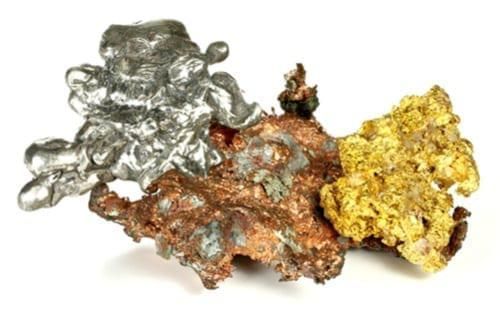 Precious metals prices climbed on Friday when weaker stock markets sent investors seeking out safe-haven investments.
Gold and silver prices gained on Friday (October 19), thanks to weaker stock markets sending investors into the safety of precious metals.
As of 9:44 a.m. EST, the yellow metal was up 0.22 percent, trading at US$1,228.00 per ounce, climbing for the third week in a row. As for the white metal, it was up for the week, rising 0.79 percent to trade at US$14.66 per ounce as of 9:46 a.m. EST.
This is one of the first times in months that investors have turned to the metals as a safe-haven from outside forces effecting the markets.
"Gold has done really well to hold up here, given the Fed was really hawkish. Sensitivity to equity markets is helping gold at the moment," Macquarie (ASX:MQG) commodity strategist Matthew Turner said.
"We are entering a new paradigm, where any further rate hike could be a sign that the economy is overheating a bit, which should be more positive for gold and problematic for equities," he added.
For their part, platinum and palladium climbed on Friday. As of 10:16 a.m. platinum was trading at US$833 per ounce, while palladium's steady climb continued as it rose 1.50 percent landing at US$1,080 per ounce.
Precious metals top news stories
Our top precious metals stories this week featured an interview with Jorge Ganoza, president, CEO and director of Fortuna Silver Mines (TSX:FVI,NYSE:FSM), a silver price update for Q3 2018 and a round-up of the Mines and Money Americas conference in Toronto that the Investing News Network (INN) attended from October 15-17.
The silver price continues to face headwinds, leaving market watchers wondering when a turnaround may take place. But for Jorge Ganoza, president, CEO and director of Fortuna Silver Mines (TSX:FVI,NYSE:FSM), today's low price environment isn't a major issue.
"I get asked a lot about silver and gold, and of course we all like higher prices," he said. "But I'll say that we are a bit price agnostic — we try to focus on the things we control. We control our cost, we control the type of assets we decide to acquire and get involved with and develop."
With that focus, the company has put itself in a position where it's able to thrive — not just survive — when metals prices are low. "Fluctuations impact us, yes, but we have very healthy margins and we have a lot of tolerance in our business for depressed prices," Ganoza explained.
The price of silver fell by almost 9 percent in the third quarter, dipping below the US$16.00 per ounce level towards the middle of July, where it would stay for the remainder of Q3.
A strong US dollar and stagnant investor demand were the two main forces pushing and keeping the white metal down throughout the quarter.
As a basket of geopolitical concerns presented themselves in Q3, investors continued their Q2 trend of opting to turn to the greenback as a safe-haven against these concerns rather than precious metals.These factors kept the white metal below US$16 and on many times US$15 per ounce from July to September.
The Mines and Money Americas conference held in downtown Toronto wrapped up Wednesday (October 17) afternoon, after three days of panels, presentations and one-on-one meetings.
The INN editorial team covered a variety of interesting panel discussions and caught up with a number of industry analysts, company CEOs and mining sector innovators.
From geopolitical issues affecting gold to the impact of technology on the supply chain, the Mines and Money conference was a great opportunity to examine some key resources in the mining space.
In other precious metals news
Also making news this week was gold miner Acacia Mining (LSE:ACA), which has threatened to invoke a bilateral investment treaty on the Tanzanian government in regards to the charges of tax evasion and money laundering that have been laid on three of Acacia's local Tanzania subsidiaries, along with a current employee and former staff member.
Acacia's parent Barrick Gold (TSX:ABX) has been negotiating with the Tanzanian government on behalf of Acacia for 19 months but has yet to reach a final settlement.
"We will . . . be reaching out to the government to seek the opportunity for direct dialogue regarding the ongoing disputes between the government, the company and the broader Acacia Group," the company said in a press release.
The miner added that if negotiations fail to result in a resolution, it could pursue a claim under a bilateral investment treaty between Tanzania and the United Kingdom.
Finally, Anglo American Platinum (JSE:AMS) reported a fatality of one of its employees, which occurred on Thursday (October 18) at the miner's Dishaba mine in Amandelbult.
"We are all deeply saddened by this tragic incident, and send our sincerest condolences to the family, friends and colleagues of our employee who has lost their life. We are providing support and assistance to all involved during this difficult time," stated Chris Griffith, CEO.
"We remain committed to our objective of eliminating fatalities with a zero-harm mindset and have begun an independent and comprehensive process to understand the circumstances of this incident and to ensure we learn from it to prevent recurrence," he added.
Don't forget to follow us @INN_Resource for real-time news updates!
Securities Disclosure: I, Nicole Rashotte, hold no direct investment interest in any company mentioned in this article.