Dovish comments from the incoming Fed chair gave gold a lift today and yesterday.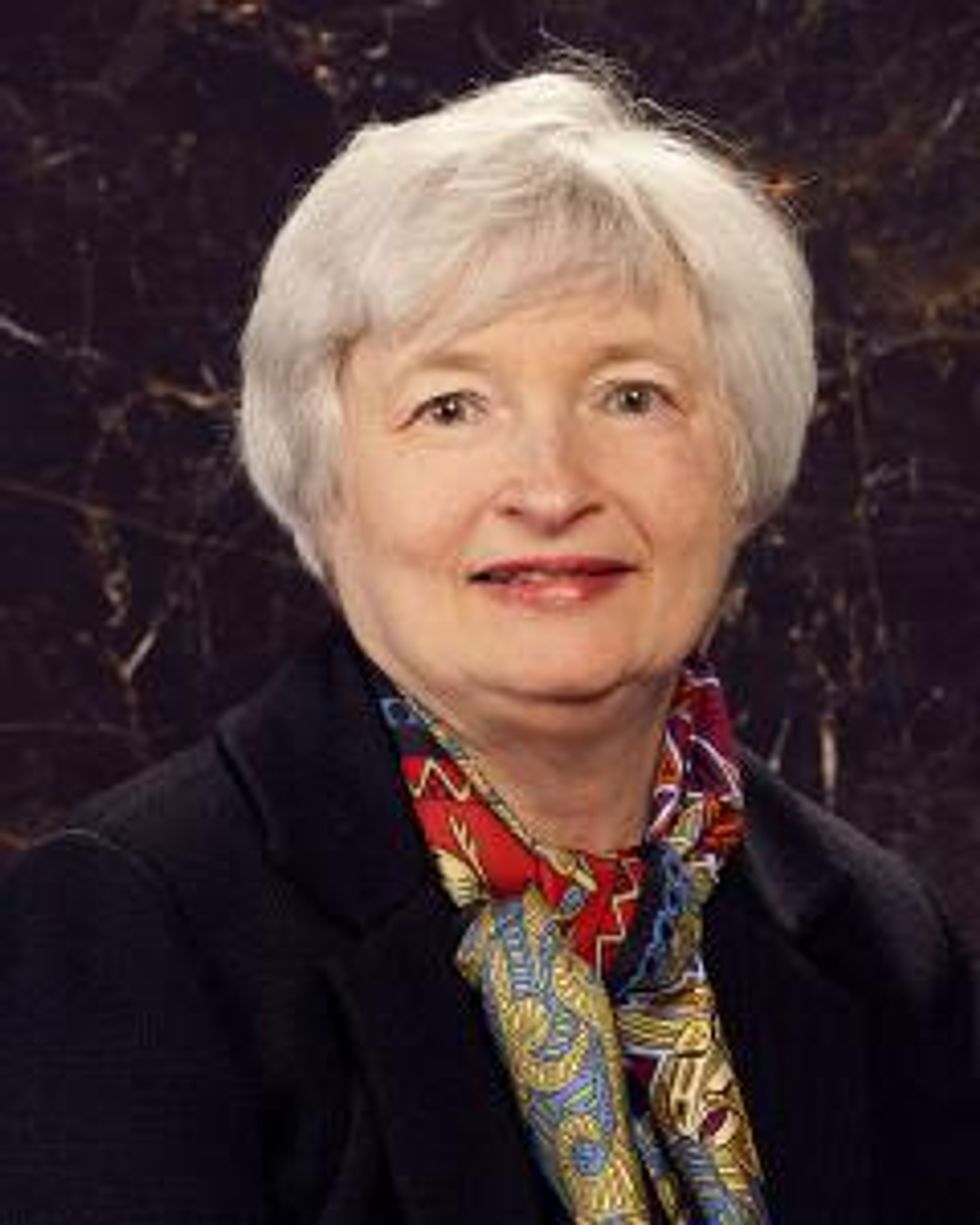 The gold price appears to be ending the week higher, given impetus from incoming Fed Chair Janet Yellen, who is poised to take over leadership of the US Federal Reserve from Ben Bernanke in January.  
The price of bullion climbed $17 on Wednesday after comments from Yellen supporting the US stimulus program known as quantitative easing, which since its start in 2008 has been bullish for gold and other precious metals due to its real or perceived inflationary effects.
Yellen, 67, considered to be one of the architects of the $85 billion a month spending program, said the Fed needs signs of a solid economic recovery before it can begin winding down QE. While some observers had expected that could happen as early as the Fed's December meeting, her comments indicated that a QE "taper" is still some ways off.
"We have made good progress, but we have farther to go to regain the ground lost in the crisis and the recession," Yellen said. She noted that the jobless rate is "still too high" and the economy is performing "far short" of its potential. Inflation, considered to be a negative consequence of QE, remains low "and is expected to continue to do so for some time."
"For these reasons, the Fed is using its monetary policy tools to promote a more robust recovery. A strong recovery will ultimately enable the Fed to reduce its monetary accommodation and reliance on unconventional policy tools such as asset purchases," she said.
That was all bullion traders needed to begin buying gold, with the metal rising to $1,285 an ounce on Wednesday after suffering losses earlier in the week. On November 12, as Canadians returned to work after a national Remembrance Day holiday, gold crashed to a three-week low, along with silver which plumbed the worst levels seen in a month. Spot gold that day sank to $1.274 while December gold futures finished the day at $1,272.50.
Further QE-supportive remarks by Yellen on Thursday, to the Senate Banking Committee, had gold trotting out modest gains, with spot gold last quoted up $2.90 at $1,285.75, and gold futures rising $16 to $1,284.40.
ETF outflows stifle gold demand
Gold demand fell to its lowest level in four years in the third quarter, according to data published Thursday by the World Gold Council. According to the report, demand for the precious metal tanked 21 percent in Q3, to 869 tonnes. Outflows from gold ETFs, combined with a pullback in buying from number one gold consumer India, offset better sales of gold bars, coins and jewelry, said WGC.
Company news
Embattled Barrick Gold (NYSE:ABX, TSX:ABX) is preparing the way for some changes at the top of its corporate ladder. The company announced last Friday that Barrick founder and co-chairman Peter Munk will retire at the company's 2014 AGM.
"The board is addressing the issues that have been raised with our directors, including modification of the company's executive compensation agreements, the rejuvenation of the board through a combination of departures from the board, the addition of independent directors and succession in the chairman role at the company, consistent with Mr. Munk's desire as chairman of the board," Barrick said in a regulatory filing on SEDAR.
Munk's retirement will most certainly put into focus Barrick's many problems over the past year, including an imploding share price, a $5.1 billion writedown on its troubled Pascu Lama project in South America, and its recent failure to capitalize on a US$3 billion equity offering.
Following up on Barrick's news, workers at Pascua Lama have signed a new contract and dropped a strike threat that could have delayed construction of a water management system mandated by the Chilean government, Reuters reported. The deal also includes an unspecified number of layoffs.
Gabriel Resources (TSX:GBU), the Canadian company that has been locked in a battle with the Romanian government over its huge Rosia Montana project, was delivered a blow on Monday, after a parliamentary committee voted down a draft bill which would have allowed Europe's largest open pit gold mine to move forward. Local opposition to the mine has revolved around its planned use of cyanide. On Tuesday however Gabriel Resources pushed back, saying in a statement that the parliamentary committee did not reject the mine, but rather, found that existing mining laws are not broad enough to make decisions on gold and silver mines.
Canadian gold miner Kinross (NYSE:KGC, TSX:K) on Wednesday delivered strong third-quarter results, announcing it produced 680,580 gold ounces during the quarter ended in September, compared to 672,173 ounces in the year-ago quarter. A lower realized gold price, however, at $1,331/oz compared to $1,649 last year, hit Kinross' revenues, which were $876.3 million versus $1.1 billion in Q3 2012. The company also announced it will eliminate up to 1,000 jobs this year with the merger of its North and South Americas regions, and closures or downsizes of regional offices.
Junior company news
Colombia-focused Continental Gold (TSX:CNL) last week announced Q3 exploration highlights from its Buriticá gold project. As a result of 14 drill holes completed in July and August, mineralization was found 250 meters southwest and 400 meters below the Veta Sur resource. The drill results will be included in an updated mineral resource estimate expected to be released late this year or early in 2014.
Colossus Minerals (TSX:CSI) provided an update today on its Serra Palada gold-platinum–palladium mine under construction in Brazil. As a result of some dewatering issues earlier this summer, Colossus required additional dewatering capacity in order to mine the Central Mineralized Zone effectively. The company now says that it plans to deliver ore to the process plant during the second quarter of 2014.
Coronet Metals (TSXV:CRF) poured its first gold this week at its Liberty processing facility in Nevada, the company announced today, paving the way for commercial operations in December.
"This first gold pour at Liberty is a major milestone on Coronet's path to becoming a profitable gold producer. Over the coming months, the operations team at Liberty will be ramping the facility up to full initial capacity while seeking to secure additional supply contracts to support expansion within the existing permits," said President and CFO Theo van der Linde.
Securities Disclosure: I, Andrew Topf, hold no direct investment interest in any company mentioned in this article.
Featured
Investing News Network websites or approved third-party tools use cookies. Please refer to the  cookie policy for collected data, privacy and GDPR compliance. By continuing to browse the site, you agree to our use of cookies.