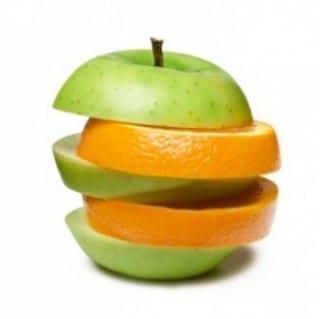 The deal will leave Oban Mining with two development-stage gold projects, as well as four additional gold deposits across Quebec and Ontario.
Canada-focused Oban Mining (TSX:OBM) kicked off the week with the news that it's entered into a definitive arrangement agreement through which it will acquire all of the issued and outstanding shares of NioGold Mining (TSXV:NOX). 
Under the deal, NioGold shareholders will be entitled to receive 0.4167 common shares of Oban in exchange for each NioGold share that they hold. According to Monday's press release, that "represent[s] an implied offer price of $0.50 per NioGold Share." It's also a premium of around 51.5 percent based on Oban and NioGold's share prices at close of day this past Friday.
Speaking positively about the acquisition, John Burzynski, president and CEO of Oban, commented, "[w]ith the successful conclusion of this deal, we will have two development stage projects in Quebec as well as the promising Garrcon and Jonpol deposits in Ontario. Today's merger with NioGold brings us another step closer to our goal of becoming Canada's next leading intermediate mining company."

That's a goal that Oban has definitely been pursuing with vigor this past year. Indeed, the company is perhaps best known for the 
five-way merger
it attempted last June — ultimately it saw Oban
combine with
 Eagle Hill Exploration, Ryan Gold and Corona Gold, while its fourth target, Temex Resources, was instead
acquired by
Lake Shore Gold (TSX:
LSG
,NYSEMKT:LSG).
Since then, Oban has continued to take gold-focused companies into its fold. It
completed its acquisition
of Northern Gold in December, and the same month
announced plans to acquire
Excellon Resources' (TSX:
EXN
) DeSantis property.
Oban now holds an impressive portfolio of Canadian gold projects. According to the company's most recent
corporate presentation
, with the acquisition of NioGold it will hold the development-stage Windfall and Marban projects, both in Quebec, as well as four additional deposits across Quebec and Ontario. That amounts to a combined resource of 820,000 measured gold ounces, 2,679,000 indicated gold ounces and 2,267,000 inferred gold ounces.
It's also worth noting that Oban is backed by leading royalty company Osisko Gold Royalties (TSX:
OR
). The company made a $20-million investment in Oban in conjunction with last year's transaction with Eagle Hill, Ryan Gold and Corona Gold, and Osisko CEO Sean Roosen is now co-chair of Oban.
Watch the video below for more insight from Roosen and Burzynski on the relationship between Osisko and Oban:
For investors, of course, the real question is whether Oban has enough money to advance all the properties it's amassed. Luckily, the answer seems to be "yes" — Oban states in the presentation mentioned above that it has $70 million worth of pro forma cash in the bank, not including a $10-million private placement announced in conjunction with the NioGold deal.
Of that private placement, Burzynski commented, "[t]he Offering is expected to provide Oban with funds to continue to develop our key projects at Windfall Lake and Marban, even as market conditions remain challenging for gold exploration and development companies, and to further explore the projects recently acquired from Northern Gold Mining."
Oban has provided the following chart outlining exactly how it will proceed at those and other assets: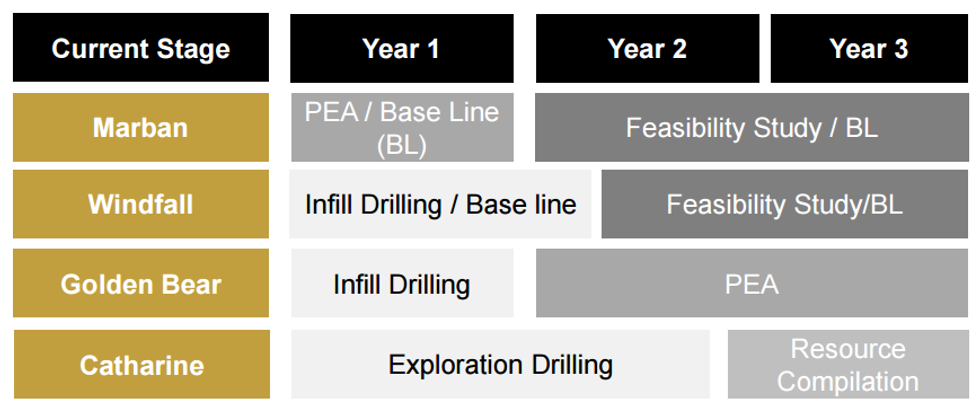 Image courtesy of Oban Mining.
It will certainly be interesting to watch when Oban starts further work at its properties. At close of day Monday, Oban's share price was down 7.5 percent, at $1.11, after 1.58 million shares traded hands. Meanwhile, NioGold was up 21.21 percent, at $0.40, with a similar number of shares moving. Earlier in the day, NioGold's share price rose as high as $0.45.  
Securities Disclosure: I, Charlotte McLeod, hold no direct investment interest in any company mentioned in this article.