Haiti's Gold Mining Potential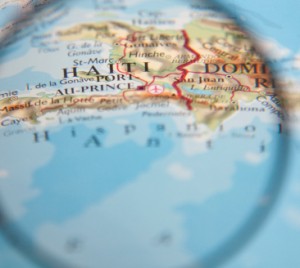 With gold prices climbing to ever-greater heights and many analysts expecting the momentum to gain still further, investing in gold mines would seem like a logical step forward. For countries rich in precious metals such as Haiti, the opportunity to cash in gold at $1,715 an ounce and possibly above appears to be here now, with its untapped mines potentially leading to a financial bonanza as a new government settles in.
This is a "great opportunity" for Eurasian Minerals (TSXV:EMX) to move forward with exploring in Haiti, said the mining group's director of investor relations Scott Close. Indeed, the Littleton, Colorado-based company announced earlier this month that it had identified new exploration targets and been granted an additional 19 prospecting permits. In a joint venture with Newmont Ventures (NYSE:NEM), a wholly owned subsidiary of Newmont Mining, Eurasian Minerals currently has six projects across the country.
Granted, political risk is not unusual for most precious metal mines, which often are located in some of the poorest and unstable parts of the world. In fact, political unrest led to the closure of Haiti's last copper mine in the early 1970s, and since then, investors have shied away from getting back into the market. Still, the election of Michel Martelly as Haiti's new president to rebuild the country from the 2010 earthquake and decades of corrupt rule has renewed mining hopes for the government and foreign investors alike. Martelly has pressed for restoring law and order, but there is no doubt that the country still remains heavily dependent on overseas humanitarian aid as well as United Nations peacekeepers for security.
Still, the gold bulls are on the run across Latin America and the Caribbean, and Eurasia Minerals far from  alone in having high hopes for Haiti's mining potential. Last week, shares in Majescor Resources (TSXV:MJX) surged as it reported that the first of two holes drilled at its Douvray porphyry deposits returned 0.565 percent copper over a 255-meter interval, while the second drill encountered 0.566 percent copper over 371.1 meters. Gold grades are still pending, but many analysts expect positive results to be reported soon.
Of course, the risks of mining stem not only from the political situation at the country of origin, but also from environmental damages due to heavy mining as well as problems in distributing revenue so that it benefits the overall population, and not just the corporations and a handful of executives. But many mining giants are learning from their past mistakes and often go out of their way to ensure that they take their projects' environmental and social impacts into consideration, and international organizations are rallying to help companies increase their profits while supporting local governments and communities at the same time. In fact last week, the World Gold Council and the World Bank's oil, gas, and mining unit examined the mining industries in Ghana, Tanzania and Peru to discuss the importance of the private sectors working together to ensure that revenues are invested efficiently and for the benefit of communities.
"When public and private actors work in partnership, gold mining can have real and positive benefits for the communities around the mining sites and for the mining countries in general," said the World Bank's Sustainable Development Vice President Rachel Kyte. "It is possible to make concrete progress when and wherever there is the political will and a robust regulatory framework to ensure that the revenues are well managed and invested in sustainable development."
In fact, Haiti's neighboring Dominican Republic may be a success story in the making of balancing corporate profit with bolstering national wealth at the same time. The Pueblo Viejo mine is soon expected to be the fourth-largest gold mine in the world, and Eurasian Minerals projects that Haiti to have similar mineral potential as well.
Pueblo Viejo is a $3.3 billion joint venture between Barrick Gold (NYSE:ABX) and Goldcorp (NYSE:GG) that is expected to lead to $8 billion in revenue for the government of the Dominican Republic. Barrick has publicly declared that it has made it a priority to address the social as well as economic issues that comes with being responsible for a mine with declared reserves of 23.7 million ounces of gold. In an interview with Achieving Business Excellence in September, Manuel Bonilla, President of Pueblo Viejo Dominicana Coporation/Barrick pointed out the need for the company to ensure that gold revenue can be "translated into long-term sustainable economic gain for the country and its people. This responsibility is an integral part of the business and forms part of everything we do."
I, Shihoko Goto, have no interests in the companies mentioned in this article.