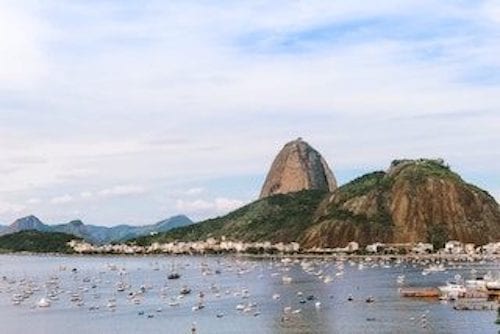 The hunt for gold in Brazil has brought explorers to the country for years. Learn about some of the companies currently mining in the region.
Gold mining in Brazil has a long history stretching as far back as the 1700s, when a gold rush in the then-Portuguese colony opened the country up to the major gold-producing region of Ouro Preto — Portuguese for "black gold."
Since those early days, mining has continued to be an important driver of the Brazilian economy, which is the largest in Latin America.
Mining gold in Brazil is a significant source of revenue, but the nation is not one of the world's largest gold producers — it put out only around 81 MT of the precious metal last year. However, it does hold significant reserves, making it an important destination for gold explorers.
Gold mining in Brazil: Mining reforms
Resource nationalism has never been a major concern for investors in Brazil, but many were worried when new mining reforms were suggested in 2009. Among other things, market participants feared increased royalty rates from 2 to 4 percent. However, the reforms were stalled due to political unrest and the impeachment of former Brazilian president Dilma Rousseff.
Instead a new bill was sent to Brazilian Congress in 2017, in the hopes of eventually setting royalty rates by commodity, increasing gold's rate from 1 percent to 2 percent. It also set out to establish a new regulator and widened requirements for mineral extraction. Even with increased royalties, Brazil's rates are still considered low by international standards — Australia, for example, charges anywhere from 2.5 percent to 7.5 percent depending on the mineral mined.
Brazil ranks 58 out of the 83 jurisdictions researched for the latest Fraser Institute survey. It finds itself sandwiched between Nova Scotia and Turkey, yet is far above South American mining laggards Venezuela and Uruguay.
Gold mining in Brazil: Producers
The US Geological Survey reports that Brazilian gold production grew marginally to reach 81 million tonnes (MT) in 2018 compared to over 80 MT in 2017. Although output of the yellow metal has been relatively flat, there are many major and intermediate-tier companies currently mining for gold in Brazil. Below are some of the most important producers, all of which have market caps over US$50 million.
AngloGold Ashanti (ASX:AGG,NYSE:AU,OTC Pink:AULGF):
The miner has two gold-producing complexes in Brazil. They are called Cuiaba and Corrego do Sitio; the former includes the Cuiaba and Lamego mines in addition to the Cuiaba and Queiroz plants. AngloGold also has three underground mines at its Serra Grande operation in the state of Goias.
In 2018, Serra Grande produced 1.1 metric tonnes, while Cuiaba has an output of 3.0 metric tonnes during the same period of time. In total, the miner's Americas region produced 776,000 ounces of the yellow metal last year.
Kinross Gold (TSX:K,NYSE:KGC):
Kinross has a large open-pit gold mine near the city of Paracutu, about 230 kilometers from the capital of Brasilia. The Paracutu mine boasted record production in 2018, with an output of 521,575 gold equivalent ounces for the year. Additionally, the asset has proven and probable reserves of 7,938 gold ounces.
In February 2018, Kinross acquired two hydroelectric power plants that are expected to lower production costs over the life of mine and provide a reliable source of sustainable low-cost power.
Lundin Mining (TSX:LUN,OTC Pink:LUNMF)
Lundin Mining purchased the Chapada gold-copper mine in Goias from Yamana Gold (TSX:YRI,NYSE:AUY) in July 2019. The asset was released to Lundin for just over US$1 billion and production is currently from three different open pits in close proximity to each other. Lundin plans to eventually join into a single pit, collectively referred to as the Chapada open pit mine.
There is currently plant expansion in the works that will increase the processing rate to a range from 28 million tonnes per annum (mtpa) to 32 mtpa and the relocation of some plant infrastructure. The relocation will allow the push-back of the pit wall for the development of the Sucupira orebody which were previously being studied by Yamana Gold.
Lundin is also evaluating other value creating scenarios which will aid in the assets expansion by leveraging the company's technical expertise, financial strength and the copper-focused exploration potential of the mineral property.
Other producers with gold mines in Brazil include Jaguar Mining (TSX:JAG), with operations Turmalina and Caete and Equinox Gold (TSX:EQX,NYSE American:EQX), whose Aurizona mine poured its first gold in May 2019. Both companies are currently participating in small-scale mining with plans to expand the resources at their assets. For Jaguar, at the end of last year, its Turmalina asset had proven and probable reserves of 228,000 ounces grading 5.05 grams per tonne gold, while Equinox achieved commercial production at Aurizona in July of this year and the mine currently has 971,000 ounces grading 1.52 grams per tonne gold.
Gold mining in Brazil: Explorers
As noted above, Brazil's relatively unexploited gold reserves make the country an attractive jurisdiction for gold juniors. Here are some for investors to keep an eye on, all of which have a market cap of at least US$10 million.
Amarillo Gold (TSXV:AGC,OTCQB:AGCBF) is a gold exploration company focusing on its Mara Rosa gold project in Central Brazil. The project encompasses aproximately 60,000 hectares of exploration permits and 2,600 hectares of mining permits. Local infrastructure is excellent, with nearby access to Brazil's main North-South highway and close proximity to the national capital of Brasilia and the state capital, Goiania.
The main accumulation of gold within the Mara Rosa project is known as the Posse deposit, which occurs in two main zones, Posse North and Posse South. In its most recent pre-feasibility study, the miner noted that the asset has inferred reserves of 330,000 ounces at 0.92 grams per tonne gold.
Belo Sun Mining (TSX:BSX,OTC Pink:VNNHF) Belo Sun has a large property within a greenstone belt, which is called the Volta Grande gold project. The project has a measured and indicated gold mineral resource of 5 million ounces, mineral reserves of 3.8 million ounces and long-term exploration potential.
According to the miner, the asset has a phased development approach with a strong production profile and robust economics. While the company has had one of its suspensions lifted by Brazil's Agrarian Court, it is currently awaiting a decision on another related to the indigenous population.
GoldMining (TSXV:GOLD,OTCQX:GLDLF) has several gold deposits located in Brazil, with its key project being Cachoeira. The asset currently boasts indicated resource of 17.5 million tonnes grading 1.23 grams per tonnes gold (691,676 ounces) and inferred resource 15.7 million tonnes grading 1.07 grams per tonne gold (537,756 ounces).

Lara Exploration (TSXV:LRA) holds exploration licenses for its Tocantins project in Central Brazil and Lara holds an agreement with Brazil Americas Investments & Participation Mineracao to pay 50 percent of any proceeds from the eventual sale of the project to a third party. The hope is that some of the funds will be distributed to the indigenous people that reside in the South American country.
The Tocantins project's most recent drill programs included twelve diamond drill holes, with the best results being intercepts of 2 metres at an average grade of 18.97 grams per tonne gold from drill hole TO-08 and 17 metres at 3.93 grams per tonne gold, including 4 metres at 9.01 grams per tonne gold and 2 metres at 11.05 grams per tonne gold from drill hole TO-09.
This is an updated version of an article originally published by the Investing News Network in 2013.
Don't forget to follow us @INN_Resource for real-time updates!
Securities Disclosure: I, Nicole Rashotte, hold no direct investment interest in any company mentioned in this article.