Gold Breaches $1,615 Over Cyprus Fears
The frightening specter of a run on European banks, evidenced by events in Cyprus, had investors clamoring for the safety of gold this week.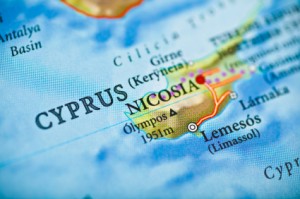 The fear trade was back in the spotlight this week, with gold hitting a three-week high on Thursday amid the threat of economic chaos over Cyprus.

The small Mediterranean island was hurt badly by the Greek debt crisis and needs a bailout of staggering proportions — 10 billion euros — to avoid bankruptcy. Earlier this week, the country shocked the world by announcing that part of the bailout plan would include taxing the deposits of ordinary citizens in an effort to raise the money. That plan was later voted down by the Cypriot parliament, which put more pressure on Cyprus to raise a 5.8-billion euro shortfall.
A plan to appeal to Russia, whose tycoons have stashed an estimated $31 billion in the country due to its status as a tax haven, appears to be falling on deaf ears, The Economic Times reported.
If Cyprus fails to come up with a bailout plan by Monday, the European Central Bank could cut off emergency funding to its banks, pushing the country into bankruptcy.
The crisis in Cyprus has again thrust the instability of the Eurozone into the spotlight as investors fret over the future of the single currency. Of immediate concern is that Spain, Italy and Portugal could follow Cyprus' example and go after the savings of the citizenry if their need to raise cash becomes desperate.
The shenanigans in Cyprus this week set the stage for fresh safe-haven gold demand, and the precious metal did not disappoint.
On Monday, gold leapt 1 percent, to a 13-session high of $1,608 per ounce, as global stock markets sank lower and major-government bonds rose.
"Scenes of Cypriots lining up at cash machines raised the specter of capital flight elsewhere," reported Bloomberg with a video of protesters taking to the streets.
The bullish trend continued through the week, and by Thursday, the metal had climbed another $7 to reach a three-week high. COMEX gold for April delivery last traded at $1,614.60 an ounce, while spot gold finished the day up $8.50, at $1,615.75.
Two other factors played into gold's favor this week, according to a report from Kitco. The Eurozone's purchasing managers' index for March fell to 46.5 in March, from 47.9 in February, and North Korea threatened to launch a nuclear strike against US bases in Japan. Gold is considered a safe-haven asset that can be held in times of economic or political turmoil.
SPDR inflows return
The gold price rise was also bullish for gold exchange-traded funds. Reuters reported that holdings in the SPDR Gold Trust (ARCA:GLD), the world's largest gold ETF, rose 0.22 percent, to 39.293 million ounces, on Tuesday. That is the first one-day net inflow in nearly six weeks. The fund has seen a mass exodus of holdings in recent weeks, and is currently down 128.7 metric tons (MT) compared to a net inflow of 38.7 MT during the same period of 2012, Reuters said.
Company news
Alamos Gold, (TSX:AGI) the company competing with Hecla Mining (NYSE:HL) for a takeover of Aurizon Mines, (AMEX:AZK,TSX:ARZ) will not extend its hostile bid for Aurizon. The announcement came after the BC Securities Commission decided that a C$27.2-million break fee would stand — making the terms unfavorable for Alamos.
"Unfortunately … the unusual break fee that the Aurizon board has agreed to give Hecla means that, for Alamos, the cost of acquiring Aurizon is now simply too high," Alamos' president and CEO, John McCluskey, said in a statement.
Hecla is offering $4.75 per share, or $796 million, for Aurizon, whose prized asset is the Casa Berardi mine in Quebec, Canada. The $1.6-billion combination would have 150 million ounces of proven and probable silver reserves and 2.2 million ounces of gold. The deal must still be approved by two-thirds of Aurizon's shareholders at a meeting in May.
Bloomberg reported that Rio Tinto (LSE:RIO,NYSE:RIO,ASX:RIO) has secured up to $3 billion in loans for its massive Oyu Tolgoi copper-gold mine in Mongolia. Citing people familiar with the matter, the news outlet said the company attracted about 10 banks to commit around $300 million each. Rio Tinto is seeking $4 billion in financing for the $6.6-billion project, whose ownership is split between Rio, Turquoise Hill Resources (NYSE:TRQ,TSX:TRQ) and the Mongolian government.
Junior company news
Canadian gold producer Agnico-Eagle Mines (TSX:AEM,NYSE:AEM) has taken an 8-percent stake in Yukon gold explorer Atac Resources (TSXV:ATC). Agnico-Eagle announced Tuesday that it will invest about $13 million through a non-brokered private placement, bringing Atac's cash reserves up to about $27 million. The proceeds will be used to develop Atac's Rackla gold project in the Canadian Yukon. Atac is trading close to its 52-week high on the TSX Venture Exchange, and rose 6.06 percent, to $1.40 a share, on Thursday.
Geologix Explorations (TSX:GIX) gained on Tuesday after announcing the results of a prefeasibility study on its Tepal gold-copper project in Mexico. The stock closed up 3.45 percent on the Toronto main board, to $0.15, trading at over triple average volumes. Tepal has a pre-tax net present value of $925 million with no discount and a 36-percent internal rate of return paid back over 2.7 years, according to the prefeasibility study.
Almaden Minerals (TSX:AMM,AMEX:AAU) announced the first drill results from its 2013 drill program at the Ixtaca zone at its Tuligtic project in Mexico.
Orefinders Resources (TSXV:ORX) announced that it has begun a 1,200-meter drill program at its Derlak gold project, which is close to Red Lake, Ontario.
Securities Disclosure: I, Andrew Topf, do not hold equity interests in any of the companies mentioned in this article.
Related reading: