In 2010 some analysts thought John Embry's forecast of the 2012 gold price, which placed the yellow metal between $1,500 and $2,000 an ounce, was too optimistic. Now it seems that Embry may have undershot the mark.
By Melissa Pistilli — Exclusive to Gold Investing News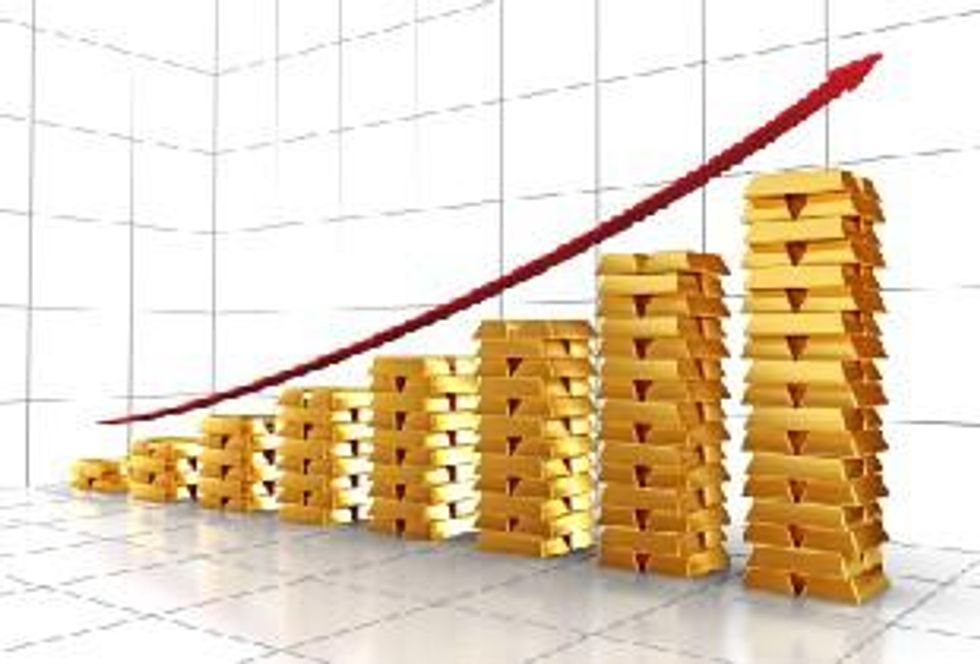 "If gold is not between $1,500 and $2,000 in the next 18 months, I'm dead wrong."
That was John Embry, Sprott Asset Management's chief investment strategist, speaking to Mineweb's Geoff Candy in August of 2010.
The price of gold was regaining the $1,200 level it had first breached in November of 2009 and the market was abuzz with bullish fever over expectations of further quantitative easing measures by the US Fed. News that China was seeking to expand its gold market also added to the excitement. The People's Bank of China had announced it would allow more commercial banks to import and export gold as well as participate in trading at the Shanghai Gold Exchange.
Embry based his price forecast on a lack of optimism for a "sustainable economic recovery in the western world" and the belief that governments would continue to resort to "throwing so much money at this, it's going to make your head spin."
According to a poll Gold Investing News conducted following Embry's prediction, our readers were just as bullish if not more so. Over 35 percent of the 373 respondents felt Embry was "spot on!" while another nearly 35 percent said gold would reach much higher than $2,000 an ounce.
Although at the time Embry's forecast for gold near the $2,000 level in 2012 seemed a bit optimistic to some analysts, he may have even undershot the mark.
Just over a year later, the price of gold reached a record $1,923 an ounce — before falling back below $1,800 last week. Although the yellow metal is struggling to maintain that level for now, many analysts believe gold could soon reach $2,000 an ounce and move even higher in 2012.
Major institution's 2012 gold price predictions
Many of the world's major financial institutions are now calling for the price of gold to reach $2,000 an ounce and higher in 2012.
Barclays Capital
"We expect prices to average $1,875 per ounce in the fourth quarter 2011 and $2,000 per ounce on an annual average basis in 2012 as the macro insecurity persists, investor appetite remains positive and central banks are set to remain net buyers while the physical market continues to provide support at increasingly higher levels," said Barclays Capital analyst, Suki Cooper.
Citigroup
If sovereign debt woes explode, gold may "briefly spike" to between $2,000 and $2,500 an ounce over the next year, remaining above an average $1,200 in the long-term, said Citigroup Inc.
Commerzbank
"I believe gold will still be a very heavily demanded safe-haven trade," says Axel Rudolph, Commerzbank technical strategist, who believes gold may reach $2,000 in October on "another crisis."
GFMS
According to the most recent Thomson Reuters GFMS Gold Survey 2011 update, gold could "easily" reach above $2,000 an ounce by the end of this year on continuing sovereign debt concerns and volatility in the currency markets. "We expect a major increase in world investment in the second half of this year."
HSBC
HSBC is forecasting a gold price of $2,025 an ounce for 2012 and $1,850 an ounce for 2013. "We believe gold's 10-year bull market remains firmly intact, despite high volatility, with prices up 29 percent already this year," said the global banking and financial services company. "The euro zone debt crisis, currency wars, and deep uncertainty among investors are among the factors driving prices higher."
Morgan Stanley
According to Morgan Stanley analysts, gold has about an 85 percent chance of trading between $1,819 an ounce and $2,085 an ounce in 2012.
Societe Generale
"We expect investor momentum to take gold through $2,000 an ounce before the end of 2011," says Societe Generale. The bank sees the price of gold reaching $2,275 an ounce in 2012. "The gold market is underpinned by the 'grass roots' demand and this appears to be remarkably resilient."
TD Securities
TD Securities expects gold "to hit highs of well above $2,000/oz. in the coming months on lower bond yields, expectations of poor risky assets returns and general risk aversion owing to uncertain global economic conditions." Its gold forecast puts the yellow metal at $1,975 in 2012 and $1,750 in 2013.
UBS
"Our expectations for gold in 2012 and beyond are governed to a large extent by our expectations for US interest rates and the health of the global economy," said UBS, which has pinned its 2012 average gold price at $2,075 an ounce with a forecast of $1,725 for 2013.
Embry's updated 2012 forecast
What's Embry's latest gold forecast?
"You never want a date and price in the same sentence — but I'm getting old and it doesn't bother me anymore. I'd be real disappointed if gold wasn't in excess of $2500 in the next 12 months," said Sprott's chief investment strategist in yet another interview with Mineweb's Geoff Candy last month.
Embry poignantly summed up his take on what's fueling the upward trend in gold prices while speaking with Business Television last week: "Everyone wonders where gold's going and where silver's going, I prefer to look at where are currencies going? Today we're in the later stages of yet another failed experiment in fiat papered currencies and they're losing value at an alarming rate and as a result gold is rising in value denominated in these failing currencies," explained Embry. "That is the significance. It isn't that gold is in a bubble because it'sup in price, it's the fact that the currencies are falling in value almost every day."
Seeing that Embry was "spot on!" with the 2012 gold price forecast he dished in 2010, it's not hard to fathom that the investment guru may just be proven right again in the coming months.
Featured
Investing News Network websites or approved third-party tools use cookies. Please refer to the  cookie policy for collected data, privacy and GDPR compliance. By continuing to browse the site, you agree to our use of cookies.