What's So Great About Canada's Athabasca Basin: Joe Mazumdar
With today's uranium prices hovering near $35 per pound of U3O8, uranium production is not at its most profitable. However, if there is one place in the world that high-grade uranium deposits have enabled producers to continue operating, it is Canada — specifically, the Athabasca Basin in Northern Saskatchewan.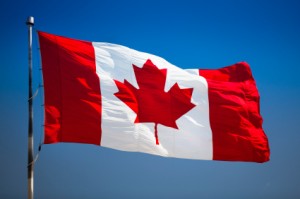 With today's uranium prices hovering near $35 per pound of U3O8, uranium production is not at its most profitable. However, if there is one place in the world that high-grade uranium deposits have enabled producers to continue operating, it is Canada — specifically, the Athabasca Basin in Northern Saskatchewan.

With the help of Canaccord Genuity's senior mining analyst, Joe Mazumdar, Uranium Investing News (UIN) explores what makes Canada a top destination for uranium mining, also looking at which companies are taking advantage of the Athabasca Basin's mineral wealth.
UIN: To give our audience an overview, who are the main players in Canada's Athabasca Basin and where are they operating?
JM: The main players in the uranium sector in Canada are focused on the Athabasca Basin of northern Saskatchewan include Cameco (TSX:CCO) and Areva (EPA:AREVA). Cameco operate the high-grade (16.46-percent TSXU3O8), low cost (<US$30/lb U3O8), unconventional underground (raise bore) McArthur River (CCO 69.8 percent, Areva 30.2 percent) project that has a production capacity of 18 to 21 Mlbs per year and the smaller (3.8 Mlbs/y U3O8 in 2012), lower grade (0.73-percent U3O8) Rabbit Lake (100 percent CCO). Both are located on the eastern side of the Athabasca Basin. McArthur River ore is treated at the Key Lake facility (18.7 Mlb U3O8/y capacity) which is located 80 km to the southwest and is operated by Cameco. Cameco's significant development project is Cigar Lake (Cameco 50 percent, Areva 37 percent and others with 13 percent), another high-grade (18.3-percent U3O8), unconventional underground (jet bore) mining project with a potential production rate of 18 Mlbs/y U3O8.
Areva operate the McClean Lake processing facility, again on the eastern side of the Athabasca Basin, a plant they are upgrading with a C$150 million investment to double capacity (12 to 24 Mlbs/y U3O8) to predominantly treat ore from the Cigar Lake development project. They also have joint ventures on development projects such as Shea Creek (51 percent Areva, 49 percent UEX) which hosts over 95 Mlbs of U3O8 in global resource. Shea Creek is 15 to 20 kilometers south of the Cluff Lake mine site that produced over 60 Mlbs of U3O8 grading approximately 0.9-percent U3O8 over a 22 mine life to 2002 on the western side of the Athabasca Basin.
Another major company that's entered the Athabasca Basin is Rio Tinto (NYSE:RIO) with their acquisition of Hathor (Roughrider project) in January 2012 which has 57 Mlbs of U3O8 in global resource grading 4.7 percent on the eastern side of the basin. Some other major exploration and developers include Denison Mines (TSX:DML) and UEX (TSX:UEX), which have the other portion of Shea Creek along with the Hidden Bay project. As the uranium sector is heating up, there is a growing amount of junior explorers focused on the Athabasca Basin including Alpha Minerals (TSXV:AMW) and Fission Uranium (TSXV:FCU, OTCQX:FCUUF) who have in our opinion, the most attractive uranium prospect (Patterson Lake South) in the hands of junior company (50/50 joint venture) since Hathor Exploration's Roughrider project.
UIN: As far as global production is concerned, what market share of uranium production does Canada hold?
JM: In 2012, Canada's U3O8 production was 15 percent of global mine output from two mines (McArthur River and Rabbit Lake) operated by Cameco in the Athabasca Basin with the majority (80 percent) coming from McArthur River.
UIN: That's interesting. The majority of Canada's uranium market share is attributed to just Cameco's operations?
JM: Correct. Also, the nearest-term development project in the pipeline within the Athabasca Basin is the Cigar Lake project also operated by Cameco (50 percent), which will be processed in the McClean Lake plant operated by Areva.
UIN: Geopolitical stability is important for uranium. Can you help our readers understand which regions are the most stable and favorable to uranium mining?
JM: I believe that geopolitical stability and security of supply is important for nuclear power generators. The high production growth rates from central Asia (Kazakhstan) and Africa (Namibia, Niger, Malawi, South Africa) have lowered the demand exposure to production from more stable geopolitical jurisdictions such as Canada, USA, and Australia from ~40 percent in 2008 to ~30 percent in 2012. As far as the breakdown of U3O8 mine production in 2012, approximately 37 percent was from Kazakhstan, 18 percent from Africa (Niger, Namibia, Malawi and South Africa) – so over half from these regions – with 15 percent from Canada and 12 percent from Australia, which we consider stable jurisdictions. Assuming no new production, current existing production to 2020 would include only 20 to 25 percent from stable jurisdictions such as Canada, Australia and the U.S..
UIN: Looking back at the Athabasca Basin — particularly Patterson Lake — based on the current available data on uranium discoveries in the Patterson Lake Camp, can you help us understand what direction the uranium trend appears to be going?
JM: At the Patterson Lake South project, work to date, including their summer drilling program (11,000m) which is 40 to 45 percent complete, suggests a fertile east-northeast share zone that is at least 1.0 km long and remains open to the east-northeast and west-southwest. To date drilling indicates that the U3O8 mineralization pitches to depth to the east-northeast. They have intersected high-grade U3O8 mineralization over 50m grading ~6.6-percent U3O8 at their R390E zone at a downhole depth of 95m. The relatively shallow depth to mineralization suggests the potential for a low technical risk method of extraction (open pit) versus unconventional underground methods.
UIN: Okay. So given these directions of mineralization, which companies look to be best situated to take advantage of the uranium mineralization in Patterson Lake?
JM: To the west, companies with ground exposed to the Patterson Lake South trend include Forum Uranium (TSXV:FDC) to the west and along strike. And to the east, there is NexGen Energy (TSXV:NXE). NexGen has a 3,000-meter drill program they're just beginning. Others include SkyHarbour Resources (TSXV:SYH), Athabasca Nuclear (TSXV:ASC), Noka Resources (TSXV:NX) and Lucky Strike Resources (TSXV:LKY). Recently, Makena Resources (TSXV:MKN) has entered into an option agreement to acquire 6,687 ha of land proximal to the Patterson Lake South area from CanAlaska Uranium (TSX:CVV).
UIN: What has made Patterson Lake and the Athabasca Basin overall really promising?
JM: The Athabasca Basin promises higher than the global average for U3O8 grade in a geopolitically stable jurisdiction with access to first world infrastructure depending on the location. There was an article recently by the EIA which indicated that 83 percent of the U3O8 supply from foreign sources. Geopolitical risk and security of supply is an issue for nuclear power plants into the future when supply tightens such that, in our opinion, places like the Athabasca Basin should demand a premium. However, the technical risk and high capital costs of the unconventional underground mining methods are an issue.
What has made the Patterson Lake so compelling at this stage of exploration and resource delineation is the potential for high-grade uranium mineralization (>2 to 3 percent U3O8) with along a strike length of at least 1km that is close to surface (60 to 70 meters average depth to top of mineralization at the westernmost zone). The potential amenability to open pit mining and conventional underground presents a lower barrier to entry for potential suitors. Although the project is located on the southwest margin of the Athabasca Basin and far from existing processing plants, there is was a process facility at the former Cluff Lake mine, located 70 to 80 km to the north, that produced over 60 Mlbs of U3O8 over a 20 year mine life. Based on the drilling with assay results to the end of the winter 2013 program, we have modeled a resource of about 20 Mlbs grading at 2 to 3 percent at two zones. Also, metallurgically, so far, the multi-element assays suggest that there are no deleterious elements that would make extraction problematic. Assay results are still pending (first weeks of September) from the current summer 2013 program of 11,000m (2 core rigs) which is 40 to 45 percent complete.
UIN: Apart from uranium producers like Cameco and Areva, which companies have greatest potential in today's uranium market?
JM: Currently, the broker average price is US$34 to $35/lb of U3O8 due to the fact that, according to Ux Consulting, due to weak demand in the face of inventory carryovers, non-mining supply and the majority of mine supply is generated at a cost of below US$40/lb during this period. This has weighed down on producers who are overly exposed to spot pricing (US$34 to $35/lb of U3O8) versus long term pricing (US$55 to $57/lb of U3O8).
However, over the medium to long term, the forecast of a rising uranium price environment is predicated on the incentive price necessary to encourage mine developers to bring their projects online and accommodate future Asian demand (China, 14 percent CAGR from 2010 to 2030, UxC). Incentive pricing required to bring the additional ~55 Mlbs of U3O8 from mine production forecast to come into production by 2020 may be ~US$65 to 70/lb. Dependence on mine production will shift on supply growth, with the majority of growth concentrated on 4 projects with varying risk profiles from geopolitical (Imouraren, Niger) to technical (Cigar Lake, unconventional U/G). A low technical risk project such as Patterson Lake South in a safe geopolitical jurisdiction (Athabasca Basin, northern Saskatchewan) with a history of uranium production should warrant attention.
UIN: Okay. So consolidation is definitely something that is going to be happening in the market.
JM: Recently, Fission Uranium made an opportunistic bid to acquire their Patterson Lake South JV partner (50/50), Alpha Minerals, in an all-share offer (5.3 AMW for 1 FCU), an offer which is not out of line versus our estimates. Consolidation is the endgame for these two companies but more important than relative valuation (5.3:1) is management structure in the combined entity. This remains a significant obstacle to a potential merger of equals. Prior to its acquisition (Jan 2012) by Rio Tinto, Hathor had consolidated ownership of the Roughrider project in April 2011; hence, consolidation is an important piece in the future M&A puzzle for a larger suitor. Another point worth of note, with respect to consolidation of the Patterson Lake South area is that Fission currently are the operators. But in April 2014, according to the joint venture agreement, it will switch to Alpha Minerals.
UIN: Well, thank you Joe for your insight on the Athabasca Basin.
JM: Thank you.
This interview is featured in the recent Resource Investing News uranium eBook. For more exclusive interviews, get your copy now.
Securities Disclosure: I, Vivien Diniz, hold no investment inters in any of the companies mentioned.
Editorial Disclosure: Alpha Minerals is an advertising client of the Investing News Network. This article is not paid-for advertising.
Analyst Disclosure: Alpha Minerals is an investment banking client of Canaccord Genuity. Canaccord has received compensation from Alpha Minerals. Joe Mazumdar has covered both Alpha Minerals and Fission Uranium in his research and holds a speculative buy rating on both companies. Additional information, including disclosures regarding all securities under research coverage, is available on Canaccord's website.