Rick Perry Promotes Nuclear Power During US "Energy Week"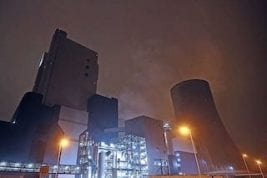 US Energy Secretary Rick Perry said this week that he wants to "make nuclear energy cool again" for young people.
The Trump administration has designated this week as "Energy Week" in the US, and is dedicating time to selling the president's energy agenda to the American people.
US Energy Secretary Rick Perry told reporters on Tuesday (June 27) that the country will become a net exporter of energy through natural gas and oil exports, but also called on the country to "reaffirm [its] commitment to clean energy," including nuclear power. "No clean energy portfolio is truly complete without nuclear power," he said.
Perry did not provide exact details about how the US Department of Energy (DOE) will support the nuclear industry in light of the recent bankruptcy of reactor builder Westinghouse, but did say the DOE wants to "make nuclear energy cool again" to young people who want to study it. He added that the industry has been "strangled all too often by government regulations."

The uranium industry suffered a downturn after the Fukushima nuclear reactor disaster of 2011, and U3O8
spot prices
have hovered around $20 per pound this year. Despite those market challenges, the US is the world's largest producer of nuclear power. US nuclear energy accounts for over 30 percent of worldwide nuclear generation of electricity, according to the
World Nuclear Association
(WNA).
America has 100 nuclear reactors with another four under construction that are expected to come online by 2021. As outlined in the WNA's
World Nuclear Performance Report 2017
, a third of the nuclear reactors under construction worldwide are located in China. In 2016, the world saw the largest increase in global nuclear capacity in 25 years.
Rick Perry on nuclear repository project
As the US nuclear industry continues to advance, the government is taking steps to solve the country's nuclear waste management problem. During congressional testimony last week, Perry advocated for the funding of the Nevada-based Yucca Mountain nuclear waste repository. On Wednesday (June 28), the US House Energy and Commerce Committee voted 49 to four approve a bill to advance the project, which would see nuclear waste from decommissioned reactors transported away from reactor sites to the proposed repository. The project has been in the works for 30 years and has faced fierce opposition from Nevada officials. There are also plans to create a temporary dump site in New Mexico or Texas.
The highlight of Energy Week is expected to be an "American Energy Dominance" panel discussion on Thursday (June 29) with Perry, Trump, Interior Secretary Ryan Zinke and Environmental Protection Agency Administrator Scott Pruitt. The panel will be followed by a speech from Trump.
Don't forget to follow us @INN_Resource for real-time news updates!
Securities Disclosure: I, Melissa Shaw, hold no direct investment interest in any company mentioned in this article.