TransCanada Registers More Success
Canadian pipeline giant TransCanada has penned another multi-billion dollar deal. In doing so, it has once again raised the question of whether pipeline companies are an overlooked investment opportunity.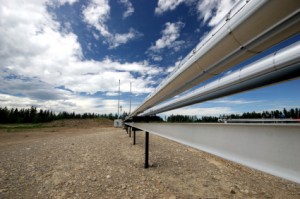 TransCanada's (TSX:TRP,NYSE:TRP) announcement that it has been chosen to build a $5-billion pipeline that will connect expanding volumes of British Columbian shale gas to Canada's West Coast has once again given investors a reason to be optimistic.

Many feel the announcement is good news not only for the company, but also for the entire natural gas sector. That's because the new pipeline may finally allow the region to compete with established liquefied natural gas (LNG) export areas such as Australia and the Middle East; it will also help domestic producers take advantage of strong gas prices in Asian markets instead of being restricted to the currently depressed levels being recorded in North America.
"Pretty darn exciting"
"I think what we've determined in North America is that we have more resources than we're going to need for our own consumption and the focus therefore has turned to export markets," said TransCanada CEO Russ Girling in an interview with CTV. "Western Canada has one of the largest and best deposits of shale gas in North America and it has a great opportunity to capture a significant share of the growth in the global LNG market by putting these kinds of projects together."
The trend, he said, is "pretty darn exciting" for BC and Canada.
The proposed pipeline is set to transport natural gas primarily from the North Montney gas-producing region near Fort St. John, BC to the recently announced Pacific Northwest LNG export facility in Port Edward near Prince Rupert, BC, according to a TransCanada press release.
When completed, the Prince Rupert Gas Transmission project will deliver 2 billion cubic feet (Bcf) of gas per day; this capacity is expandable to up to 3.6 Bcf of gas per day. Pipeline construction is expected to last three years, and taking into account the time needed to gain necessary environmental approvals, TransCanada estimates the project will be up and running in late 2018.
The news is significant for the Calgary-based firm as it will be responsible for designing, building, owning and operating the proposed project for Progress Energy Resources, which since late last year has been a subsidiary of Malaysian state-owned firm PETRONAS.
TransCanada added in the press release that it will spend approximately $1.5 billion to extend an existing transmission line to serve Progress and other natural gas suppliers. Funding will be aimed at extending its existing NOVA Gas Transmission system in Northeast BC so that it connects to both the Prince Rupert Gas Transmission project and additional North Montney gas supply from Progress and other parties.
Second major project in a year
The project is the second major deal that TransCanada has been awarded within the space of a year, and will go a long way towards helping the company maintain its momentum in the markets. The first deal came last summer, when the pipeline giant saw its stock surge after being chosen by a Royal Dutch Shell-led (LSE:RDSA) consortium to build the $4-billion Coastal GasLink pipeline between Northeastern BC shale fields and an LNG facility proposed for Kitimat, BC.
"Together with our previously announced Coastal GasLink Pipeline project, this is the second major natural gas pipeline proposed to Canada's West Coast for TransCanada — demonstrating the confidence that LNG sponsors continue to place in our ability to design, build and safely operate pipeline systems," said Girling in a press release.
An overlooked opportunity
Investors are often left wondering whether to invest in oil or gas, and now many are once again posing the question of whether pipeline companies are an overlooked investment opportunity.
Investment in a company such as TransCanada — or any other large-scale pipeline firm for that matter — is becoming more and more appealing based on the fact that operators often boast steady revenue streams, are frequently under long-term contracts and remain less exposed to volatile resource prices since contracts tend to be fee-based and are therefore less affected by swings in commodity prices.
Few would argue against points such as these, and in a recent article published by The Globe and Mail, Girling provided food for thought by noting that his company's pipeline-building plans in BC alone are now worth in excess of $10 billion.
"This is in the sweet spot of our backyard in terms of an opportunity to grow earnings beyond the 2015 time frame," he said.
An "unexpected positive development"
It seems the market is echoing Girling's statement, with Desjardins Securities analyst Pierre Lacroix describing TransCanada's latest announcement as an "unexpected positive development."
"The announcement further demonstrates (TransCanada's) ongoing efforts to secure earnings growth beyond Keystone XL in the latter half of this decade," he wrote in a note to clients, according to The Huffington Post Canada.
Investors will also have noted that despite issues related to controversial oil pipelines, such as Enbridge's (TSX:ENB) Northern Gateway scheme, there seems to be a lot less resistance surrounding natural gas projects in the province. With TransCanada boasting a successful history of operating natural gas lines in Canada and the United States, and BC Premier Christy Clark touting the province's LNG industry as being on the same scale economically as Alberta's oil sands, the future looks bright for pipeline firms.
Progress and TransCanada expect to finalize definitive agreements in early 2013.
If approved, the Prince Rupert Gas Transmission project and TransCanada's proposed Coastal GasLink Pipeline project to Kitimat could potentially add more than 1,400 kilometres to Western Canadian natural gas transmission systems. That will make TransCanada difficult for others to compete against, while also making it difficult for investors to ignore.
Securities Disclosure: I, Adam Currie, hold no direct investment interest in any company mentioned in this article.
Related reading:
Pipeline Companies: An Overlooked Investment Opportunity
Progress Energy Takeover: Only the Beginning?