Mexico's Oil Reform is Beginning to Bear Fruit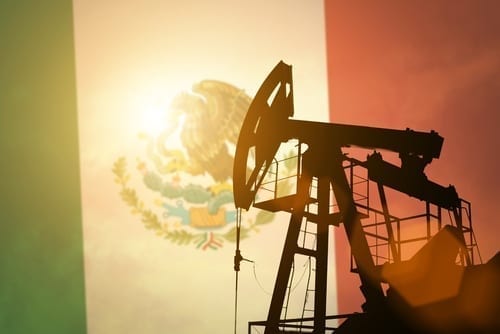 Mexico has opened its oil industry up to private investment and expertise, and this move is starting to pay off.
Mexico ranks third in the western hemisphere for oil production and holds the region's fourth-largest oil reserves. For many years, however, it has undergone declining oil production, even though there is still plenty of petroleum in the ground.
Mexico's state-owned energy company PEMEX estimates that there are 29 billion barrels of oil equivalent (BOE) in conventional and deepwater sources, plus 60 billion BOE in shale. The problem is that historically much of that oil has been inaccessible because of underinvestment.
In 2013, faced with deteriorating oil production and reserves, newly elected president Enrique Peña instituted sweeping reforms and revised the constitution to open up the nation's rich oilfields to the private sector, creating huge opportunities for investors.
"The ability to tap into this resource may lure as much as $20 billion per year to Mexico in direct and indirect investments," Deloitte analysts predicted in a 2014 report. As of May 2018, Mexico had attracted more than $150 billion in potential oil and gas sector investments since the reforms took effect in 2013.
Now that we're five years into the reforms that opened Mexico's oil industry to international investors, is the government closer to realizing its main goals of harnessing outside expertise and capital to increase production?
Auctions are the cornerstone of Mexico's energy reform
Mexico's new oil and gas laws were drafted with global best practises in mind, using precedents like the US Department of the Interior's work on bidding and Norway's management of its oil funds. Ending PEMEX's monopoly on the industry opens up the potential to attract upwards of $1 trillion in foreign direct investment into Mexico by 2040, as per the Mexican Association of Hydrocarbons Companies.
Under the revised industry regulations, subsoil hydrocarbon resources remain the property of the state; however, private and foreign entities can now obtain government-awarded contracts to explore, develop and produce those hydrocarbons. The government auctions off exploration and well permits to the entity with the best bid and the right expertise for developing projects into successful commercial operations. Mexico's Secretaria de Energia (Energy Secretariat, SENER) is overseeing a multi-round, five-year tender plan that will denationalize more than 900 oil and gas blocks, including onshore, offshore and shallow water.
The first auction round was awarded entirely to PEMEX, Mexico's state-owned petroleum company. However, all the subsequent rounds are open to foreign companies and for partnerships with PEMEX. The auctions to date have been viewed as fair and transparent by outside experts. Winners are awarded a 25-year lease, extendable to 35 years.
To date, Mexico's oil auctions have been mostly successful, resulting in the auctioning off of about 100 contracts to foreign and Mexican firms, including international oil firms such as ExxonMobil (NYSE:XOM) and Royal Dutch Shell (NYSE:RDS-A).
New discoveries and production
The auctions have already led to some successful discoveries as well as the restart of legacy wells.
In July 2017, two consortia announced major finds in shallow-water blocks auctioned during round one of the energy reform. A partnership including Houston-based Talos Energy (NYSE:TALO), UK-based Premier Oil (LSE:PMO) and Sierra Oil & Gas (Mexico's first independent oil company) announced a significant discovery near Zama-1, the first offshore exploration well drilled by the private sector in Mexico's history. The find reportedly amounts to between 1.4 billion and 2 billion BOE — the fifth-largest discovery anywhere in the world in the past five years.
Pablo Medina, an analyst at industry consultancy Wood Mackenzie, told Reuters that "[t]he Zama discovery by Talos is the most important achievement so far of the Mexico's Energy Reform. According to our data, Zama is one of the 20 largest shallow-water fields discovered globally in the past 20 years." He added, "Zama is the first find by a private company in Mexico in almost 80 years."
In December 2017, Italian oil company Eni (BIT:ENI) struck pay at its shallow-water Tecoalli 2 well in its Area 1 concession, bringing the block's hydrocarbons-in-place estimate up from 1.4 to 2 billion BOE.
Likewise, 2017 was a significant year for PEMEX, which made its biggest onshore oil discovery in 15 years. The state-owned company struck oil at its Ixachi well in the eastern state of Veracruz in November, estimated at 1.5 billion BOE.
In 2018, through an industry-leading joint venture, Canada-based International Frontier Resources (TSXV:IFR,OTCQB:IFRTF) became the first foreign company to drill onshore conventional oil under license contract in Mexico in over 80 years.
Through its 50/50 partnership with Grupo IDESA — one of Mexico's largest petrochemical companies — International Frontier Resources joint venture Tonalli Energia was awarded the Tecolutla block in the Tampico-Misantla Basin during the first onshore bid round. Tonalli is now producing from its TEC-2 legacy well at the Tecolutla asset, and its recently drilled TEC-10 directional development well is next to test for production results.
More opportunities on the horizon
Mexico's next round of bidding is slated for September 2018. It is expected to be the largest onshore round yet, with 37 onshore conventional blocks for exploration and production that collectively cover 9,513 square kilometers housing prospective resources of about 260 million BOE. What makes this round of contracts extra significant is the fact that Mexico is opening up its shale resources to private oil companies for the first time.
Mexico's oil and gas revolution is still emerging, making it too early to measure its eventual success; however, there are clear signals pointing to private company activity delivering vast new reserves and a strong production outlook to contribute to the country's production goals.
Furthermore, market demand for that increase in Mexico's oil and gas production is huge.
"By 2025, (the world will) require a new supply of 25 to 28 million additional barrels per day," said Steve Pastor, BHP Billiton's (LSE:BLT,NYSE:BHP,ASX:BHP) president of petroleum operations, told the Wall Street Journal. "The question is, where are we going to find that supply? And that's where Mexico … [comes] into play."
This article was written according to INN editorial standards to educate investors.