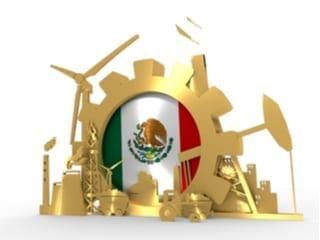 After years of underinvestment, Mexico's energy reform policies are creating investment opportunities for the world's oil and gas exploration companies.
For nearly 80 years, PEMEX, Mexico's state-owned petroleum company, monopolized control of the country's oil and gas resources. That changed in 2013, when Mexico's new government revised the constitution to open its rich oil fields to the private sector, creating huge opportunities for investors.
Mexico ranks third in the western hemisphere for oil production and holds the region's fourth-largest oil reserves. For many years, however, it has undergone declining oil production, even though analysts estimate there is still plenty of petroleum in the ground. The problem is that historically, much of that oil — including deepwater and shale potential — has been inaccessible because of underinvestment in technology and infrastructure.
Now that Mexico has opened up private oil and gas exploration, everyone is taking a second look, from supermajors on down to junior explorers. And the country's oil situation may be turning around. Some early entrants have secured key land positions and have recently struck major finds, encouraging speculation that Mexico may be in the midst of its next oil rush.
Mexican oil production
Faced with deteriorating oil production and reserves, newly elected President Enrique Peña and the Institutional Revolution Party (PRI) instituted sweeping reforms, creating one of the most — if not the most — elaborate sets of energy regulations the world has ever seen. The government replaced state monopolies with heavily regulated, state-owned "for-profit" companies, while opening the country to private sector competition. The aim: improve production at existing fields, lower gasoline prices and harness outside expertise and capital to develop largely untapped deepwater and shale oil and gas potential.
Under the new regulations, subsoil resources remain the property of the state. The government auctions off exploration and well permits to the entity with the best bid and resume. About 900 blocks of land are up for grabs — a mixture of onshore, offshore and deepwater lots — in five rounds of auctions taking place between 2015 and 2020.
The first round of auctions, "round zero," was awarded entirely to PEMEX, giving the state enterprise choice pick of prospective terrain. The other four rounds are open to private companies and for partnerships with PEMEX. Bidding criteria vary from round to round, and with each particular resource up for auction. The government favors companies with technical expertise and proven track records for developing similar projects into successful commercial operations.
For example, to qualify for round one, firms or consortia had to show at least three successful projects in the last five years, or total investments of at least $1 billion on such development — on top of other criteria. Winners were then awarded a 25-year lease, extendable to 35 years.
These auctions transpire under the shadow of big challenges often noted by analysts. The industry faces corruption, water shortages (for shale), low oil prices and pipeline theft (via bunkering), as well as years of deteriorating infrastructure and poor maintenance, leading to high-profile accidents.
In drafting its new laws, however, Mexico took great pains to institute global best practices, using precedents like the US Department of the Interior's work on bidding and Norway's management of its oil funds. The subsequent auctions have been seen as fair and transparent to date, winning cautious accolades from outside experts.
Indeed, Andrew Slaughter, managing director of Deloitte's Center for Energy Solutions said, "[Mexico] should be pretty pleased [with its reforms] considering where they started from, with 75 years of monopoly and PEMEX having no competition in anything and no regulatory framework."
To date, Mexico's oil auctions have been mostly successful, with some rounds far exceeding expectations. Highly anticipated deepwater auctions in round 1.4 ended with the sale of eight of 10 blocks and PEMEX landing its first deepwater partners — Chevron (NYSE:CVX) (as operator) and Inpex (TSE:1605).
Onshore auctions have also been particularly competitive and successful. Round 1.3 ended with all 25 onshore auctions attracting winning bids, and 22 of them were from Mexican firms or consortia. Likewise, round 2.3 in July ended with 21 of 24 onshore blocks sold.
Juan Carlos Zepeda, head of Mexico's oil regulator, told a press conference this will eventually add 79,000 barrels per day to production and $2 billion to investment — contributing to the $60 billion in investments Mexico's auctions have secured so far.
While many supermajors have participated, onshore and shallow-water block auctions have seen many mid-stream companies and juniors get a piece of the pie. Many of these have banded together as consortia — often with a Mexican partner for local knowledge and connections. As a result, both international and local companies, small and large, have had opportunities to be part of Mexico's energy future.
"It is positive to see how Mexican companies like Sierra and Diavaz are participating in the auction in joint bids with international companies. This was one of the objectives of the reform," said Luis Gomar, a Mexico City-based partner-lawyer in Thompson & Knight's International Energy Practice Group.
International Frontier Resources (TSXV:IFR,OTCQB:IFRTF) is a prime example of this type of alliance. Through its strategic partnership with Grupo Idesa — one of Mexico's largest petrochemical companies — the Canada-based company was one of the first foreign companies to establish a solid foothold in Mexico's oil and gas sector. Tonalli Energia, a 50/50 joint-venture between International Frontier Resources and Grupo Idesa, was awarded the Tecolutla Block in the world-class petroleum province of the Tampico-Misantla Basin during onshore bid round 1.3 under Mexico's Energy Reform legislation.
New oil discoveries
Some early round auctions have led to successful discoveries. In July, two consortia announced major finds in shallow-water blocks auctioned in rounds 1.1 and 1.2, respectively.
A partnership including Houston-based Talos Energy, Premier Oil (LSE:PMO) and Sierra Oil & Gas (Mexico's first independent oil company) announced a "world-class" discovery near Zama-1 — the first offshore exploration well drilled by the private sector in Mexico's history. Preliminary analysis shows a potential enormous find with between 1.4 and 2 billion barrels of oil.
Simultaneously, Italian oil company Eni (BIT:ENI) revised the resource estimate for its Amoca field to 1 billion barrels of oil. In a company statement, Eni CEO Claudio Descalzi said Amoca's location in shallow 25-meter deep water puts it on a potential fast track to profit in a low-price environment. The company now plans to submit an accelerated and phased development plan this year.
Jeremy Martin, vice president of energy and sustainability at the Institute of the Americas, told reporters that these recent finds "de-risked a little bit some of these shallow-water opportunities," and confirmed that other explorers can find assets that PEMEX overlooked or did not develop.
"There are a host of companies on the US side of the Gulf that may now consider participating in upcoming auctions because this is a way of showing them that the process works, and can lead to a discovery," Martin said.
Looking at the near future, the auction block features plenty of other rich opportunities. Mexico's National Hydrocarbons Commission will organize two more annual auctions in 2018, including onshore blocks. One will, for the first time, include Mexico's shale basins. The Mexican government is playing with closely guarded cards and hasn't disclosed specific areas up for grabs. But it is thought its December 2018 auction could include basins known to be contiguous with Texas's prolific Eagle Ford Shale play.
This article was written according to INN editorial standards to educate investors.