Both China and Russia remain confident that an agreement over pricing will eventually be reached.
By Robert Sullivan-Exclusive to Gas Investing News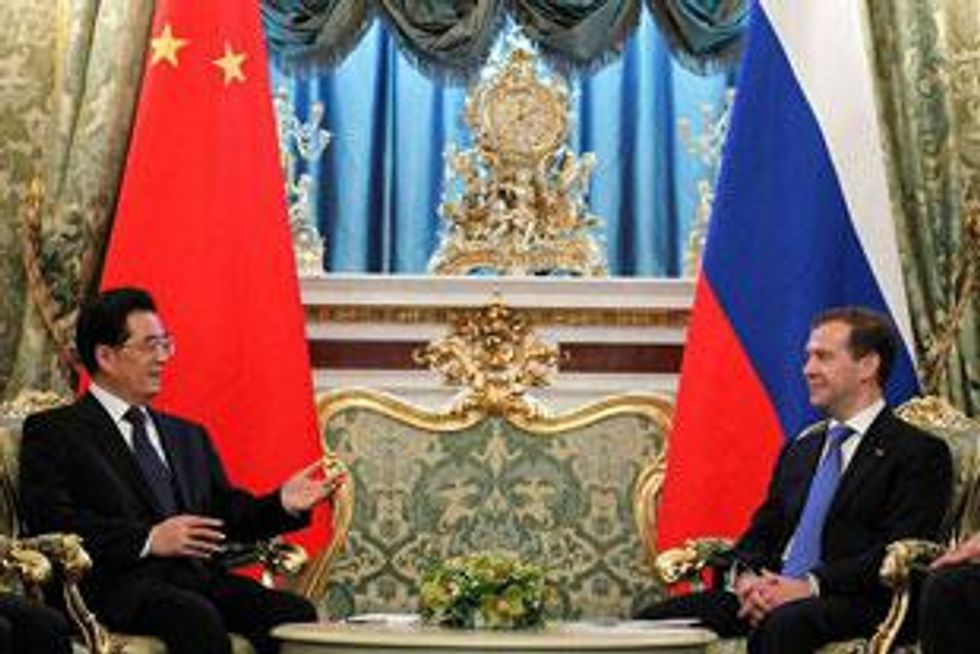 Negotiations between Russia and China over one of the largest prospective energy deals in history have stalled after China balked at the price demanded by Russia for supplying natural gas through state-owned
Gazprom
(PINK:
OGZPY
). The deal would guarantee
68
billion cubic meters (bcm) of gas a year to China for 30 years beginning in 2015, and has been in the works since 2006 when an initial agreement was signed between Beijing and Moscow over the construction of the
Atlai
pipeline system – two lines running along an Eastern and Western route into China. China's consumption of gas was 107 bcm meters in 2010, but this is expected to expand to nearly
400
bcm by 2020.
Price has been the primary sticking point, however, as China has sought a lower rate than the $300-400 per 1,000 cubic meters (tcm) paid by European markets for Russian-supplied gas. Insiders involved in the discussions have indicated that there is currently a $100 price difference between the two camps, but that they are both looking to compromise. China is believed to be asking for an average price of $235-250 per tcm a year, while Russia is looking to start at a minimum of $300-350 per tcm.
Russia sold gas to Europe at an average of $346 per tcm in the first half of 2011, but Gazprom CEO Alexei Miller has stated that he expects the average price for 2011 to be at $100 higher than in 2010 as a result of the price of oil, which could see gas as high as $500 per tcm by the end of the year. At this upper range of the price spectrum, the prospective deal with China could net Gazprom nearly $1 trillion by 2045.
Disagreement over pricing particulars
Gazprom typically negotiates long-term pipeline supply contracts that are linked to the price of oil, but whereas Gazprom's European contracts are tied to Brent Crude, China uses Japan's oil basket as a benchmark, which Moscow and Beijing both admit demands an alternative formula for any prospective contract. The oil benchmark issue has become even more pronounced over the last few months, as West Texas Intermediate (WTI) and Brent have decoupled significantly. The gap between the two main international oil standards hit a record high of nearly $23 on June 14.
Another factor weighing on the talks is the current spot market price for gas, which has been driven low by supply from ship-borne liquefied natural gas (LNG) cargoes. A number of major European purchasers of Russian gas have already entered into price re-negotiations with Gazprom this year, but Miller has emphasized that the company would continue to negotiate future deals based on a link to oil, as he doesn't believe oil and gas prices will decouple substantially within the next five years.
Deal inevitable
Despite the pricing disagreement, both sides are confident that the deal will eventually be signed. Gazprom deputy CEO Alexander Medvedev revealed Monday that "the talks are going on uneasily, but we have an understanding…there are very good chances to reach an agreement by the year's end."
Analysts agree that although neither side has as of yet been under enough pressure to budge on their negotiating positions, a deal on a pricing structure will be inevitably ironed-out, with too much at stake for both sides to let it fall through. The massive cash flow from the prospective China contract would be a major boost for Gazprom, who have recently had to cope with reduced demand for piped Russian gas as LNG cargoes, from Qatar in particular, have swamped European markets. China's booming energy demands, meanwhile, prevent it from playing too much of a waiting game. Gas demand in 2010 grew by 22 percent, and with demand expected to surge to 400 billion cubic meters a year in the next decade, China is coming under increasing pressure to put together some of the key pieces of their long term energy puzzle.