With the US "shale revolution" well and truly underway, gas looks set to be just as cheap and abundant in 2012 as it was in 2011.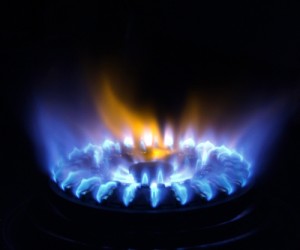 With natural gas as abundant as it has ever been in the US following significant output growth in 2011, gas prices look set to remain subdued in 2012.
Output grew by a record 4.5 billion cubic feet (bcf) per day last year, a 7.4 percent increase from 2010, and despite such a large increase the EIA is forecasting further production growth in 2012 which could average 1.4 bcf per day.
The record growth in output was even achieved as imports and production from the Gulf of Mexico decreased, attesting to the fact that "shale revolution" in the US is now well and truly underway. The overwhelming majority of output growth last year came in the form of shale gas, and though the increase is not expected to be as high, the source of the growth will almost certainly be the same.
Growth in 2012 is also likely to occur despite an ongoing drop in the active natural gas rig count, which the EIA attributes to both a number of unconnected wells, and high initial production rates from new wells.
Data from Baker Hughes indicated that there were 811 rigs in operation in January, down from as high as 936 in mid-October.
Natural gas inventories, meanwhile, are glutted with supply, and ended December at 3,472 bcf, a record high for this time of year. The EIA also projects inventories to be hit a record 3,960 bcf for the month of October later this year, and have even suggested that storage capacity could be strained in the short-term in the event of a weather-induced drop in demand.
Gas price forecasts
Unsurprisingly, the average price of natural gas is forecast to tumble even lower in 2012. The Henry Hub spot price averaged $4.00 per MMBtu in 2011, but the EIA estimate for 2012 is $3.53 per MMBtu.
Other pricing forecasts include $3.60 per MMBtu from Barclays Capital, $3.70 per MMBtu from Goldman Sachs, $3.85 per MMBtu from Morgan Stanley, and $4.00 per MMBtu from TD Securities.
But with the Henry Hub spot price currently under $2.67 per MMBtu during the middle of winter, when consumption is typically at its highest and inventories at their lowest, even these conservative estimates may prove to be ambitious.
Exacerbating the downwards pressure on gas prices is the gloomy outlook for the US economy this year, which could eat into demand the EIA expects to average 1.3 bcf per day.
A recent research note from Morgan Stanley indicated that the sluggish US economic forecast "tempers our outlook for industrial gas demand and power demand, undermining an already over-supplied market".
Gas prices in Europe and Asia, on the other hand, are at least double those in the US, and could provide an alternative for investors looking for value in pure gas plays in 2012.
Natural gas prices outside of the US are indexed to crude oil prices, and have been pulled higher over the past year with crude oil topping $100 per barrel for the better part of 2011.
Speaking to Reuters on January 6, Eugen Weinberg of Commerzbank cited the considerably elevated demand for liquid natural gas in Japan as an important pillar that will continue supporting prices in Asia and Europe.
Disclosure: I, Robert Sullivan, hold no direct investment interest in any company mentioned in this article.