Premier African Minerals Completes Offtake Agreement for RHA Mine
Premier African Minerals has completed a tungsten offtake agreement with Noble Resources International.
Premier African Minerals (LSE:PREM) is expected to begin commercial production at its Zimbabwe-based RHA tungsten mine in June 2015 after completing an offtake agreement with Noble Resources International.
The agreement will see Premier supply 500 tonnes of wolframite concentrates over an anticipated six-month period, whereafter Noble Resources will have right of first refusal for all future concentrates provided that it matches any terms offered by other interested parties.
"Completion of an off-take agreement is an essential requirement of our potential debt finance partners. At the same time, the terms of the off-take agreement provide some flexibility for Premier to demonstrate quality and consistency of our wolframite concentrates that may result in better terms after an initial six month period. Premier is particularly pleased to have as well established a trading company as Noble as our off-take partner," George Roach, CEO of Premier, said in the press release.
All about wolframite
Wolframite, an iron–manganese-tungstate mineral that is intermediate between huebernite and ferberite, is considered the most important tungsten ore mineral. It is a strong and dense material with a high melting temperature and is used for electric filaments, armor-piercing ammunition and machine tools.
Pricing for wolframite concentrates is based off a discount to the price for European ammonium para-tungstate published by Metal Bulletin, with the most recent price being US$292.50 per metric ton unit (MTU). According to Premier's press release, 1 MTU is equal to 10 kilograms of tungsten trioxide (WO3) contained in a concentrate at a declared percentage, with 60 to 65 percent being a common reference point. The company anticipates production of approximately 5,800 MTU per month of WO3 contained in a concentrate at an average grade of 63 percent at the RHA mine during the open-pit phase.
RHA mine at a glance
According to the company's implementation study from January, the RHA mine has a target of 8,000 tonnes of run-of-mine ore per month at a diluted grade of 10.24 kilograms per tonne; it will produce on average 92 tonnes of concentrate at 63 percent tungsten trioxide (WO3) over a 22-month period. The study also reveals that projected operating costs sit at US$89.10 per MTU, less than what was previously projected in the open-pit start-up strategy. Pre-production capital is US$4.15 million.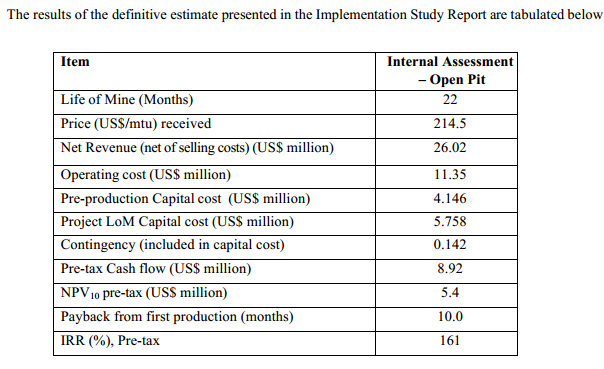 Other news from Premier
Premier African Minerals also said Monday that it has received notice that Darwin Strategic will convert GBP150,000 (US$226,920.51) zero coupon senior unsecured convertible loan notes into equity. According to that press release, Premier has the right to redeem one or all of the outstanding loan notes in cash at 105 percent of the par value, which is equivalent to GBP26,250 (US$39,713.98) per loan note. All in all, Premier has issued 20,085,699 new ordinary shares to Darwin at an issue price of GBX0.74675.
At close of day Monday, Premier African Minerals' share price was trading at GBX0.79 (US$1.19), down 4.79 percent.
Securities Disclosure: I, Kristen Moran, hold no direct investment interest in any company mentioned in this article.