In this Lithium-ion Bull (Forest Hills) article, Howard Klein covers the latest developments in the lithium space, from company to market news.
---
November 6 — KISS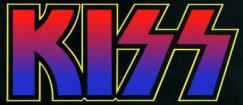 You're probably tired of hearing, over and over and over again, the classic rewind, classic vinyl soundtrack of my life. But for those of you, like me, who are in or past their mid-life crisis years and are parenting a 13-year-old boy, you can appreciate one's attempt to re-live teenage angst. For me, that means:
"You Keep on Shouting, You'll Keep on Shouting…I want to Rock and Roll all Night, and Party Every Day"
https://www.youtube.com/watch?v=o8mzIyIOdm0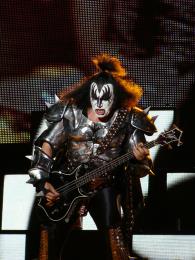 It's no accident that I chose this Halloween month-end Mr. Market summary to unmask Eugene Klein (no relation), a man with whom Wikipedia informs me I share a lot in common – at least in terms of ethnic lineage:
https://en.wikipedia.org/wiki/Gene_Simmons
As the easy money in lithium land has now been made with September and October's violent re-rating/mini Melt Up, I also unmask one of my top lithium investment principles…
Keep
It
Simple
Stupid
…and continue to unmask high flying Exploration and Advanced Development lithium stories which do not meet this K.I.S.S. test. These present today, or will soon, some major downside risk potential.
A K.I.S.S. checklist is helpful in highlighting the truly credible from the incredible and the un-credible.
More on that later.
Meantime, unlike Eu(Gene) Simmons, aka Chaim Witz, The Demon, Dr. Love and God of Thunder, this humble Klein's destiny, at least for now, is as a capital markets advisor, investor, arm-chair analyst and lithium-ion battery material commentator.
We are now at the 60-day mark of the re-branded Lithium-ion Bull (Forest Hills) in the form of this newsletter, my Twitter profile @HowardKlein10, LinkedIn posts and my very early work-in-progress website: www.libull.com
Recall my September 4 RE-BRANDING issue:
"I had no great idea when I wrote my first Lithium Bull in January what I was aiming to achieve with it. Nine months since, I still don't, really."
Two months later, eleven months in, I think I know. Like everyone it seems these days, I yearn to be "Followed". And "Liked". To have a Following is to have a Brand. My Brand of lithium narrative has been making money for those who have paid attention these past 12-24 months.
It seems I've been helping some to identify, and present arguments to become part of, lucrative investment opportunities (but by no means am I recommending anybody to do anything – Do Your Own Research). And I hope at least to make you laugh on occasion.
Goal: to be followed and liked; make me and others money; keep myself and others amused — Only good things can come from this.
---
Comparable Analysis
I'm feeling pretty good about my two-month Twitter progress against a non-arbitrary comp set:



In particular, my Followers/tweet and Followers/month.
But I'm a guy in a hurry and see a potential Follower audience 10 times larger than my existing 385.
To stay up-to-date in between these Lithium-ion Bulls newsletters, I encourage you all to enjoy augmented 140-character wisdom about 10-12 times per week.
And, if you're so inclined, feel free to follow the October 31 Twitter footsteps of @BryceEdw:
"If you're not following @HowardKlein10 for #LITHIUM commentary, you're missing out!"
Shout (Tweet) it out Loud (KISS):
https://www.youtube.com/watch?v=sohB922c2uQ
---
Lithium Battery Materials – Crowdfunding?!
I have been flattered on a number of occasions this year when some smart money lithium neophytes call me Mr. Lithium. But, also a bit embarrassed, nervous and uncertain how to respond.
Hey Joe (Jimi Hendrix): https://www.youtube.com/watch?v=W3JsuWz4xWc
"where you going with that gun in your hand?"
There's only one Mr. Lithium. @globallithium is in a League of his own.
But I must admit I get more excited when these same folks increasingly comment positively with suggestions that I should start a fund.
As it turns out, I've been thinking about just that for the past number of months.
And have been advancing two ideas for battery materials investment products in particular.
If any of you have interest in discussing this, feel free to give me a shout (in private, not out loud ☺).
#notkidding
#readdisclaimer
---
October 2017 – What Say Mr. Market for Lithium Equities?
Analogizing the below Mr. Market scoreboard to the famed "investment monkey throwing darts," it has been virtually impossible not to do well if you had any exposure to lithium in the past 1 mo, 3 mo and YTD periods. But many Aging Skeptics (Won't Get Fooled Again), like those at September Denver Gold shows have missed this very easy trade. Gold is Very, Very, Very Old. With one of the worst records of shareholder returns, as Paulson & Co's Marcelo Kim famously presented in Myths, Dreams & Reality:
http://www.mining.com/wp-content/uploads/2017/09/SLIDESHOW-Paulson-hedge-fund-in-blistering-attack-on-top-gold-miners-Marcelo-Kim-Paulson-Co.pdf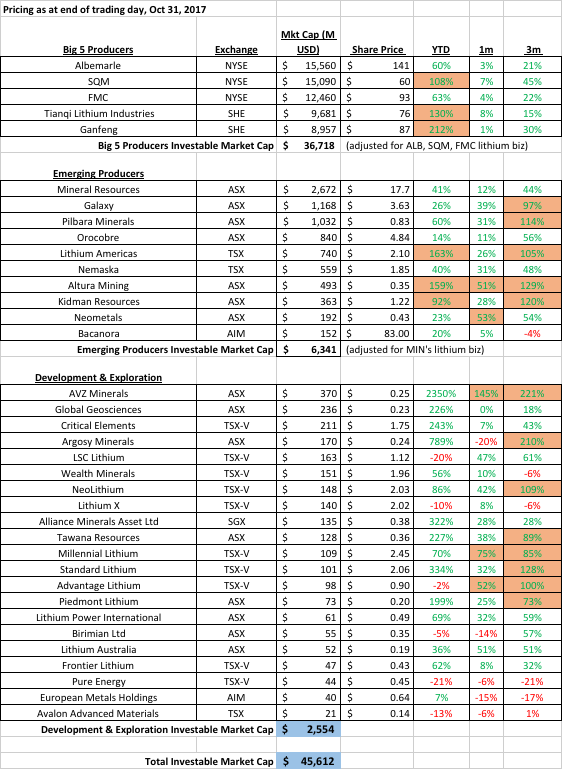 Amidst this sea of green, Altura, Neolithium, Lithium X, LSC Lithium, Piedmont Lithium, Millennial Lithium, looked at their market values, 1-2 year budgeting needs, and investor appetite and felt it opportune to dilute equity for $10-25M in cash. This is prudent, in my view, as market windows like we are experiencing have a habit of being short-lived and closing very rapidly, though maybe, just maybe – famous last words – This Time It's Different?!
As always, I have highlighted in orange what stands out for me on a 1 month, 3 month and YTD basis.
YTD, among the Big Five it is SQM, Ganfeng and Tianqi – those with the most aggressive and believable lithium expansion strategies – that have outperformed.
Similarly, SQM's partners Led Zeppelin Lithium Americas and Bargain Kidman standout on a YTD basis, while RESPECT Altura has narrowed it's still-too-large-in-my-view discount to other WA stories more frequently profiled in Australian press. Cash Machine Neometals too perked up in the past month.
These four, valued meaningfully below Galaxy, Pilbara and Orocobre, offer the best risk-reward in my view going into 2018/2019 production. LAC deserves special mention for pursuing the Great Prize – more on that below. As does the Cauchari – Olaroz basin which ORE and LAC both share and will be on full display post mid-term election "Let's Change" Argentina to some 50+ investors and sell-side analysts this coming week. S&P upgraded Argentina debt to B+. Lithium equity investors should start to lower the discount rate used for both LAC and ORE.
Among Exploration and Advanced Development brines in South America, two names I've highlighted before, Millennial and Advantage, had the best October. I Tweeted November 2:
Narrowing #relativevalue gap: @MillennialLi $ML $MLNLF @AdvLithium $AAL $AVLIF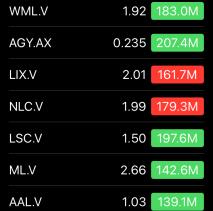 The discount at which ML and AAL trade to Neolithium I believe is justified. Less so the discount to the rest of the list above.
Standard Lithium – a new California brine story led by the first promoter of tired old Dog Pure Energy has jumped out of nowhere on what, I don't know, but I plan to look into to see if there's any substance or simply a replay of Vancouver-style penny stock land promotion.
I know for sure there is meaningful substance behind Born in the USA developer, Uptown Girl Piedmont Lithium. The relative-value comparison Paul Ensor makes in this Seeking Alpha Post to $250M market cap Global Geosciences articulates well the upside potential for $85M market cap PLL and PLLLY on Nasdaq International.
https://seekingalpha.com/article/4119065-piedmont-lithium-cash-infusion-will-speed-development-process-extend-cash-runway
One comment on LME Week, which I didn't attend but those I've spoken with mirror bullish headlines from Wall Street Journal, FT and Twitter feeds that battery metals were a hot topic.
There's been talk about a lithium contract, potentially in 2019. It won't be a physically settled contract, but cash-settled, as I understand. I'm not a commodities trading expert, but one of the rationales for this contract I've read is to give purchasers of lithium more transparency and lithium producers less pricing power. I'm on the lithium producer side of this trade, so I don't see much reason to root for this dynamic – LONG LIVE OPACITY.
But I wonder, if such a contract does get off the ground, will it not translate into more volatility – hot money inflows seeking simply to speculate on short-term lithium prices. If so, I see more potential for upside volatility, which could create false market signaling rather than transparency for battery customers.
Today's "Maturing on Optimism" could turn in 2019 to a "Euphoric Tipping Point," exacerbated by LME lithium contract speculation. So maybe I should root for this contract?!
To pay homage to yet another late Rock Star, Prince, also famous for a KISS, a 20th-anniversary-history repeat is conceivable: 2019 lithium-ion battery materials may be internet partying like its 1999. At which point I will almost certainly buy a mid-life crisis Little Red (Electric) Corvette – if GM produces one:
Kiss: https://www.youtube.com/watch?v=H9tEvfIsDyo
1999: https://www.youtube.com/watch?v=rblt2EtFfC4
Little Red Corvette: https://www.youtube.com/watch?v=v0KpfrJE4zw
---
Clean TeQ – North America Awaits
I'm looking forward to catching up this week in New York with the man and mentor who got me in this junior resource development racket in 2002 talking about China as 1950's James Dean America hungry for Mongolia's copper, 80 km away. Geographically large and very cold, but small population Mongolia akin to Canada selling to its hugely populous and industrializing southern neighbor.
Nobody Does it Better, Clean TeQ Chairman, Robert "James Bond" Friedland is in town at what is a Vuja De inflection point in the battery materials sector: the nickel sulphate and cobalt sulphate thematic, like lithium, is like nothing we've ever seen before. Yet, unlike in lithium, there is a massive shortage of institutionally investable ways to pure-play it.
It's been a busy month of corporate announcements at Clean TeQ, first with a material resource upgrade, then planned dual listing on the TSX and the appointment of Master Lead Arrangers – signaling the prospect of TRADITIONAL PROJECT DEBT that has thus far eluded lithium project developers.
Clean TeQ has also re-branded its flagship Syerston with the name Clean TeQ Sunrise.
Which has me, of course, looking for a Rock and Roll nickname and analogy, which I found without too much trouble. Cobalt sulphate & Nickel sulphate are the Heart of the Lithium-ion Battery.
Say YES to the Heart of the (Clean TeQ) Sunrise:
https://www.youtube.com/watch?v=ZQiTKZGp-10
"You're lost on a wave and your dreaming, dream on, on to the Heart of the Sunrise"
Qualitatively, Clean TeQ checks most of the boxes deserving of a Big K.I.S.S:


New South Wales, AUSTRALIA! = the Lucky Country
Large, Hi grade Cobalt & Nickel Resource
Chairman Robert Friedland
CEO Sam Riggal (ex Rio Industrial Minerals)
Credible Chinese Partners
Quantitatively, BMO values Clean TeQ as follows: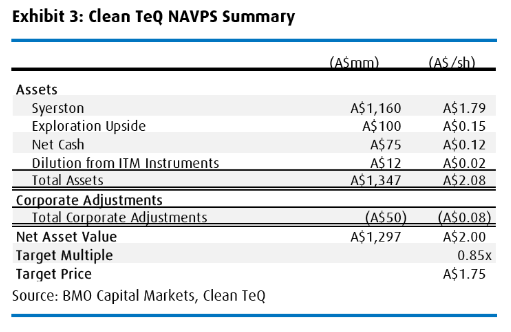 Given the scarcity of cobalt plays, I think what Katanga Mining has experienced in the past year could be compared to Clean TeQ. Katanga is 85% owned by Glencore and much of the rest of its registry is tightly held as well. It is in process of re-starting a DRC-based mine and sports a market cap of CAD 2.5B, nearly 3 times larger than CLQ. KAT is up 600% over the past one year, compared to CLQ, up 275%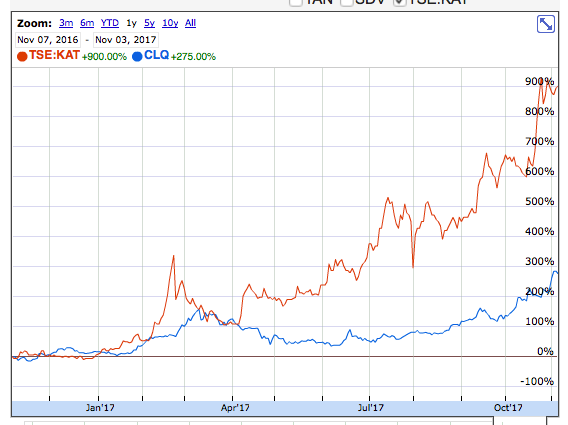 ---
Lithium Americas – The Great Prize: NYSE
In similar manner to Born to Run, PLLLY, Piedmont Lithium, Lithium Americas is…
Movin' on Up: https://www.youtube.com/watch?v=FHDwRECFL8M
…straight into the Big Leagues. It announced last week that it sees the benefit of tapping into the much, much larger United States of America investor base through a more sensible stock price and total shares outstanding that is more typical of The New York Stock Exchange, still the World's Most Prestigious Stock Exchange Brand.
Goodbye: LACDF OTCQX
Hello: LAC NYSE
Mainstream. This makes a difference. More liquidity, less volatility, higher multiple. Premium valuation.
Sidebar: @realDonaldTrump is pitching the same for the world's biggest fossil-fuel pure-play: Saudi Arabia's Aramco IPO. #irony
LAC's NYSE listing is timely as construction at Cauchari is well underway and LAC's Lithium Nevada, USA project is expected to come into greater focus.
LAC will soon no longer be seen principally through the junior miner TSX/ASX penny stock lens and lined up mainly against NMX and ORE. Instead, SQM followers will realize through LAC they get pure-play exposure to SQM's fastest growing, highest margin, longest lived cash flows. Likewise, those who prefer ALB over SQM due to confused Chilean politics, but are learning to love Argentina. And FMC holders already knowledgeable about Hombre Muerto.
LAC's ~455,000,000 shares will become ~ 88,000,000 shares. $1.55 LACDF today would be ~$7.50 LAC
Reminder: BTG Pactuel's Cesar Perez, the analyst with longest history and most gravitas on SQM, values LAC and SQM's stakes in Minera Exar which operates the Cauchari JV at $2B each or $4B for the whole JV. That $2B is TODAY, based on his DCF model discounting back from 2024 presuming 50K tons and $12K lithium price. $2B is nearly 3 times higher than LAC's current valuation.
Similarly, Cormark's Dr. Mac Whale reiterates LAC as his Top Pick and usefully provides the below sensitivity analysis. Given Argentina bullishness and lithium prices far higher than his conservative $11,000 forecast, my sentiments are more in line the bottom right hand corner of this table.


---
K.I.S.S. Checklist #1: Market Signaling – Insider Buying and Selling
In evaluating any lithium equity, in particular a junior, it is one of my highest criterion to know that management is eating their own cooking. There is no better market signal then when executives and board members show up on the tape as buyers. LAC, with substantial insider ownership, has been the most stellar in this regard over the past two years.
Earlier this year I saw that ALB's Luke Kissam was on the tape with a meaningful insider sell just after ALB completed their accelerated $250M share-buyback this Spring. I presume the timing was coincidence and probably part of some regularly scheduled sell-down, but at the same time he pocketed ~$5M on the sale and it was a not insignificant percentage of his ownership.
I took this as a red flag and wonder why it wasn't a subject of much analyst community chatter.
Recall last month I compared AVZ Mineral's Monster Manono to Frankenstein by Edgar Winter:
https://www.youtube.com/watch?v=w-KN-dQc-4Y
By coincidence, Free Ride came to mind as I thought about Klaus Eckhoff providing the biggest market sell signal I've ever witnessed – a sell-down of a full 30% of his interest because, he told a journalist on the record "I wanted to take a profit". He's now playing with OPM (Other People's Money).
Lo and behold, who sings Free Ride?
https://www.youtube.com/watch?v=K-hb2mX8YEc
---
K.I.S.S. of Death
"I know it was you Fredo": https://www.youtube.com/watch?v=DjUOBVAbGhQ
Geometry Lesson:
Lithium Triangle: South America
Charlotte Quadrangle: North Carolina
Triangle of Death: Manono, DRC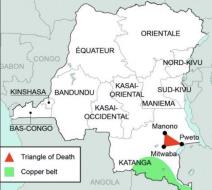 AVZ's Manono/Kitolo project, which has a headline market cap of ~AUD 450M, but with performance options closer to AUD 570M and for only 60% of the project essentially the market is valuing Manono/Kitolo at nearly AUD 1 B Unicorn status.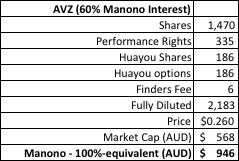 YES, about the same valuation of Heart of the Clean TeQ Sunrise – a permitted, large, super scarce cobalt/nickel sulphate project in Sustainable Australia. And about the same valuation as LAC's Cauchari.
Piedmont Lithium calls itself the World's Best Located Lithium Project.
AVZ Minerals must be considered the World's Worst Located Lithium Project.
I realize there are many AVZ fans whose K.I.S.S. checklist doesn't go far beyond fantasies about huge ore tonnage and high grade, speculate about irrelevant EV/ton valuations, and try to understand the tin market and potential by-product credits, but ignore critical relevancies that there is so much more to developing an economic lithium project:
Roads – $350M cost no other lithium project has to worry about
Long-term government reliability/predictability
Potential for Downstream Processing, not just 6% concentration
For those joining in the AVZ orgy, recall your middle-school Health Class. You might get Mononucleosis
– the "KISS-ing disease" that infected a few friends of mine back in the day. Or worse. Consider ending this affair as I sense an infection is coming and a more appropriate ticker for this project next year will be STD.
Again, I don't doubt that Manono/Kitolo is likely to drill out a good ore body. But, to date, they have released results on 7 drill holes only. There is a LOT more drilling to do, metallurgy to test, studies to undertake – months and years of boring market time for that all to take place. Recall Albemarle's famous slide with 7-12 year time horizon from exploration to production. AVZ in DRC is no KDR in WA.
Which I sense is why the latest Ninja Pump it Up is a fantasy bidding war from over-paying Chinese players.
This is foolhardy. The Chinese have been UNDERPAYING for choice assets in lithium land, with CATL seemingly elbowing its way into North American Lithium for a song the latest example. Recall the Chinese are desperate for feed TODAY and through 2020. If they were genuinely interested in investing $1B they would buy Altura. Or Orocobre. Or Pilbara. Or Galaxy. Not the many, many years in the future and likely never, AVZ.
I don't see downstream refining in DRC. Most Chinese converters are small operations – the talent to manage new projects is in short supply. These are skilled professionals with choices – why would they choose to live in the DRC? And I can't see how 2,500km away 6% spod con can compete with ample existing and future defined RESERVES in WA to China from Pilgangoora, Wodgina, Mt. Holland and Mt Marion.
Tianqi and Ganfeng are China lithium leaders and they care about reliability of supply – Tianqi's putting their refineries outside China in Kwinana. SQM's also building in WA. There's more than enough economic lithium production here, South America, Quebec and USA – why in the world would anyone want to become reliant on a lithium supply from DRC when they are desperately seeking ways to stop buying cobalt from the DRC?
Recall takeaway number 5 from Benchmark Cathodes:
"DRC is a necessary evil for scarce, by-product cobalt – current 65% of cobalt supply. But for abundant lithium, DRC, currently 0% of supply, garnered ABSOLUTELY ZERO INTEREST at Cathodes conference from more than a dozen people I spoke with. Further, those with deep experience with existing Chinese lithium players suggest these Chinese groups have a very private sector mentality, evidenced by the great financial deals they've negotiated for themselves with Lithium juniors. This is very different from the "zero-cost-of-capital-mindset" that led Chinese SOEs to over-pay for things like magnetite Fe in Oz last cycle."
Rather than a bidding war, given Amnesty International's assessment of Huayou's child labor cobalt purchasing, I see an equal possibility that the Huayou could simply dump its 8.5 cent shares to – like Klaus – "take a profit".
AVZ has attracted absolutely ZERO institutional shareholders and not one traditional sell-side analyst covers it.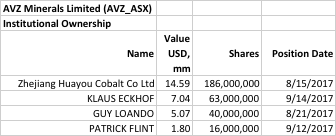 Ninja is the company's principal mouthpiece on Twitter and LinkedIn, which, together with AVZ press releases, raise questions.
What company puts out a press release about signing an MOU to "advance discussions" and "extend an invitation" to "visit site?" Not even a commitment that such a site visit will take place?
https://static1.squarespace.com/static/5934d2ae6b8f5beeb5ba23f3/t/59d2b3c890bade212d1b f4fb/1506980811783/AVZ.pdf
Or publishes "initial mineral characterization investigations" providing "important information for Resource Estimation"?
https://static1.squarespace.com/static/5934d2ae6b8f5beeb5ba23f3/t/59ed1e928dd041fab94d 907e/1508712092896/01910833.pdf
Which brings me to this concluding narrative.
---
Woody Allen and The Steve Miller Band
I consider AVZ a substantially over-hyped promote and continue to find additional ways to convey this view:
Pink Floyd: Brain Damage, Another Brick in the Wall Part 2: We Don't Need No Education
Elvis Costello: Pump it Up
Wall Street's Budd Foxx – Blue Horseshoe Loves Blue Star Airlines
Edgar Winter: Frankenstein
Some further Greatest Hits:
Woody Allen – Take the Money and Run, 1969
5 MINUTES WORTH WATCHING!
https://www.youtube.com/watch?v=CU7vD2fgdek&t=214s
Ninja = Woody
School Teacher = Grandma Lowry
Mr. Torgman = Klaus
The Steve Miller Band
Note: The charging horse-head logo….
…corresponds with the AVZ charging horse logo…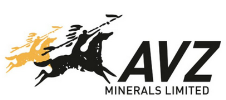 ——————————————————————————————————
The Joker
(Michael Langford, @ML_SuperNinja):
https://www.youtube.com/watch?v=PmVusVh4TRQ
"Some people call me the Space Cowboy, some people call me the gangster…"
…I'm a Joker I'm a smoker, I'm a midnight toker"
Take the Money and Run
(AVZ Founder & Chairman, Klaus Eckoff):
https://www.youtube.com/watch?v=-WCFUGCOLLU
"Nothing better to do then get high and watch the tube…
…Go on Take the Money and Run
Go on Take the Money and Run
Woo hoo hoo
Go on Take the Money and Run
Ah who lord
Go on Take the Money and Run
Who hoo hoo
Go on Take the Money and Run
Yeah Yeah Yeah"
---
La Guillotine
The non-Democratic Republic of Congo, formerly Zaire, is deeply connected by its history to Belgium. Belgium, of course, is famous for beer. French Belgium shares things in common with France. France is famous for creating one of the first methods of terrorism – La Guillotine.
La Guillotine is a popular beer in Belgium – since 1654!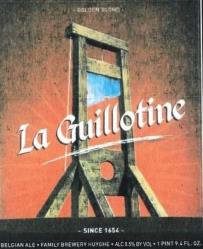 I've been calling Red Bull on AVZ for months. I was right for a while, until I wasn't in October as a mini "melt up" benefited all lithium equities.
I'm now calling La Guillotine.
I believe that AVZ is a massive short – 50-80% downside from current levels within 12 months. And conclude this issue with…
One More Most Famous Scene from the Most Famous Gangster Movie
The Godfather:
TWO MINUTES WORTH WATCHING
https://www.youtube.com/watch?v=DjUOBVAbGhQ
Disclaimer: Lithium-ion Bull (Forest Hills) is a periodic publication, written through my advisory firm RK Equity Advisors, LLC. I may act, or may have acted in the past, as a financial advisor, or capital raiser for certain of the companies mentioned herein and may receive, or may have received, remuneration for services from those companies. I, RK Equity as well as their respective partners, directors, shareholders, and employees may hold stock, options or warrants in issuers mentioned herein and may make purchases and/or sales from time to time, subject, of course, to restricted periods in which we may possess material, non-public information. The information contained herein is not financial advice and whether in part or in its entirety, neither constitutes an offer nor makes any recommendation to buy or sell any securities.