Rare Earth Mining in South Africa
With a regulatory climate conducive to doing business and one of the most stable economies in Africa, South Africa is the destination of choice for companies looking to mine rare earth elements in Africa.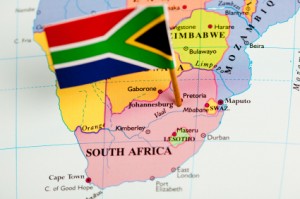 Rare earth elements (REE) play a critical role in technological expansion, as such rare earth exploration companies are expanding their geographical reach in an attempt to find economically-viable deposits. With Africa receiving increasing investor attention due to the recent surge in global commodities prices, it is unsurprising that South Africa, the continent's mining powerhouse, is leading the charge.
History
South Africa boasts a long and detailed mining history dating back to the mid-1800s, when reports of valuable deposits of gold, diamonds, and other precious materials led European prospectors to the region. Mining has been the main driving force behind the history and development of Africa's wealthiest economy.
The country's mining sector continued to thrive throughout much of the 20th century, with gold mining becoming an essential economic activity for the nation. Its gold mines currently make up 12 percent of global production, and South Africa is the world's largest producer of manganese, platinum, and vanadium, and the second largest producer of ilmenite, palladium, and zirconium.
Economic and geopolitical conditions
Boasting Africa's most stable economy, South Africa's is estimated to have grown by 3.1 percent in 2011, up from 2.9 percent in 2010. However, growth is expected to slow to 2.7 percent in 2012 as a result of domestic structural constraints and a shaky global economy. Analytical information provided by the African Economic Outlook suggests that the country's business regulatory environment remains conducive to investment, although a recent lack of capacity in the public sector and governing coalition divisions mean there is a slight downside risk in the medium term.
South Africa's private business regulatory climate is one of the most conducive in the world, and was ranked 35th out of 183 economies by the World Bank in its Doing Business 2012 report. The most problematic issues restricting business in the country are an inadequately-educated workforce, inefficient government bureaucracy, and what some believe are restrictive labor regulations.
Why is this area significant?
Many view the country and continent as key in the geopolitical battle that is being fought to end China's stranglehold on the rare earth market. Geologists have stated that the African region has significant potential in that it contains half of the world's deposits of carbonatites, a type of rock formation viewed as prime hunting grounds for rare earth, as well as vast amounts of monazite sands, which contain REEs.
"That immediately makes Africa a destination of choice if you want to find rare earth elements in carbonatites," said Paul Nex, senior geologist at Umbono Capital.
According to geological surveys, carbonatite deposits are found throughout the continent; however, South Africa appeals to a wide range of investor audiences because it boasts a sound infrastructure capable of processing and transporting materials to market – something few African competitors are able to achieve.
"Everybody started looking for these rare earths at about the same time. There is really not a lot of difference between certain African countries and Australia or Canada," said Judith Kinnaird, professor of economic geology at the University of Witwatersrand. "Anyone who can bring something together in three to five years is going to be at a great advantage," she added.
Miners and explorers in the region
Frontier Rare Earths (TSX:FRO) is an exploration and development company focused on its flagship asset: the Zandkopsdrift rare earth deposit located in South Africa's Northern Cape province. According to the company, the deposit is one of the largest code-compliant, undeveloped REE deposits in the world. It expects Zandkopsdrift's location and geological setting to provide advantages in relation to capital costs, operating costs, and development time. The company plans to be an active producer in 2015, and last December signed a definitive joint venture agreement with state-controlled Korea Resources (KORES) regarding the development of Zandkopsdrift. KORES has a policy mandate to source strategically important raw materials for Korean industry.
Great Western Minerals (TSXV:GWG) is an integrated REE processor that owns a 74 percent equity interest in the former-producing Steenkampskraal Mine, situated approximately 350 kilometers north of Cape Town. Because it was previously in operation, the mine has high-standard infrastructure with access to the site by paved and gravel roads. The company recently released high-grade rare earth assays from the site, including samples that had higher distributions of neodymium, dysprosium, and terbium compared to historical data. Great Western has also announced a plan to develop a rare earth separation plant in South Africa in a joint venture agreement with China's Ganzhou Qiandong Rare Earth Group.
Namibia Rare Earths (TSX:NRE) is focused on the development of its Lofdal project in Namibia. Lofdal is an early-stage, district-scale exploration project with a focus on heavy-rare-earth-enriched carbonatite deposits. The company recently announced the completion of a resource drilling program in Area 4 on its project zone. Drill intercepts displayed an intercept of 11 meters of 1.40% total rare earth oxides with 96.1% heavy rare earth enrichment. The initial NI 43-101 compliant mineral resource report remains on schedule and should be delivered in the third quarter of 2012.
Securities Disclosure: I, Adam Currie, hold no direct investment interest in any company mentioned in this article.