Bill Aimed at Securing Rare Earth Supply Reintroduced to Congress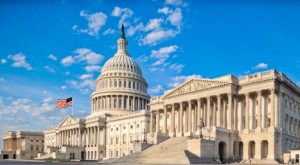 The Resource Assessment of Rare Earths (RARE) Act of 2013, a bill aimed at securing rare earth supplies and reducing China's monopoly on the market, has been reintroduced to US Congress by Representative Hank Johnson. The Act directs the US Geological Survey (USGS) to conduct a three-year global mineral assessment of rare earth elements (REEs).
"Like President Obama, I am committed to a future powered by clean energy," said Johnson in a statement. "Without secure access to rare earth elements, we will be unable to lead the world in cleantech. The RARE Act will dramatically advance our ability to access rare earths worldwide."
He noted that China accounts for 97 percent of global REE production and has demonstrated a willingness to restrict REE exports. He said, "[t]he Chinese monopoly is a strategic vulnerability for the United States that could undermine national security and competitiveness in the defense and clean-energy sectors."
Representative Edward Markey, a national leader on energy and the environment and ranking member on the House Committee on Natural Resources, is the lead original cosponsor of the bill. Markey has noted that if the US is to keep pace with China and Germany in clean energy technology, access to REEs is crucial.
In a letter to Representative Johnson, Ed Richardson, president of the US Magnetic Materials Association, said the bill is an important piece of a much-needed comprehensive approach to understanding current and future domestic and international supply of and demand for REEs.
Greenland hints EU may miss out
Greenland's prime minister has warned the European Union that he may scrap a preliminary deal aimed at safeguarding the bloc's access to the country's mineral resources.
"I don't understand the behavior of the (European) Commission," said Kuupik Kleist in an interview with Reuters last week. Kleist's comments suggest Greenland may not be opposed to playing off European and Asian powers enticed by the country's minerals, according to the news agency.
Questions remain regarding Kleist's influence, especially following the country's election earlier this week. Results show that Greenland is poised to get its first ever female prime minister after a centrist party that supports tapping the Arctic island's vast mineral wealth, which includes uranium, won 42.8 percent of the vote.
Prior to the vote, Kleist had stated that the time for waiting is over and that the European Commission should follow up with action, including a firm deal regarding resources.
He said, "I signed a letter (to the EU) last month (saying) if we were not to take further steps to negotiating a real agreement we would rather put aside the MOU. I have not got any answer on that still."
"I have been to Brussels many times," he added. "I don't have a thorough explanation why the big interest in Greenland and the Arctic area does not play out in really concrete activities from the European side."
Sumitomo to construct REE recovery plant
Sumitomo Metal Mining Company (TSE:5713) confirmed that it will construct a scandium recovery pilot plant at its majority owned subsidiary, Coral Bay Nickel, which is located on Palawan Island in the Philippines.
Scandium is a REE used in a variety of applications. "Small quantities of scandium are contained in the ore used at [Coral Bay] in the production of nickel–cobalt mixed sulfide applying [Sumitomo's] high-pressure acid leach … technology," a press release from Sumitomo notes.
"For some time [Sumitomo] has been working to develop a scandium recovery method at its Niihama Research Laboratories in Ehime Prefecture," the company statement also states. "This effort has now led to the attainment of technology enabling efficient recovery of scandium from the nickel-cobalt mixed sulfide production process."
The company plans for the scandium oxide pilot plant to be constructed by the end of 2013 and for trial production to commence in 2014. It initially aims to produce 10 kilograms of product per month.
Global production of scandium is estimated at 10 metric tons (MT) per year, with the major producers being the United States, Ukraine, Russia and China.
Market round-up
China's rare earth prices fell again this week, with little actual business reported in the spot market. Prices for light rare earths such as praseodymium, neodymium, lanthanum and cerium are under heavy downward pressure owing to rising output and weak demand, according to Metal-Pages.
Downstream magnetic materials industries are reportedly sluggish on weak demand. For heavy rare earths, such as europium, terbium and yttrium, prices were largely unchanged last week, with no transactions reported.
China's praseodymium-neodymium metal market is slow as consumers are choosing to remain on the sidelines. There were very few deals undertaken on the spot market, with 99-percent praseodymium-neodymium metal prices down to $61,115 per MT.
China's dysprosium oxide market remains under pressure, and market sources claim that it will be difficult for prices to fall further due to high production costs. Current prices for dysprosium oxide 99 percent are stable at $321 per kilogram, while prices for ferrodysprosium are unchanged at $337 per kilogram.
China's europium oxide market has been stable; however, sources confirmed that prices are likely to fall in the short term as a result of weak demand. Mainstream prices for europium oxide 99 percent are at $804 per kilogram. Current prices for terbium oxide 99 percent are at $627 per kilogram.
Company news
Rare Element Resources (TSX:RES,AMEX:REE) announced assay results from the final core holes of the 2012 drilling program at its Bear Lodge property, located in Northeastern Wyoming. Results confirm that the deposits contain high grades of total rare earth oxide (TREO), including high abundances of combined critical rare earth oxides, according to a press release.
In 2011, the company identified significant heavy rare earth elements (HREEs), including europium, terbium, dysprosium and yttrium, in the Whitetail Ridge area. The current set of assay results from that area and from the Carbon target confirm those observations. Examination of aggregate significant intercepts from past drill results as well as the current set of drill results indicate that there is a "district-wide zonation in which the strongest TREO enrichment occurs within a central zone focused on the Bull Hill and Bull Hill Northwest deposits."
Search Minerals (TSXV:SMY) announced a non-brokered financing of up to $1.2 million comprised of 24,000,000 units at $0.05 per unit.
Each unit will consist of one common share of the company and one common share purchase warrant of the company, as per information from the company. Each warrant will entitle the holder to acquire an additional common share of Search for a period of one year following the date of issuance of the unit at a price of $0.10 per share. The proceeds from the financing will be used for general working capital purposes.
Peak Resources (ASX:PEK) announced further improvements to beneficiation processes for its Ngualla rare earth project in Tanzania. The ability to concentrate mineralization at an early stage prior to acid leach recovery will have a significant impact on costs, according to a press release.
One improvement is that the optimization of the beneficiation process reduces the mass of feed to be treated by the acid leach recovery process by 43 percent compared to scoping study assumptions. Another is that the company's latest test work indicates that conventional magnetic separation and flotation techniques reduce the mass of the feed mineralization by 78 percent through the rejection of relatively unmineralised barite and iron oxides.
The cost reductions will be quantified in a revision of the scoping study, and an economic assessment is scheduled for completion in Q2 2013.
Securities Disclosure: I, Adam Currie, hold no direct investment interest in any company mentioned in this article.
Related reading: 
Rare Earth Mining in Greenland
Greenland Resource Sector Confirms No Favoritism
INN VIDEO: The Opportunities and Challenges of Mining in Greenland