Search Minerals
TSXV:SMY
Advanced Rare Earth Elements District in North America
​Company Highlights
Search Minerals' asset portfolio includes significant REE assets that facilitate its direct extracting proprietary technology that has already shown over 90 percent recovery during pilot plant operations
An offtake agreement was recently made between Search Minerals and USA Rare Earth for 500 tonnes of Nd and Pr per year, creating immediate sales from the Foxtrot and Deep Fox once in full production
The visionary campaign, known as 'sprint to production', guides the company's decisions and has the stated goal of being in full production by 2025
Search Mineral's management team brings decades of applicable experience that boost confidence in the company, including experience in management, geology, metallurgy, and accounting
Overview
National policies around the globe are increasingly focusing on electrification. We've already seen the largest automakers announce ambitious goals to produce more electric vehicles, while Western governments have committed to a greener future. The European Union aims to be climate-neutral by 2050, a goal echoed by Canada's long-term strategy to reach net-zero emissions within the same timeframe. These goals from both the private and public sectors create an increasing global demand for the rare earth elements (REE) required for most sustainable technologies — meaning suppliers will need to pick up the pace to meet this growing demand. EVs alone will create enormous demand for these elements, considering 2022 is projected to see automakers ship 34 percent more units than 2021.
China currently dominates the REE market, producing over 85 percent of the world's rare earth elements. This has made North American and European governments increasingly susceptible to any disruption in China's supply chain. After all, any supply chain interruptions will directly impact the West's ability to manufacture clean energy technology. All of this has resulted in the West developing policies that aim to reduce its dependence on Chinese REE production.
Today, the United States is well aware of its over-reliance on foreign sources of REE and has already started to create a domestic supply chain, which includes updating mining laws and prioritizing critical minerals. Additionally, the U.S Department of Defense has awarded a US$35 million contract to MP Materials to build a facility to process heavy rare earth elements (HREE) in California. Canada has also updated its list of the nation's critical minerals to emphasize REE and HREE as vital to the country's future. As North America continues to develop its strategic plans for REE and HREE production, it's clear safer, domestic exploration, development and production will be required.
Search Minerals (TSXV:
SMY
, OTCQB:SHCMF) is a Canadian mining and technology company focused on building sustainable access to rare earth elements. The company's patented and proprietary direct extraction process has reduced capital requirements and operating costs when compared to traditional methods. Search Minerals' key elements are neodymium (Nd), praseodymium (Pr), dysprosium (Dy), and terbium (Tb). With surging demand for each element, Search Minerals' asset portfolio and proprietary technology are poised to greatly capitalize on the growing demand.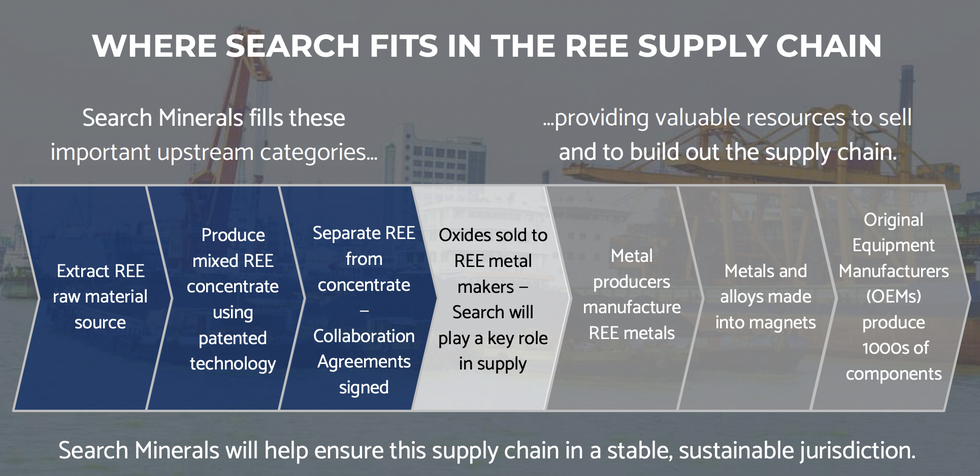 The company's district-scale portfolio includes promising discoveries for extracting REE minerals for immediate processing into individual REE. Two key discoveries are the Foxtrot and Deep Fox deposits, which are awaiting a combined updated preliminary economic assessment( PEA). The new PEA takes into account, an increased resource at Deep Fox, increasing current REE prices and the increased recovery rate of Search Mineral's proprietary technology (increased from 79% to over 90% from its pilot plant operation).
Innovative technology and impressive foresight sit at the core of what makes Search Minerals unique. In a recent interview, CEO Greg Andrews stated, "We look at our company as one of the most advanced in North America with our resources, technology that's been in development since 2010 and two pilot plants. Automobile manufacturers with ambitious goals are starting to look down the supply chain and say 'can we really do this? Where are the raw materials coming from?' There aren't many operating deposits outside of China and they'll need to secure REE to meet their goals."
Search Minerals recently entered into an offtake agreement with USA Rare Earth for 500 tonnes per year of Nd and Pr, creating immediate sales from the future production of Foxtrot and Deep Fox. This agreement advances both companies' ongoing ambitions. Search Minerals strives to become the established provider of REE to North America's critical mineral supply chain, while USA Rare Earth is pursuing a 'Mine-to-Magnet' strategy. Combined, the two companies could create a complete North American REE supply chain.
An ongoing strategy known as the "sprint to production" is guiding Search Minerals' efforts. The sprint is focused on achieving production by 2025.
The company is also led by an impressive management team, which aims to turn Search Minerals' into a vital partner in enabling North America's REE supply chain. Greg Andrews, CEO, brings over 30 years of strategic planning and administrative management. Dr. Randy Miller, vice president of exploration, has been exploring for REE in Labrador since 1980. Meanwhile, Dr. David Dreisinger, vice president of metallurgy, holds an impressive 24 U.S. patents, including Search Mineral's direct extraction process. Matthew Anderson, CFO, shores up the company's corporate processes with over a decade of accounting experience. Search added Todd Burlingame, as Chief Operating Officer, who has extensive experience in mining plan development and managing the environmental process through to permitting.
Company Highlights
Search Minerals' asset portfolio includes significant REE assets that facilitate its direct extracting proprietary technology that has already shown over 90 percent recovery during pilot plant operations
An offtake agreement was recently made between Search Minerals and USA Rare Earth for 500 tonnes of Nd and Pr per year, creating immediate sales from the Foxtrot and Deep Fox once in full production
The visionary campaign, known as 'sprint to production', guides the company's decisions and has the stated goal of being in full production by 2025
Search Mineral's management team brings decades of applicable experience that boost confidence in the company, including experience in management, geology, metallurgy, and accounting
Get access to more exclusive Rare Earth Investing Stock profiles here
Investing News Network websites or approved third-party tools use cookies. Please refer to the cookie policy for collected data, privacy and GDPR compliance. By continuing to browse the site, you agree to our use of cookies.