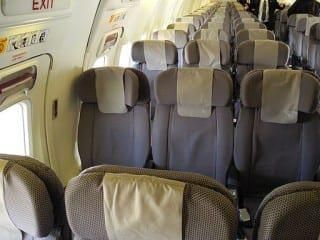 It's official: a longstanding ban on the use of magnesium alloys in airplane seating has been lifted, and aircraft seat makers in the US can start using the material.
It's official: a longstanding ban on the use of magnesium alloys in airplane seating has been lifted, and aircraft seat makers in the US can start using the material.
Runway Girl Network (RGN) reported that last week, the Society of Automotive Engineers published a key change to aviation standards that allows the use of magnesium alloys in interior airplane components.
The rule, which once read "[m]agnesium alloys shall not be used," has been changed to "[m]agnesium alloys may be used in aircraft seat construction provided they are tested to and meet the flammability performance requirements in the FAA Fire Safety Branch document."

That's good news for Magnesium Elektron, a company that's been working hard to get such approval for several years. It's been
slowly progressing toward its goal
, with the Federal Aviation Administration (FAA) first indicating that it was warming up to magnesium alloys in June 2013.
German aerospace seating manufacturer Zim Flugsitz started using Magnesium Elektron's proprietary Elektron
®
43 alloy in aviation seating last spring.
Compared to
aluminum
, which is normally used for the construction of airplane seats, magnesium alloys are significantly lighter, stiffer and more ductile. However, magnesium is also highly flammable once it reaches high temperatures, and has thus been considered too dangerous for use in airplane seating.
However, the FAA started to change its mind back in 2007 following the results of burn tests on some of Magnesium Elektron's alloys. "In the test the FAA exposed the bar to the burner for four, five, six minutes of flame," Magnesium Elektron's Bruce Gwynne told RGN. "A lot of the people with the FAA observing the test thought that as soon as you hit the bar with the flame it was going to just burst into flame immediately; they even had explosion shields set up. In the end they were all standing up front, close up, just looking at the test with no barriers."
Furthermore, while seat makers weren't too inclined to make the switch from aluminum in the past, Gwynne added that he's seeing more and more manufacturers warming up to the idea of magnesium.
"They sell these seats for hundreds of thousands of dollars per pax; the revenue return on them is just incredible and there wasn't a real incentive to get weight out of them, even though they weigh hundreds of pounds per pax," he explained. "But now that is beginning to change and we are now hearing from virtually all the premium seat manufacturers because they have big chunky structural components that are in aluminum. In a lot of them, with just a little bit of engineering, it would be quite a simple substitution and they would be able to save quite a bit of weight immediately."
While aviation seating might not seem like the biggest market to follow, it isn't insignificant — the North American commercial aviation aircraft seating market is expected to grow to approximately $3.546 billion by 2019.
Certainly, the determination to get magnesium alloys approved for use in airplane interiors speaks to the advantages of the metal in manufacturing.
Critical metals
investors will not doubt want to keep an eye on the aviation seating industry as well as other sources of demand for magnesium.
Company news
MGX Minerals
(CSE:
XMG
)
closed
the final tranche of its previously announced private placement for gross proceeds of C$146,274. A portion of funds from the placement will be used to continue exploration and permitting activities at the company's Driftwood Creek magnesium project, while some of the funds will be used to settle an outstanding shareholder debt and for general working capital.
Last month, MGX began
archeological assessment studies
at Driftwood Creek.
Nevada Clean Magnesium
(TSXV:
NVM
) closed the first tranche of a $150,000 non-brokered private placement for proceeds of $50,000. The company intends to use money from the placement for US property payments and general working capital. The company recently
signed a joint venture agreement
with Norwegian industrial minerals company ScanMag in June.
Securities Disclosure: I, Teresa Matich, hold no investment interest in any companies mentioned. Editorial Disclosure: MGX Minerals and Nevada Clean Magnesium are clients of the Investing News Network. This article is not paid for content.Related reading:
How Magnesium Alloys are Making Planes Lighter