Benj Gallander: "Less is More" When the Market is Good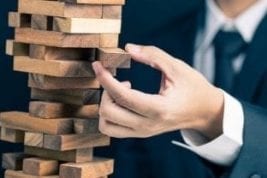 Contra the Heard's Benj Gallander is known for being inherently contrarian — here's how he invests when times are good.
The resource sector is surging, and many investors are eager to jump into the market. But how can they invest wisely when political uncertainty and risk are high?
Contra the Heard's Benj Gallander, who's known for being inherently contrarian, explained how he invests during these fascinating times at this year's International Metal Writers Conference.
He started his 20-minute presentation by speaking about the current risky times we are living in. He emphasized that there is more risk now than in 2008 due to uncertainty caused by the Trump administration, Brexit and problems in Greece. That has led many investors to turn to safe-haven assets.

"There are two places investors fly for safety:
gold
and the US dollar. I like gold not for safety, but for diversification," Gallander said. He also questioned the safety of the US dollar due to current debt levels.
But if safe-haven assets are not the place to invest right now, then what should investors do? According to Gallander, the stock market, which is currently doing well, may also not be a good choice.
"When markets go way down like they did in 2008, people run from the stock market, but that is when they should look to invest. Instead, when the market is going really well, people want to keep up and they invest, which is the worst time to do it," he said.
For that reason, his advice for investors is to invest when times are bad — and remember that when the market is doing well "often less is more."
"I am investing less now, I only bought two stocks last year. What I also want to do [in the current market] is sell a few things. [Investors should remember that] without discipline you have no method, and that is critical," he added.
The two stocks Gallander bought last year were financial firm GMP Capital (TSX:
GMP
) and Wi-lan (TSX:
WIN
), an intellectual property licensing company.
Don't forget to follow us @INN_Resource for real-time news updates!
Securities Disclosure: I, Priscila Barrera, hold no direct investment interest in any company mentioned in this article.Related reading:
International Metal Writers Conference 2017, Day 1: Notes from the Floor
International Metal Writers Conference 2017, Day 2: Notes from the Floor