A global shortage in the vanadium market caused by increased vanadium demand in the steel, aerospace and the battery industries could affect the US, a country almost completely dependent on imports of the metal.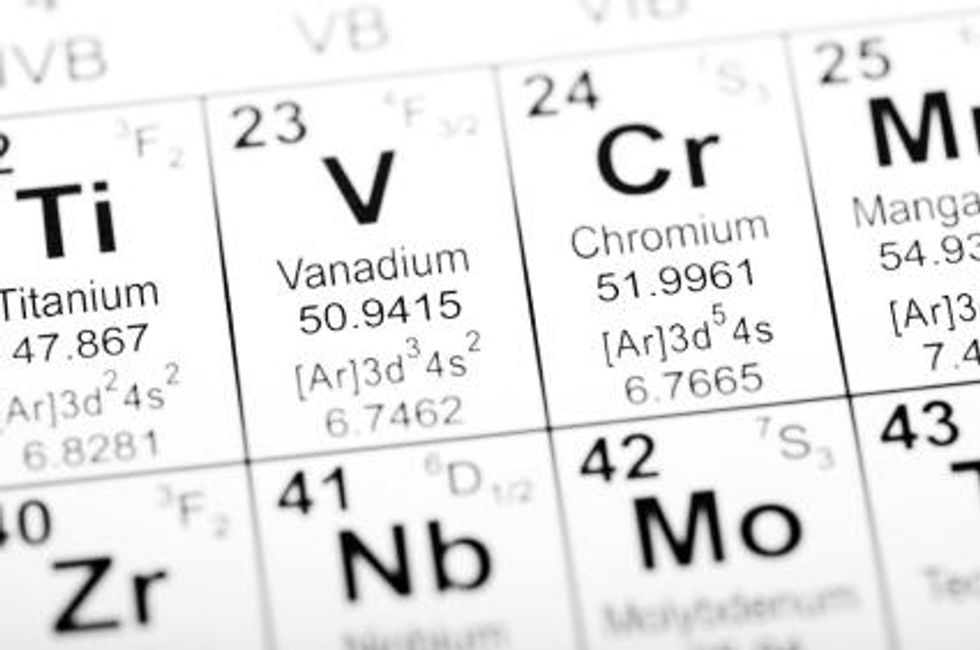 By Damon van der Linde – Exclusive to Vanadium Investing News
Increased vanadium demand from China as a steel strengthener, titanium in the aerospace industry and the emerging battery market have continued to raise vanadium prices in recent years, and could soon lead to a global shortage without an increase in production.
"The forecasts are pretty clear that there should be a long-term shortage where there has been an oversupply for the past 10 years, so the price of vanadium should rise continually over the next five or 10 years," says Bill Radvak, President and CEO of American Vanadium Corp. (TSXV:AVC).
Radvak says the demand is largely being pushed by a new regulation in China implemented on July 1, 2011, requiring vanadium in rebar for all new buildings. Roughly 92 percent of vanadium is used in high-strength, low-alloy steels, four percent in titanium alloys for air fames, jet engines, and tools, while the remaining four percent is used in chemicals as catalysts, sulfuric acid production, and energy mass storage like the vanadium redox battery.
The United States is currently almost completely dependent on imported vanadium from China, Venezuela, South Africa and Russia, while a small percentage comes from spent catalyst, residues from burning coal and heavy oil, by-product of uranium mining, and imported pig iron slag. Radvak says that the opening of the Gibellini project in Nevada focuses on establishing a stronger domestic production of the mineral, projecting 14 million tonnes of vanadium pentoxide per year which would equate 50 percent of US demand or five percent of global demand. Radvak says that with the current permitting process, in a best case scenario American Vanadium could start production by the end of 2012.
The Gibellini Project is not the only US initiative seeking to increase a domestic supply of vanadium, though it is projecting to be one of the biggest. The Bison McKay Project, which is adjacent to Gibellini, currently being developed by Stina Resources LTD. (TSXV:SQA), is in the process of verifying their technical report while EMC Metals Corporation's (TSX:EMC) Carlin Project – also in Nevada – is continuing exploration work.
"The US is really left out in the cold on a lot of different metals. They're taking a very active role in trying to get much more vertically integrated from raw materials right through to production and vanadium is a place with us that they could play directly and fairly inexpensively to control that whole supply chain," said Radvak. "[The U.S. currently] does not have what one would consider a secure supply of an important metal."
Though the U.S. Geological Survey, Mineral Commodity Study says vanadium's role as a strengthener in steel can to some degree be substituted with various combinations of other alloying elements such as columbium, manganese, molybdenum, titanium, and tungsten, "there is currently no acceptable substitute for vanadium in aerospace titanium alloys."
"There's no real replacement out there in those areas for vanadium," says Radvak.
American Vanadium is also one of several companies trying to establish a supply of vanadium as an electrolyte to be used in the growing grid-scale applications of the vanadium redox battery.
"We're seeing that the energy storage space is going from something that was interesting and novel a few years ago to today which is on the verge of explosive growth and when that happens vanadium redox batteries are going to be one of the major demands from there," said Paul Casey, Director of Business Development at American Vanadium.
Featured
Investing News Network websites or approved third-party tools use cookies. Please refer to the cookie policy for collected data, privacy and GDPR compliance. By continuing to browse the site, you agree to our use of cookies.