Put Your Money On Manganese
Besides being a critical component in steel and iron production and batteries, on-going research has shown that manganese can be used as a critical component in new technologies. This means investors can sit pretty after taking a long-term investment call on this metal.
By Cyrus S Darabshaw Exclusive To Manganese Investing News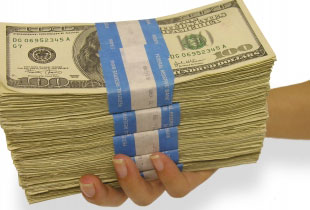 For the past year or so, the world of metals and elements has been full of reports on new and potential uses of Rare Earth Elements (REE) and the exciting possibilities presented by minor metal Vanadium and the equally rare Thorium.
A lot of heat has been generated around the fact that in many of these, especially the REE, China holds a monopoly, something that the United States of America, Canada and the European Union look at with trepidation.
In tracking these developments, followers of metal have lost sight of a very crucial metal, Manganese, which is the fourth-most sold metal by weight, globally.
Manganese is a brittle, hard gray-white metal that looks much like iron. Like vanadium, but even more so, it is an additive to steel. From steel and iron production, it is also used in several other applications – from dry cell batteries (sold about 20 billion per year), aluminum cans (sold about 100 billion per year), electronic printed circuit boards as well as fungicides and pesticides.
Manganese has an old-world ring to it. As far back as the 19th century, major advances had already been made in its use, maybe one reason why many metal analysts, traders and potential investors today do not find it to be a 21st century metal, what with all that hullabaloo around REE.
But there is an age-old proverb, `Old is Gold.'
There is simply no way that Manganese can be written off as a "has been" metal, it still holds its relevance in today's world.
Some one once famously remarked, "Manganese without steel means no steel at all". The world still needs its steel, at least no real substitute is coming in the near future.
In one line – as long as the world needs steel, manganese will retain its status in the hierarchy of metals.
Uses of Manganese
About 90 per cent of global manganese is for producing steel and cast iron, for which no suitable substitute for the metal has yet been found. According to the International Manganese Institute (IMnI), of the manganese used in steelmaking, 70 per cent is used as an alloying element, while the remaining is employed for "its properties as a sulphide former and deoxidant." High strength structural aluminum 5000 series alloys also use manganese.
The manganese content of the major different types of steel are:
Alloy Steels: 0.05-2.1 per cent (full alloy steels, high-strength low-alloy steels (HSLA) and tool steels – other than carbon and stainless steel)
Carbon Steels: 0.05-1.65 per cent
Hadfield Steels: 10-14 per cent
Stainless Steels: 0-19 per cent
In steelmaking, manganese is usually added in the form of a ferroalloy. This includes three grades of ferromanganese (FeMn) – one standard (high-carbon – HC) grade containing 65-79 per cent Mn and 7 per cent carbon, and two refined grades with medium-carbon (MC) and low-carbon (LC) – and silicomanganese (SiMn), which contains 60-77 per cent Mn and around 2 per cent carbon.
After steel, the battery sector is currently the second-largest consumer of manganese today. In addition, manganese is used in animal feed and fertilizers, colorants for various cosmetics, plastics and artists' glazes, pigments for bricks, frits, glass, paints tiles and textiles and water treatment chemicals.
According to Ken Reser, a research and investments consultant, newly discovered applications for manganese are constant. Recently, a process was developed by Kyoto University in Japan to reproduce the photosynthesis process using Manganese Dioxide to absorb large quantities of Carbon Dioxide (CO2) emissions.
"If these Kyoto scientists are successful one can only begin to imagine what excitement there will be from the Global Warming crew and media. Manganese could very well play a historic part in our earth's green future," he said.
Reser should know, being in the business of metals consultancy for the last 20 years.
So, why invest?
* Well, for one, it is among the 10 most valuable metals in the world.
* Steel absorbs 93 per cent of all Mn production and steel demand is set to increases by 6 per cent for next many years.
* Non steel applications are also facing good prospects. Manganese Ore price increases faster than the average predicted growth.
* Further, although in its initial stage, the metal may even have potential in the New World. Some analysts say going by recent research, this metal could become the central component in new world technologies, thus increasing its value.
* Manganese is said to be key to a new type of electronic alloy that displays intermediate characteristics between magnet and semi-conductor. This combination of silicon-iron-manganese alloy has the potential to be used in new type of electronic circuits.
* One expert estimate pegs the global demand for manganese at 30 billion lbs annually.
New times
Manganese has had a kind of re-birth in 2006 when world over, the demand for steel starting climbing up. The manganese markets, too, started expecting "something magical" to happen to this metal.
Between 2006-08, demand for steel skyrocketed, in turn driving up global manganese prices. Some of the expectations came true when global manganese alloy production in 2008 climbed up to 13.62 million tons, an increase of 2.4 per cent year-on-year.
SiMn accounted for well over half of alloy production, followed by high-carbon FeMn, and refined FeMn. Manganese alloy prices touched a new peak in2008.From a price of USD 1000 per metric ton in 2007, FeMn touched USD 5500 in the Q3 of 2008.
But like any other metal and sector, the global recession of 2009 came as a circuit breaker for manganese, more so because global steel production came crashing down.
Long term bet
Many analysts who know their metals are of the opinion that with the world economy slowly but surely looking up, manganese has the potential of a long term investment. Their reasoning is based on the following major points:
a) The US is one of the biggest consumers of this metal and with no indigenous mine at all, the country has to depend solely on imports. It has to rely on friendly countries and suppliers, many of whom may have to fulfill their own domestic consumption, leaving less for exports, thus hiking the prices.
The US military is also a well-known consumer of manganese. As China is the dominant supplier of manganese metals in the world, the US Congress has recently been taking an interest in manganese and its strategic importance for the US.
In addition to its use as an alloy in steel and cast iron, manganese is also employed as an alloy (in very much lesser amounts) with aluminum, copper, nickel, titanium and zinc. It's also used in miniscule amounts for electronic applications, with, amongst other metals, bismuth, gold and silver.
b) There are vast reserves of manganese in the form of polymetallic nodules in our oceans. Once someone figures out how to source this, there is good business in it.
So, the above is a clear indication that demand for manganese is bound to increase. Manganese producers and firms with large land holding than contain the ore in high grade are now in a good position to increase revenue.
It appears that manganese prices are headed higher in the near-term. Also, no new mines are on the near horizon. Except in Brazil, China and India, the pattern is for all manganese is to be mined by a small number of very large companies – essentially monopolies – in a small number of mines in the countries in which they operate.
Going by the metal's potential use – from low nickel stainless steel to high strength structural manganese steels, aluminum alloys, dry cell, alkaline batteries and lithium-ion batteries for the new breed of hybrid cars, miners are scrambling to raise output but will not be able to keep pace with demand without new mines. But with thin and low grade supplies worldwide, manganese prices are poised for further increase.
Major Manganese Ore Producers
Like REE, China is also the single largest producer of pure manganese metal. In 2008, the country produced some 1.13 million tons, of which only 0.24 million tons were exported.
In ores, the predominant manganese ore is pyrolusite (Mn02), which is found in large quantities but distributed irregularly around the globe. There is an estimated 460 million tonnes exist worldwide, some 67 per cent is accounted for by just three countries -Ukraine, South Africa and India.
Australia –
Groote Eylandt Mining Company Co Pty Ltd (GEMCO)
Brazil –
Companhia Vale do Rio Doce (Vale)
China –
Guangdong Luoding Xinrong Mengkuang
Guangxi Zhuang Autonomous Region Daxin Manganese Mine
Hunan Dongfang
Taojiang, Xiangtaoyuan
Xiangtan Manganese Mine
Gabon –
India –
Mexico –
Compañia Minera Autlán SAB de CV
South Africa –
Ukraine Marganetsky GOK
Ordzhonikidzovsky GOK
Source: USGS
Mining manganese

Not all manganese mined is of the same grade. China and the CIS are increasingly mining lower-grade ores than in most other countries. If only high grade ores (defined as having more than 44 per cent manganese content) are considered then reserves are in the range of 680 million tons of ore, essentially situated in the Western World, with Australia, Brazil, Gabon and South Africa, supplying over 90 per cent of the international market.
Late last year, China National Geological and Mining Corporation (CGM) said it would invest more than USD 20 million over the next two years to double Ivory Coast's manganese output to 300,000 tonnes per year. Ivory Coast is a small-scale metals producer, but is attempting to develop its mining sector, which also contains gold, to diversify its cocoa-based economy. Production at the moment is around 150,000 tonnes per year. With the support of the Chinese, it will go up beyond 300,000 tonnes in 2011.
South Korean steel maker Posco, too, had announced that it would be putting in USD 200 million to take a 13 per cent stake in a manganese mine in South Africa. Posco said the purchase will be made by joining international consortium Pallinghurst, which owns a 49.9 per cent stake in the Kalahari mine in Northern Cape province and is controlled by American Metals & Coal International and South African financial firm Investec.
Chinese games
Some experts also feel that because of the Chinese monopoly on crucial metals including manganese, the time has come the US and Canadian Governments took a long hard look at their domestic future needs and maybe kick start some of their earlier projects.
At present, the US depends totally on imports for its manganese requirements.
As if in response to this sentiments, Rocher Deboule Minerals Corp (TSX.V: RD) which recently changed its name to American Manganese Inc (TSX: AMY), is said to be focusing on the development of its Artillery Peak Manganese Project in Nevada, US. The company has had a private placement recently.

Rocher Deboule Minerals Corp is a diversified exploration and development company focusing its attention on mineral properties and commodities used in the steel manufacturing industry. In 2008, Rocher Deboule had completed the assembly of all target properties in the Artiller Peak manganese district, and drilling and metallurgical testing programs were executed.
An updated NI 43-101 compliant resource calculation in 2009 indicated a manganese resource in excess of 100 million tonnes, with indicated and inferred resources of 10+ billion lb manganese.