Manganese Resources Vital for North America
Manganese, a crucial component in the production of steel, is wholly under the control of China, which has 97 percent of the world's manganese inventory. Listed as a vital strategic metal by the US Department of Defense, two operations in Arizona are looking to fill the need. American Manganese Inc and Wildcat Silver Corporation have released data on their US based operations.
By Michael Montgomery—Exclusive to Manganese Investing News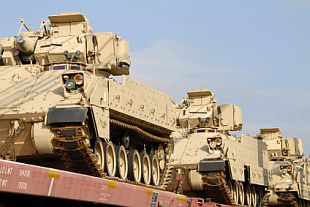 North American steel producers have been at the whim of China's control over vital alloy metals for quite sometime. China has been stockpiling materials and buying up some of the world's top manganese and molybdenum firms. Currently, China controls 97 percent of the world's manganese supply, and 30 percent of the world's total moly inventory.
Listed as a vital strategic metal by the US government for its uses in military applications and high grade steel production, stockpiles of the metal have been depleted. Currently, there are no domestic suppliers of the metal. As a result of reliance on foreign producers, and the tariffs that both sides levy on all transactions, US steel producers are faced with a disadvantage. Should a political situation arise, a vital component for military hardware would be unavailable.
American Manganese Inc. is currently developing its Artillery Peak Project in Arizona, but the North American market has yet to see any of the metal. Reports from the project are promising. The mine is of substantial size with low production costs, as compared to Chinese manganese, which is subject to large tariffs. The press release from the company lists an indicated Mn resource of over 1 billion pounds, and an inferred resource of over 9.6 billion pounds of manganese. This is good news for US steel producers who have been paying a premium due to the tariffs. China tacks on a 20 percent export tariff, while the US adds a 14 percent import duty. When world spot prices were around $1.33 per pound, US customers were paying $1.68, putting them at a competitive disadvantage.
The benefits of this domestic supply are numerous. An informative report from Ken Reser, featured on Kitco.com, lists these benefits of the Artillery Peak Project as well as the strategic importance of manganese. "These are 'Carbonate' Manganese deposits which require costly multiple milling, grinding and processing stages as well as a roasting process (not environmentally friendly) and additives like Selenium (banned in US). Apparently, this Artillery Peak ore only needs simple crushing and as it is an 'Oxide' Manganese ore it lends itself to low cost recovery. It is also known that this 'Oxide' type of ore does not use the Selenium additive nor Sulfuric Acid in the leaching process." The oxide manganese ore requires half of the electricity it takes to produce the type of ore that is used heavily in China. The first shipments of Mn from Artillery Peak will be a breath of fresh air for US steel makers as a vital component to their alloys will become much cheaper than imported sources.
More Manganese Company News
Wildcat Silver Corporation [TSX.V:WS] has released new data on their Hardshell property in Arizona. This property is also extremely important to the strategic nature of manganese in North America as discussed above. The press release details data on the drill program, and shows a 200 percent increase of 'inferred' manganese, 410,000 tonnes of manganese in the indicated category and 3,413,000 tonnes in inferred, according to the company. The project also has substantial amounts of silver, zinc and lead.
Aurora Minerals [ASX:ARM] has also released data on its Capricorn Southeast Manganese Project in Australia. "[Aurora's] field geologists have reported visual identification of massive, banded and shale-interbedded manganese from the first 18 drill holes," according to a report on Proactive Investors.
Singapore-based miner, OM Holdings [ASX:OMH] is reportedly considering a deal with Consolidated Minerals Ltd. to buy a stake of the Woodie Woodie Manganese operation in Australia. Consolidated Minerals, owned by Ukrainian billionaire Gennadiy Bogolyubov, holds an 11.7 percent stake in OMH through its Stratford Sun Ltd. unit.
"The Woodie Woodie deal could lead to the two companies combining their Australian manganese operations, which would create the world's second-largest low-phosphorous siliceous high-grade manganese ore producer," according to Esmarie Swanepoel of Mining Weekly.
OM Holdings has also released new data from their operations in Australia. "OMH said in a statement on Friday that quarterly production was below the forecasted production figure of 222, 077 [tonnes], owing to severe wet season conditions experienced during January and February," stated Esmarie Swanepoel, in another report from Mining Weekly. The drop in production from December 2009 is small, however a year-to-year comparison shows production of Mn nearly doubled to 174,712 tonnes.