5 Top TSXV Stocks: Renaissance Oil Surges 133.33 Percent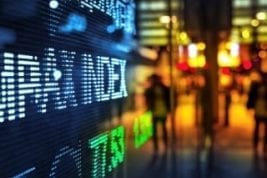 The S&P/TSX Venture Composite Index (INDEXTSI:JX) was down last week by 0.46 percent to 710.79 points. Other stock exchanges, including the TSX, NASDAQ and NYSE were down considerably for the week.
The S&P/TSX Venture Composite Index (INDEXTSI:JX) was down last week by 0.46 percent to 710.79 points.
Other stock exchanges, including the TSX, NASDAQ and NYSE were down considerably for the week.
Overall, the index is up 35.22 percent for 2016. For the period of June 25 2015 to June 24, 2016, it's up by 26.9, or 3.93 percent.
A number of companies on the TSXV, in particular those in the precious metals sector, saw strong weekly percentage gains, largely due in part to the Brexit vote.
The top five gainers for the week were:
Here's a closer look at those companies:
Renaissance Oil
Renaissance Oil topped the list last week, making gains of 133.33 percent to sit at $0.155.
The company is currently focused on developing in Mexico and Spain. On June 20, the company announced its first revenue from gas and oil operations, which made it the second largest petroleum producer in Mexico. Combined hydrocarbon production from Renaissance Oil's three properties totaled approximately 1,700 barrels of oil equivalent per day.

Independence Gold
Second on last week's TSXV list is Independence Gold, which currently has projects across Canada together with a portfolio that ranges from early stage grassroots exploration to advanced-stage resource expansion. On June 24, the company announced it had closed a private placement for total gross proceeds of $1,959,278 from the sale of 10,884,880 flow through shares at price of $0.19.
Last week, Independence Gold's shares made gains of 82.35 percent to $0.31.
Chesapeake Gold
Chesapeake Gold rose 43.26 percent last week for gains of $1.54 to $5.10, setting a new 52-week high. Year-to-date, the company has made significant gains of 189.77 percent.
Chesapeake is currently focused on the exploration and development of projects in North America, including its 100 percent owned Metates gold deposit in Mexico. In March, Chesapeake announced an updated pre-feasibility study for the project, which evaluated a lower ore throughout. Other highlights included proven and probable mineral reserves of 18.3 million ounces of gold, 502 million ounces of silver, and 4 billion pounds of zinc.

Everest Ventures
Next was Everest Ventures, who has seen gains of 480 percent year-to-date and rose sharply last week by 31.82 percent to $0.87 per share.
The company, previously called TAD Mineral Exploration, has a graphite project that borders Zenyatta Ventures's (TSXV:ZEN) Albany graphite deposit. Everest Ventures also holds a uranium prospect in the Athabasca Basin.
In early June, the company announced the completion of a private placement, having issued 22 million units at a price of $0.07 for gross proceeds of $1.54 million.
CanAlaska Uranium
Last but not least on last week's TSXV list was CanAlaska Uranium. Over a five-day period, the company's shares have increased 23.33 percent to $094. Year-to-date, however, the company's gains are much more significant—its shares are up 754.55 percent overall.
CanAlaska has two key uranium properties: the West McArthur Project and the Cree East Project. To date, over $86 million has been expended exploring and identifying high-grade uranium on the company's properties with other uranium targets being delineated.
It appears that the company is getting into diamonds as well. Last week, it was announced that the De Beers' exploration team collected over 100 samples for kimberlite indicator mineral processing from the Athabasca project.
Don't forget to follow us @INN_Resource for real-time news updates!

Data for 5 Top TSXV Stocks articles is retrieved each Friday after market close using The Globe and Mail's market data filter. Only companies with a market capitalization greater than $10 million prior to the week's gains are included. Companies within the mining and precious metals sectors are considered.
Securities Disclosure: I, Jocelyn Aspa, hold no direct investment interest in any company mentioned in this article.Top TSXV stocks in recent weeks:
5 Top TSXV Stocks: Armor Minerals Rises 127.27 percent
5 Top TSXV Stocks: Nicola Mining Rises 65 percent
5 Top TSXV Stocks: Rugby Mining Tops the List Rising 100 percent
5 Top TSXV Stocks: Alset Energy Jumps 176.92 percent
5 Top TSXV Stocks: Cartier Resource Rises 55 Percent
5 Top TSXV Stocks: Sutter Gold Mining Rose by 127.27 percent
5 Top TSXV Stocks: Kootenay Silver Rises 64 Percent