Glencore's Massive Cobalt Deal to Support Volkswagen's Shift to Electric Cars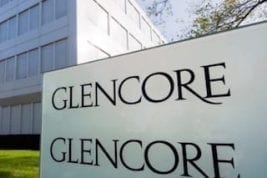 Mining giant Glencore has signed a major cobalt deal with a Chinese firm that will help Volkswagen secure batteries for its electric cars.
Mining giant Glencore (LSE:GLEN) has signed a large cobalt deal with a Chinese firm that will help Volkswagen (FWB:VOW) secure lithium-ion batteries for its electric cars.
Glencore will sell up to 20,000 tonnes of cobalt products, a key component in lithium-ion batteries, to Chinese producer Contemporary Amperex Technology, sources told Reuters on Thursday (July 6).
"It was a triangular deal where Glencore, CATL and VW got round the table," one cobalt trader said. "CATL on their own weren't willing to commit to such a large quantity so VW said they would buy the batteries [from CATL]."

The four-year contract to supply cobalt hydroxide and alloys was struck last October, the sources said. At the time, cobalt metal prices were around $28,500 a tonne on the London Metal Exchange CBD3, and the agreement is based on prices at that level. Prices have since soared above $58,000.
In fact, prices recently hit an eight-year high; they have jumped more than 70 percent in the first six months of the year, as the chart below shows: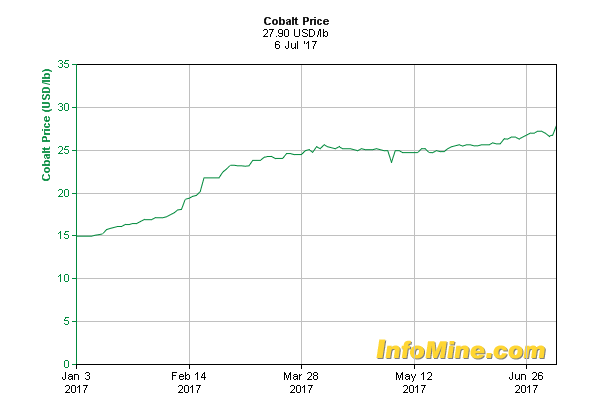 Chart via InfoMine.
Volkswagen is aiming to launch more than 10 electrified models by the end of 2018, and wants to increase its electric car sales to 1 million units a year by 2025; that would be up from its current five-digit number.
"If the Glencore-VW deal is true, there will be huge implications for the battery market. New suppliers will need to step up fast," Benchmark Mineral Intelligence analyst Andrew Miller
commented on Twitter
.
Analysts have emphasized that
electric car revolution is happening much faster than expected.
Most recently, Morgan Stanley (NYSE:MS) said it expects global car sales to rise 50 percent by 2050 to more than 130 million units a year. Its base case is for electric vehicles to account for 47 percent of that total.
According to Glencore, each lithium-ion battery contains around 11 kilograms of cobalt, although other market participants have reported higher amounts — Cobalt Blue Holdings, for example, says 15 kilograms are needed. All told,
demand for cobalt
is expected to jump from 46,000 tonnes in 2016 to 76,000 tonnes by 2020.
Currently the vast majority cobalt is produced in the Democratic Republic of Congo (DRC), but many market participants are worried that supply from the politically unstable country could be at risk. In fact,
CRU Group believes the 1,500-tonne
cobalt deficit
seen in 2016 could triple by the end of this year.
Opinions vary on whether producers outside the DRC will be able to step up to help increase supply. Benedikt Sobotka, CEO of Eurasian Resources Group, which produces
copper
and cobalt in the DRC,
said to Bloomberg
, "[t]hey are all years away from production and they tend to be very small, like fantasies. They are not going to make a big difference for our industry."
But others believe production beyond the DRC could soon become a reality.
"There's going to have to be a re
sponse that goes beyond
Congo," Sam Riggall, CEO of Robert Friedland-backed Clean TeQ Holdings (ASX:CLQ), told the news outlet. "[Battery producers] are desperately looking for sources of supply outside of Africa." Clean TeQ is developing a $680-million cobalt-nickel–scandium project in Australia.
Glencore's share price is up 7.12 percent year-to-date, at $297.25, while Volkswagen's jumped 2.46 percent after the news.
Don't forget to follow us @INN_Resource for real-time news updates!
Securities Disclosure: I, Priscila Barrera, hold no direct investment interest in any company mentioned in this article.